Tuesday, apart from being Indian Independence day, was also our wedding anniversary. I decided to cook a nice dinner (restaurant style…) at home. Going to an Indian restaurant in NJ (not sure of other places) is literally going to put a hole in your pocket. I know its our wedding anniversary and I shouldn't be thinking about the check, but with the prices of entrees ranging from $9.95 and $12.95, we would have ended up spending almost $50 (including tip and taxes). That's why I decided to cook at home and be sure that we are eating the food that we really like and also the way we like.
Here's my menu for our Anniversary dinner:
Appetizer – Black Eyed Pea Samosa
Rice Dish – Vegetable Biryani
Curry – Paneer Kurma
Dessert – Chocolate cake w/ Hot chocolate sauce and Vanilla ice cream
It took about 2½ hours to put everything together. But it's really worth every second of it. Here are the recipes for my Restaurant style dinner.
Black Eyed Pea Samosa: I used frozen samosa wrappers from Indian store and replaced traditional potato filling with black eyed peas. The end result was pretty good.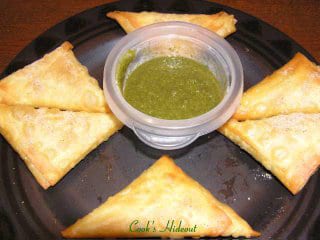 Ingredients
¼

cup

Black eyed peas

2

chilies

Green

½

tsp

Chili powder

½

tsp

Ginger garlic

paste

1

tbsp

Lemon juice

2

tsps

Mustard seeds

½

tsp

Cumin seeds

3

Curry leaves

to taste

Salt
Instructions
Soak the peas for one hour and pressure cook them till tender.

Heat 1 tbsp oil in pan, add mustard and jeera seeds and after they splutter, add ginger-garlic paste, curry leaves and green chilies. Sauté for 1 minute.

Add the cooked peas, chili powder salt and mix well. Mash some of the peas with the back of the spoon. Add little water if you think the mixture is too dry (but make sure it is not too watery).

Cook for 5 minutes on medium and remove from heat. Add lemon juice and let cool.

After the mixture is cool enough to handle, make the samosas as per package instructions and deep fry them in batches.

Serve hot with green chutney or ketchup.