It has been quite some time that I made anything for Indian Cooking Challenge. When I see Valli's email announcing the dish of the month, I get excited and plan on making it, but some time between the announcement and the actual date of posting I either completely forget about it or don't find the time to make it.
Anyway I didn't want to miss this month's challenge because kadhi is one of my favorite dishes, But I don't make it often because my husband doesn't eat milk/ yogurt based dishes and so I avoid making them when he's around. Lucky for me, he's been travelling and I went ahead and made this yummy kadhi with moong dal dumplings.
I followed Tarls Dalal's recipe to the T (but halved the quantities), but my moong dal got a little watery after grinding so I added 2tbsp besan to form the dumplings. Also I wasn't sure if the dumplings would cook evenly when dropped in the kadhi, so I microwaved them until set. But after looking at Valli's pictorial, I guess moong dal batter was supposed to be watery and instead of making dumplings, I should have just dropped the batter into the kadhi, will try this method next time.
Recipe from Tarla Dalal.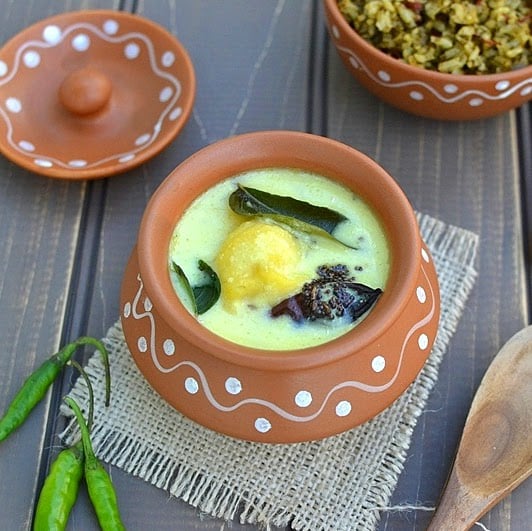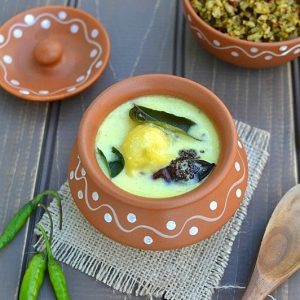 Ingredients
For the Kadhi:
1

cup

Yogurt

- whisked until smooth

2

tbsp

Besan

½

Ginger

" - piece, finely grated

2

Chilies

Green - very finely minced

1

tsp

Sugar

½

tsp

Mustard seeds

½

tsp

Cumin seeds

1

Red Chili

Dry

6

Curry Leaves

to taste

Salt

1

tbsp

Cilantro

- finely chopped for garnish
For Moong Dal Dumplings (Dapka):
½

cup

Moong dal

½

Ginger

" - piece, finely minced

1

Chilies

Green - very finely minced

a pinch

Baking Soda

a pinch

Sugar

(I didn't add any)

to taste

Salt
Instructions
Make Moong dal Dumplings: Soak moong dal for 3-4 hours and grind it to a smooth paste using little or no water. Add all the other ingredients and keep aside.

At this point you have 2 options: Drop the batter directly in the kadhi or par cook the dumplings in the microwave and then drop them into kadhi. I microwaved my dumplings.

Make Kadhi: In a nonstick saucepan, combine yogurt, besan and 1cup of water and whisk to make sure that there are no lumps. Add grated ginger, minced green chilies, sugar and salt and mix well. Bring this mixture to a boil, stirring occasionally, on medium flame. Keep aside.

Heat 2tsp oil in a small saucepan, add mustard seeds and cumin seeds and once the seeds start to splutter, add dry red chili and curry leaves. Add the tempering to the kadhi, mix well and bring it back to a boil.

Add Moong dal dumplings (either microwaved or the batter directly) to the boiling kadhi and let cook for 5-8 minutes. Once the dumplings are completely cooked, they tend to float up to the surface.

Garnish with chopped cilantro and serve with rotlas or rice.
Notes
I served mine with Minty Brown Rice pulao. They tasted great together, but I also ate the kadhi all by itself for another meal and that tasted yummy too.