Blogging Marathon# 34: Week 3/ Day 1
Theme: Desserts with Vegetables
Dish: Carrot Halwa flavored Cake with Ricotta cheese
It's week 3 of BM# 34 and my theme for this week is 'Desserts with Vegetables'. I rarely make desserts with vegetables except for carrots and occasionally pumpkins. I would never dare to make desserts with vegetables that in my mind are meant for savory preparations. When I signed up for the theme, I was planning to get adventurous and try some desserts that were totally out of the box like potato halwa or something with beets. But when I saw my tasting committee, I decided to stay close to what I always make and so for the next 3 days I'm going to post dessert recipes with vegetables that you already know, but slightly jazzed up versions.
I'm continuing my baking spree with the third baked goody of the week (after this Chatti Pathiri and Kolacky Cookies). I have been planning to make carrot halwa flavored cake for a while now. Initially I wanted to make cupcakes, but after researching on various recipes I ended up making it as a bundt cake.
Bundt cakes are always gorgeous and this carrot cake was not just beautiful to look at, it tasted a.m.a.z.i.n.g. It was moist because of ricotta cheese and with the touch of ground cardamom, it tasted almost like carrot halwa, especially the day after it was baked. I topped it with a simple cream cheese and powdered sugar icing that tasted almost like khoya making it more like my beloved carrot halwa.
As I was looking for an eggless carrot cake recipe, I found Roxana's recipe which uses ricotta cheese. Her pictures were breathtaking and I could almost taste the moist carrot cake right through my monitor. I adapted the recipe to fit into my carrot halwa theme and I have to say it was a super duper hit at home.
This recipe is very easy to put together. All the ingredients for the cake go right into the food processor and then straight into the bundt pan to bake. Also the recipe uses cold butter, so no need to worry about remembering to leave it out on the counter. I added almonds, cashews, raisins and ground cardamom to get the traditional carrot cake flavor.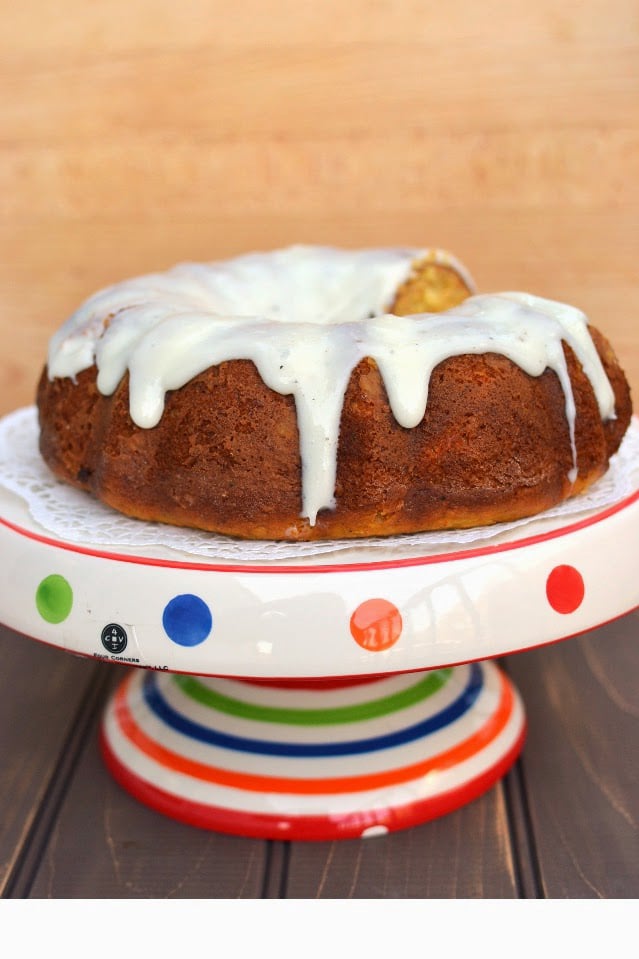 Ingredients
For the Carrot Cake:
1¾

cups

all purpose flour

(use 2 cups APF if not using almond meal)

¼

cup

Almond meal flour

/ (optional)

1

cup

sugar

1

tsp

baking powder

1

tsp

baking soda

½

tsp

salt

1½

tsps

cardamom

Ground

6

tbsps

unsalted butter

Cold - diced

⅔

cup

ricotta cheese

(I used part skim and it worked fine for me)

⅔

cup

milk

(I used 2% milk)

1

Carrots

- medium, shredded (¾cup)

¼

cup

Almonds

¼

cup

Cashews

¼

cup

Raisins
For the Icing:
2

tbsps

cream cheese

- softened

¼

cup

sugar

Powdered (adjust as per your taste)

1 ~ 2

tbsp

milk

1

tsp

cardamom

Ground
Instructions
For the Carrot Cake: Preheat oven to 375°F. Grease and flour a 12cup bundt cake pan.

In a food processor add the flours, sugar, baking powder, baking soda, ground cardamom and salt. Pulse to mix.

Add the diced cold butter and pulse few times until it resembles fine breadcrumbs.

Add the ricotta cheese, milk and shredded carrots and pulse to combine. Add the nuts and raisins and pulse 2 to 3 times to incorporate them.

Spoon into the prepared baking pan and bake in preheated oven for 30~35 minutes or until a toothpick inserted into the center comes out clean.

Remove from the oven and leave it for a few minutes before turning it out onto the wire rack to cool completely.

Make the Icing: Combine all the ingredients for the icing in a small bowl and beat with a fork to make a thick icing. Add enough milk to get the pouring consistency.

Pour evenly over completely cooled cake. Enjoy!!
Notes
Lets check out what my fellow marathoners have cooked today for BM# 34.
Update December 2013: Sending this cake over to Valli's Cake Mela.