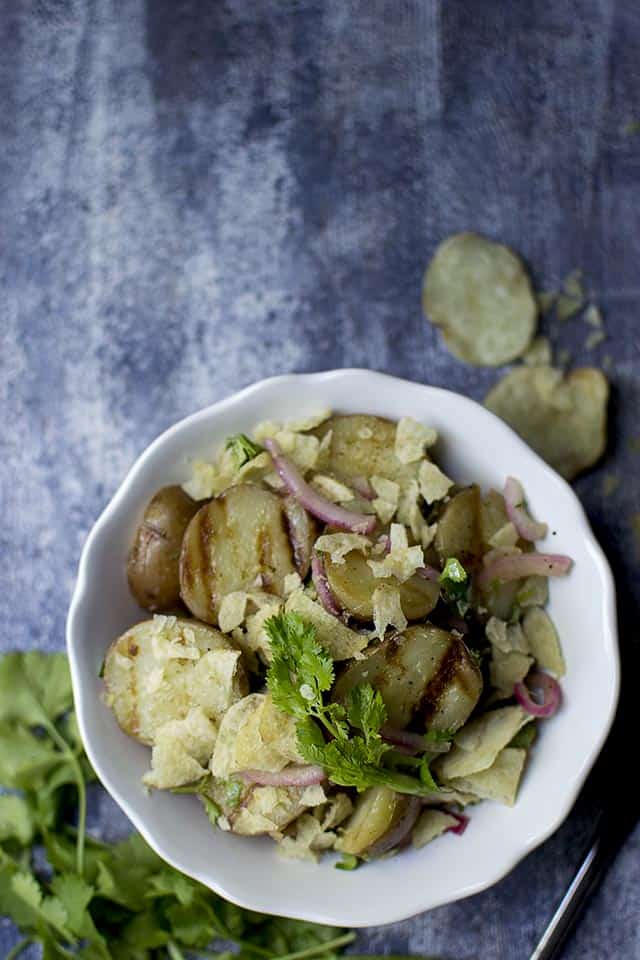 BM# 77: Week 3/ Day 1
Theme: July 4th Special Dishes
Dish: Mayo less Grilled Potato Salad
We are starting a new week of blogging marathon and my theme for this week is 'Special dishes for July 4th'. I cannot believe how fast time's flying, it's almost end of the school year for the kids -- they still have just 3-half days of school next week. It seems like yesterday that they started school in September.
We have a really busy summer this year -- a lot is happening -- we are moving to a new state next month -- so I foresee a lot of packing and not a lot of blogging. I actually packed up most of my props couple months ago to declutter our house, so I have been using the same plates and bowls ever since. Can't wait to move in to the new house and settle in -- that won't happen until the end of summer.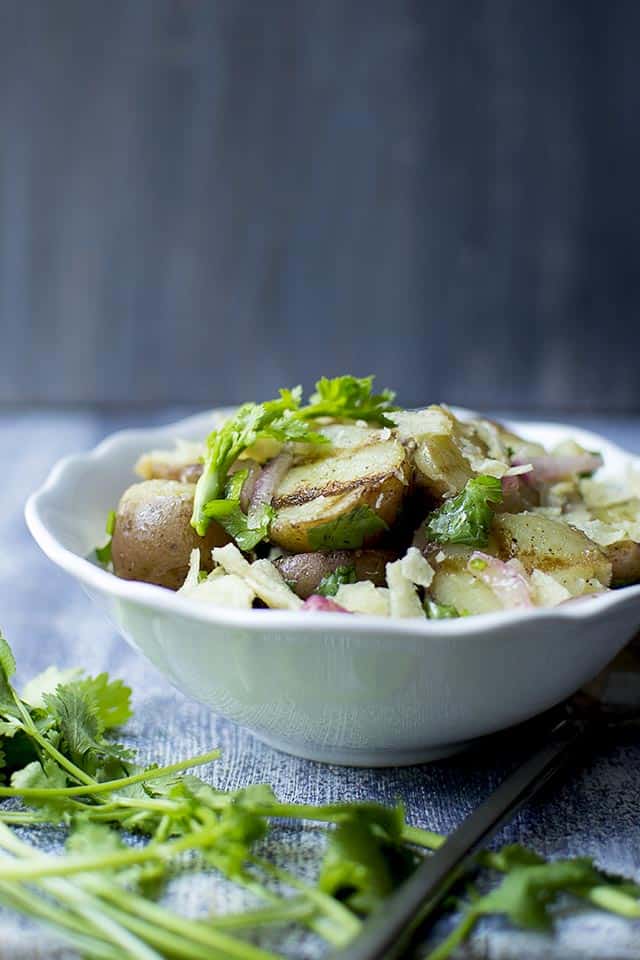 Coming back to today's recipe, I have a dish for 4th of July -- a mayo less Grilled potato salad. Traditional potato salads cannot be left room temperature for too long. But this one doesn't have mayonnaise, so it is perfect to leave at room temperature. I can see myself making it for barbeques, picnics and potlucks.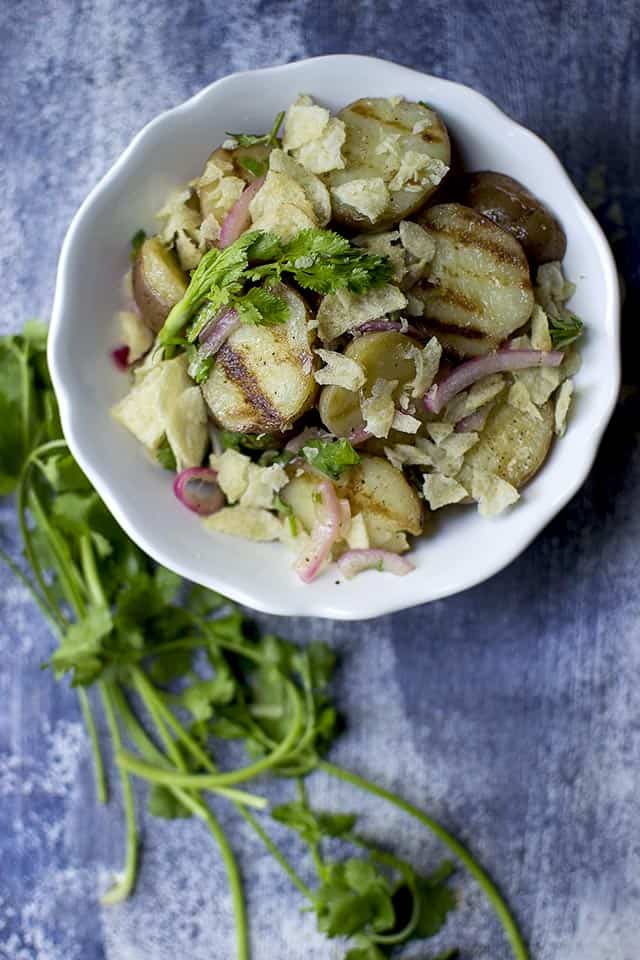 This recipe is from Food & Wine magazine. I knew we would LOVE this dish, so made it right away. The weather was still too cold to start the grill when I made this salad, so I made it on the stove top grill. The vinegar marinated onions give the salad a nice bright without being too strong. Also the kettle cooked potato chips topping give it the perfect crunch. Try this delicious salad this summer and enjoy!!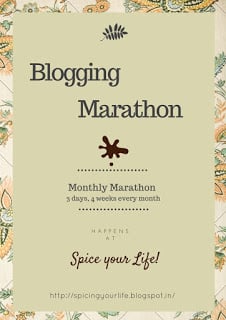 Lets check out what my fellow marathoners have cooked today for BM# 77.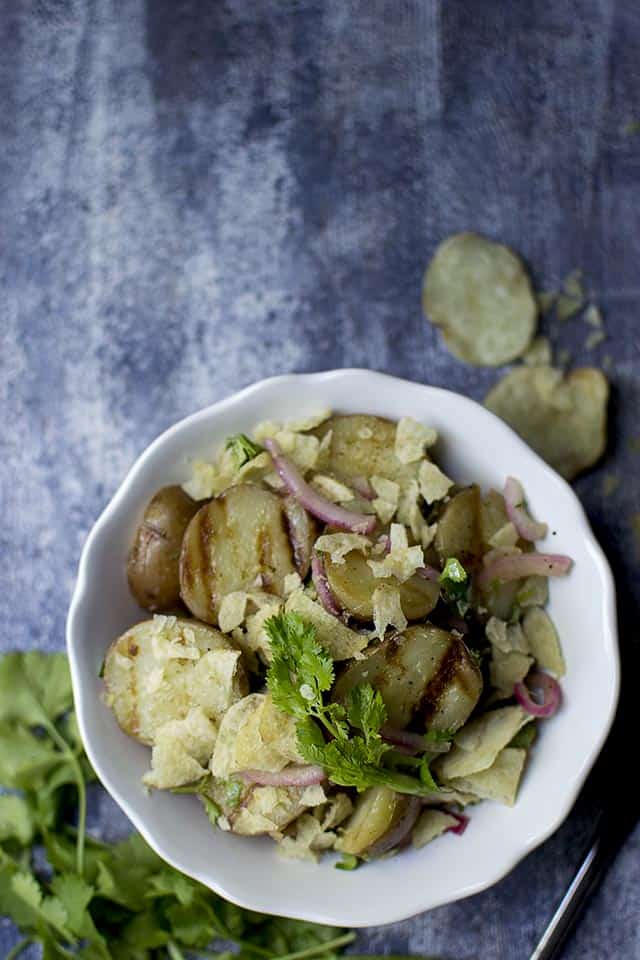 Grilled Potato Salad
Grilled Potato Salad is a delicious dish that is great to make for bbqs, picnics and bring for potlucks. Since it is mayoless, it is perfect to serve at room temperature.
Print
Pin
Rate
Ingredients
4~6

cups

Baby Potatoes

1

Small Red Onion, sliced

4~6

tbsp

White Balsamic Vinegar or Champagne Vinegar

¼

cup

extra virgin olive oil

1

cup

Parsley, chopped

2

cups

Kettle cooked Potato chips, chopped

To taste

Salt Pepper
Instructions
Boil the baby potatoes in lots of water with a generous pinch of salt and cook until tender, about 20 minutes. I simply pressure cooked them for 3~4 whistles. Drain and spread on a baking sheet to cool, then cut in half.

In the meantime, combine the red onion and the vinegar and let stand for 10 minutes.

Heat the grill and frill the potatoes cut side down over moderately high heat until lightly gcharred, about 5 minutes.

Transfer to the bowl with the onions. Add the olive oil and mix well.

Let cool completely. Stir in the parsley and season with salt and pepper. Top with the chopped chips and Serve!!