Blogging Marathon# 27: Week 1/ Day 1
Theme: Occasions – Andhra Feast
Dish(es): Gutti Vankaya kura, Kanda Bachalikura & Dosakaya Pappu
April 1, April fools day, the day I started the job that I recently resigned 8 years ago and today I am starting my first ever month long blogging marathon. I have done month long Vegan Mofos before this, but never blogged continuously for 30days. I'm joining my fellow marathoners on a month long non-stop blogging marathon. What's interesting is Valli gave us 4 different themes for the 4 weeks of April. So each week we will be sticking to a theme and posting different recipes that fall under that week's theme.
Theme for the first week is "Occasions". I am going to post dishes that fall under couple of different occasions. For the first day, I chose a very broad and non-specific occasion where traditional Andhra dishes are served. This can be a gruhapravesam (house warming ceremony), satyanarayana puja, baby shower or anything other occasion for that matter.
Dry eggplant curry and kanda bachali kura feature on almost all of the above mentioned occasions. I decided to make a stuff my eggplants with chickpea flour and some spices. If it is the mango season, raw mango dal is preferred, but otherwise dosakaya dal (yellow cucumber) is usually on the menu.
I have posted recipes for Kanda Bachalikura & Dosakaya pappu previously. So here is the recipe for the stuffed eggplant.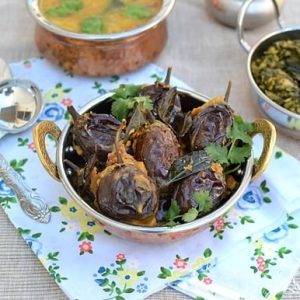 Ingredients
8 - 10

eggplants

Baby

10

Curry leaves
For the Stuffing:
cup

Chickpea flour

(Besan)

1

tsp

chili powder

Red - (or more to taste)

1

tsp

cumin

Ground

tsp

Coriander

Ground

to taste

Salt
Instructions
Make the Stuffing: Mix all the ingredients for stuffing in a bowl. Add little water to make it a little sticky, so it's easy to stuff the eggplants.

Keep the crowns on the eggplants intact and on the other end cut a '+' on the other end.

Stuff the filling in the eggplants using a spoon or your fingers.

Heat 2tbsp oil in a nonstick pan; add mustard seeds and curry leaves; once the seeds start to splutter, gently place the stuffed eggplants in the oil. Cook covered on medium to medium- low heat until eggplants are cooked through . Make sure to turn the eggplants around once in a while to evenly cook on all sides.
Notes
Served here with steamed rice, kanda bachalikura, dosakaya pappu, aavakaya, ghee and curd for a filling lunch.
Lets check out what my fellow marathoners have cooked today for BM# 27.