Blogging Marathon# 40: Week 3/ Day 3
Theme: Unused BM# 39 posts
Dish: Malai Sandesh
For the final day of this week's marathon, I made a simple, yet decadent dessert from West Bengal. When I jotting down dishes for Bengal, I was only thinking about sweets/ desserts since it was going to be the last day of the mega marathon and also Bengali dessert are to die for. I had about 4~5 desserts that I really wanted to try. After making Lobong Lathika and this Malai Sandesh, I still have couple more that I really really want to make some time soon.
Another reason for posting a sweet today is Cook's Hideout completed 8 years of blogging this month. After becoming a stay-at-home-mom, blogging and my blog buddies have become my real friends. Blogging gives me something to think about other than household chores and my virtual friends are always there to listen to anything. Big thanks to them for inspiring, motivating and encouraging me to keep blogging. Also thanks to my family for their complete support without which Cook's hideout would not even be possible.
Coming back to Malai Sandesh, I actually found this recipe online by chance. I had a large container of ricotta cheese that needed to be used up and at that time I still hadn't finalized the dish for Bengal, so a google search led me to this recipe. I was completely sold when I saw the pictures and made this dish right away.
Using store bought ricotta makes this dish a breeze to make. I know this is an instant version, but it definitely satisfies your sweet craving without much effort. It is also a great dessert to make ahead for a party.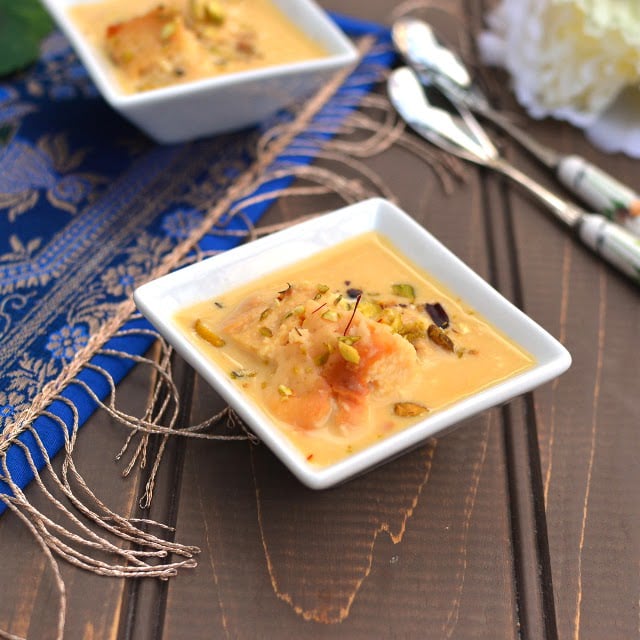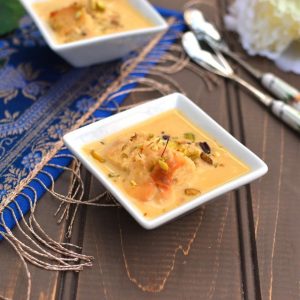 Ingredients
For the Sandesh:
2

cups

Ricotta cheese

1 14

oz . cans

Condensed milk

of

1

tsp

Cardamom

Ground
For the Malai:
2

cups

Milk

1 14

oz

milk

Evaporated - . can

¼

cup

Sugar

- (adjust as per taste)

a pinch

Saffron
Instructions
Make the Sandesh: Preheat oven to 325°F. Lightly grease a 9" baking pan. Combine all the ingredients for the sandesh, pour into the prepared pan. Bake for 40~50 minutes or until the top is golden brown and a toothpick inserted into the center comes out clean.

Remove from heat and let cool completely. Chill for at least 3~4 hours.

Using a sharp knife, score the sandesh into pieces. This can be eaten as is, but adding this to malai takes this to the next level.

Make the Malai: Combine milk and evaporated milk in a thick bottomed pan. Simmer until the mixture thickens and reduces to about half its volume. Add sugar and cook until dissolved. Add 2tbsp hot milk to saffron and stir this into the milk mixture. Let the mixture cool completely.

To Assemble: Place sandesh in a serving bowl and pour malai over the top. Serve chilled.
Notes
Lets check out what my fellow marathoners have cooked today for BM# 40.