For some reason when I think about Bengalis I picture them discussing about politics while eating their puris with something sweet over breakfast. I always thought Bengalis are food lovers and eat a lot of sweet dishes. I have no clue when and why this image formed in my mind. But after reading this wiki article, I probably did get my information from a reliable source.
Quoting from Wikipedia: "The Bengalis are great food lovers and take pride in their cuisine. A meal, for the Bengali, is a ritual in itself even if it only boiled rice and lentils (dal bhat), with of course a little fish. Bengalis, like the French, spend not only the great deal of time thinking about the food but also on its preparation and eating. Quips like "Bengalis live to eat" and "Bengalis spend most of their income on food" are not exactly exaggerated." I'm not sure if this the norm even today, but this is how I like to think of them.
At the same time if I think of people from Andhra, I picture them talking about movies over a cup of tea or coffee, but never with real food. I don't think food plays such an important role in our households, even though I wish it did, but I can't think of my dad going to the market everyday to get produce. My mom shudders even today when asked about the grocery shopping that my dad used to do more than 20 years ago. He would come back home with load full of veggies every week from his trip to monda market (Secunderabad) and to my mom's despair there was always at least 1-2 kilos of beets. Not the small dainty ones, but cricket ball size hard ones. My mom never liked beets and she would let them "almost" go bad before she cooked them. Then she completely took over grocery shopping when we moved into our house and the farmers market was at walking distance. I don't she ever buys beets now.. (Now that I think about it, I've to ask her to confirm).
I digress... Coming back to Bengali cuisine, a traditional Bengali meal is very elaborate with about 5-6 courses starting off with something bitter like shukto and ending with something sweet like this Mishti (sweet) Doi (yogurt).
I'm not sure how the mishti doi is made traditionally, but this recipe from Hare Krsna takes about 3-5 minutes of hands on time and is probably the easiest and yummiest dessert I've ever made after this one. The end result tasted like dulche de leche to me, but my yogurt-intolerant husband said he could taste the yogurt in it. I had to strongly disagree, but the good thing is I get to eat all the mishti doi that I made and I'm loving every spoonful of it.
Recipe makes 4 7oz. servings.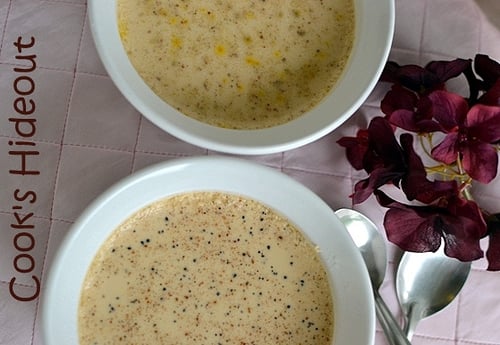 Ingredients
½ of 12

oz . cans

Condensed milk

of

½ of 12

oz cans

milk

of Evaporated

½

cup

Yogurt

(or 4oz.)

1

tsp

Elaichi milk masala

powder (Cardamom) or
Instructions
Preheat the oven to 300°F.

Blend both the milks and yogurt together with an immersion blender or in regular blender until frothy.

You can either mix elaichi or milk masala into the milk mixture or sprinkle on the top like I did.

Pour the mixture into individual 7oz. ramekins or a circular or oval baking dish. Cover tightly with aluminum foil, place on a baking sheet and bake for 30 minutes.

After 30 minutes turn off the oven and leave the ramekins in the oven undisturbed overnight.

Next morning take them out of the oven and put them in the fridge for at least 3-4 hours before serving.
Notes
Let's check out what my fellow marathoners have been cooking up today:
Curry in a hurry under 30 min: Priya Suresh, Srivalli, Usha
Seven Days of Colorful Dishes Kid's Special:Vardhini,
Seven Days of Indian Sweets: Harini, Suma, Veena
Seven Days of Regional Specials: Aarthi, Kalyani, Pavani, Shylaja
Summer Coolers: PJ, Vaishali
Under 15 mins Quick Breakfast:
Sushma Pinjala