Oatmeal Raisin Ice cream sandwich is a great kid friendly dessert and is a perfect Summer treat.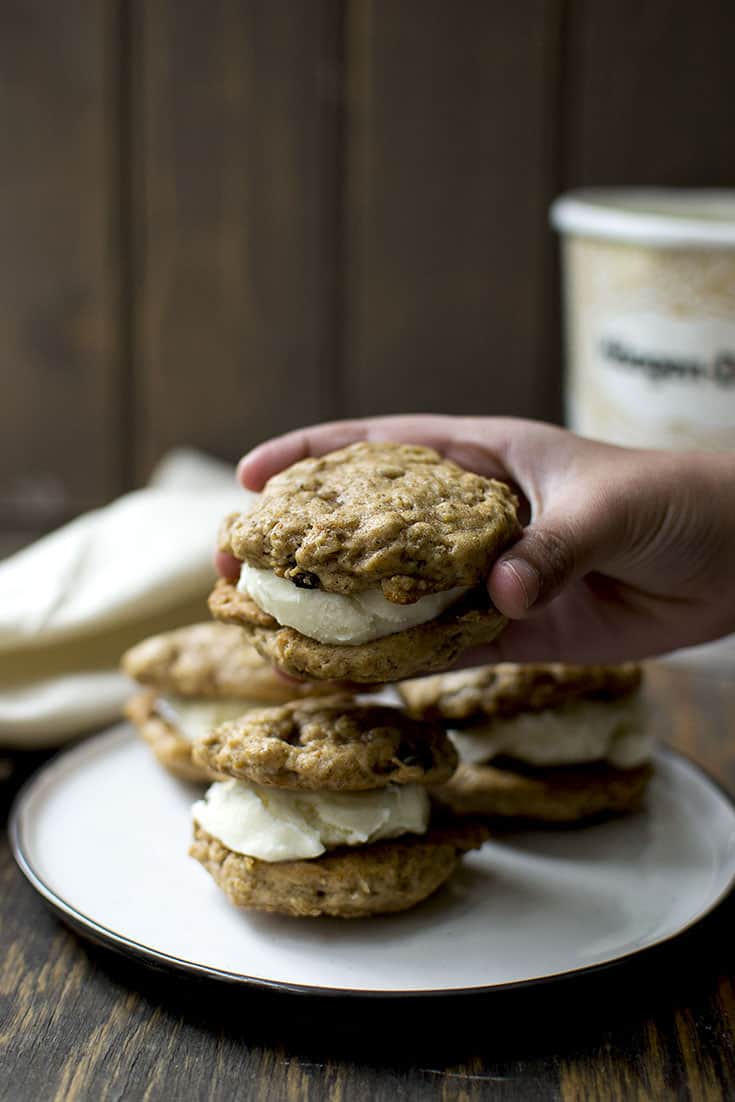 For Day 2 of 'Combo Desserts', I have delicious kid friendly dessert - Oatmeal Raisin Ice cream sandwich. The cookies are 100% vegan. They are soft and chewy - perfect to make these ice cream sandwiches. My daughter loved them so much that she ate these for snack 3 days in a row.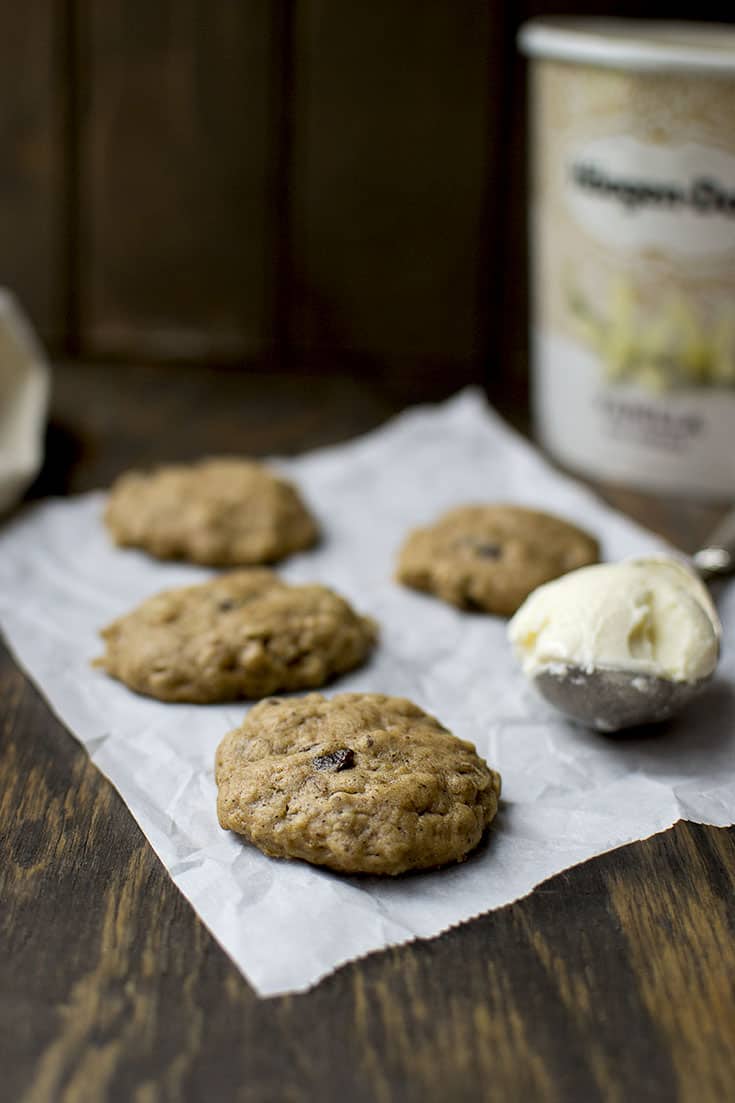 I am a huge fan of cookbooks and especially love the ones that have nice photos. I used to buy them quite frequently, but I have become a little more picky these days. On one of our trips to Costco, I found this 'But I could never be Vegan!' cookbook and I bought it. It has 125 recipes and all of them look and sound delicious. I started trying recipes from the back of the book - from my favorite section - desserts.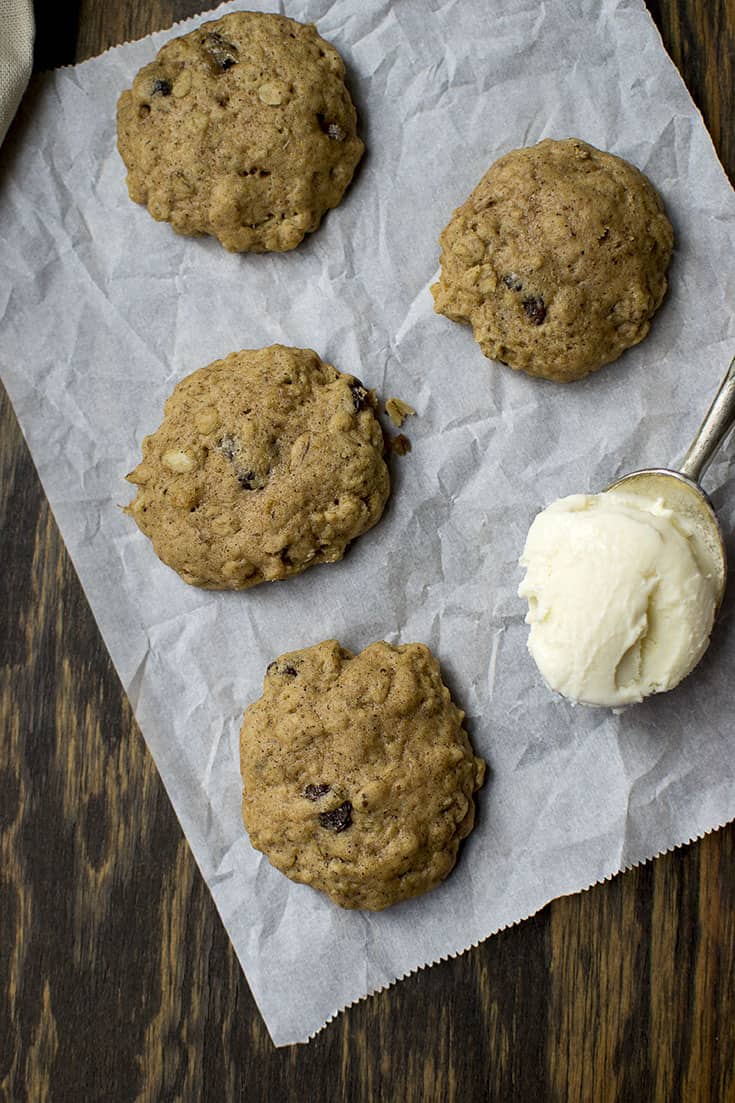 The book had vegan oatmeal cookies recipe but I added some raisins and made them oatmeal raisin cookies. They are super easy to put together. These cookies are chewier than the traditional oatmeal cookies. Applesauce and flaxseed meal replace the eggs and you wouldn't even know that these ingredients are in there.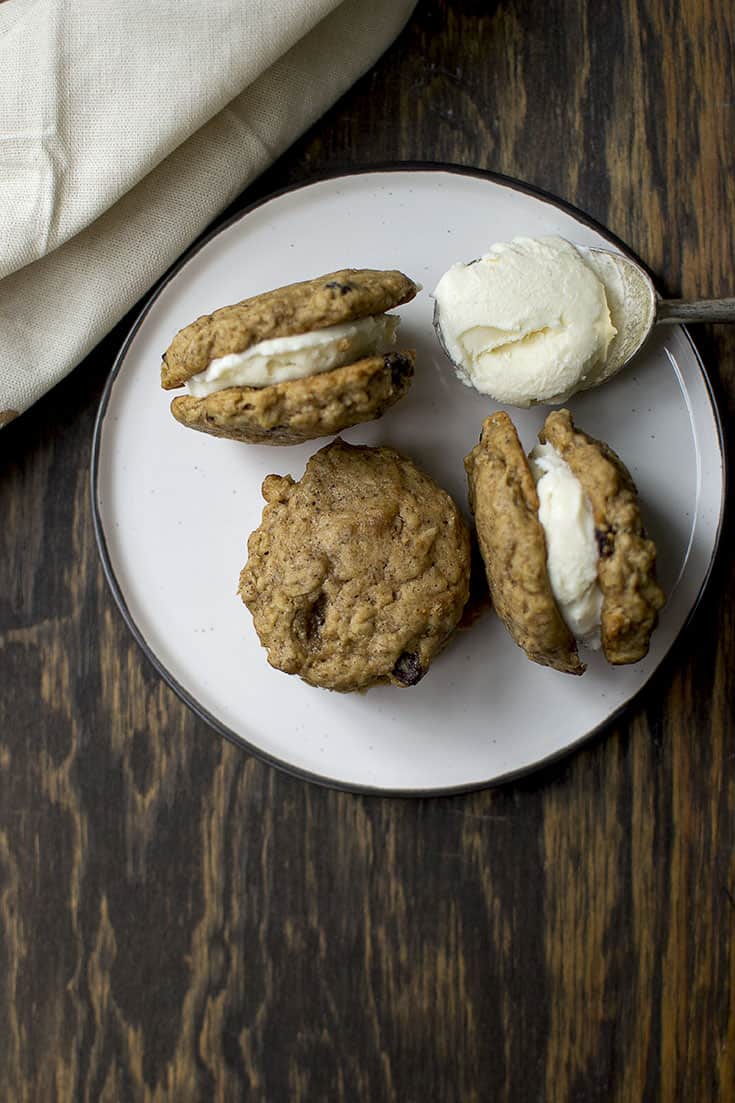 I made a double batch of these cookies and took most of them to a bbq potluck we had recently. With the remaining ones I made ice cream sandwiches. I used regular store bought ice cream, but I have to the vegan ice cream from the cookbook next.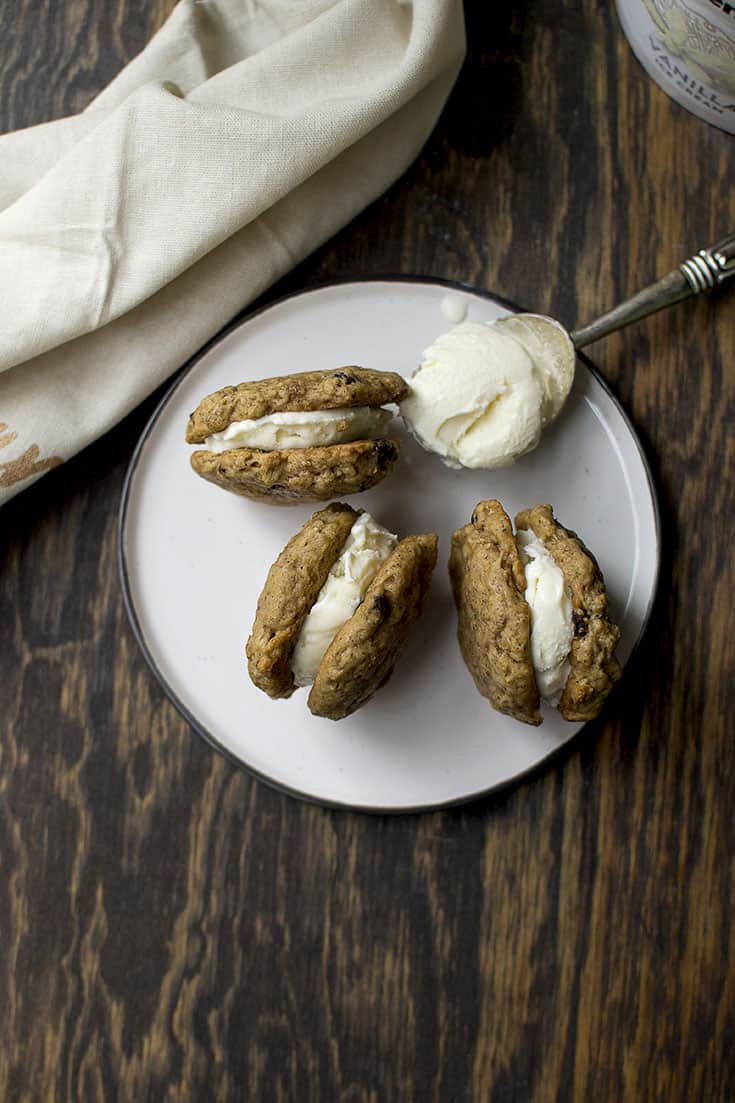 You can use whatever flavored ice cream you want. I used good old vanilla flavor, but you can try chocolate, dulche de leche or get adventurous and use pumpkin or cinnamon ice creams. These are perfect to make for a summer bbq, kids will love these.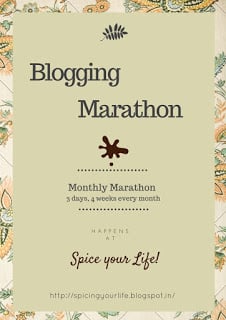 Lets check out what my fellow marathoners have cooked today for BM# 88.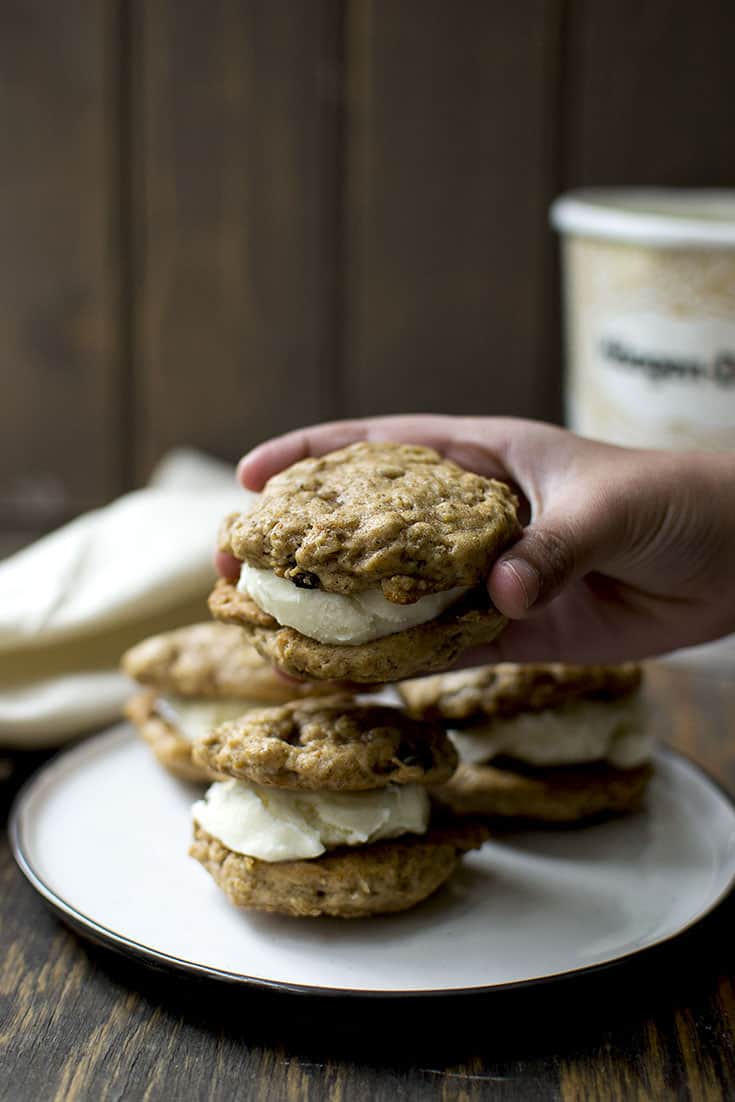 Oatmeal Raisin Ice Cream Sandwich
Oatmeal Raisin Ice cream sandwich is a great kid friendly dessert and is a perfect Summer treat. Cookies are 100% vegan and very easy to put together.
Print
Pin
Rate
Ingredients
For Vegan Oatmeal Raisin Cookies:
¼

cup

Almond Milk (or other non-dairy Milk)

1

tbsp

apple cider vinegar

1¼

cups

all purpose flour

¾

cup

Rolled Oats

½

tsp

baking powder

½

tsp

baking soda

½

tsp

salt

1

tsp

Ground Cinnamon

¼

tsp

Ground cloves

¼

tsp

Ground Nutmeg

⅓

cup

Melted Coconut oil or Canola Oil

⅓

cup

Vegan brown sugar or Coconut Sugar

¼

cup

Unsweetened Applesauce

2

tbsp

maple syrup

1½

tsp

Flaxseed Meal

1

tsp

vanilla extract
For the Sandwich
As needed

Vegan Ice Cream, flavor of choice
Instructions
Preheat the oven to 350°F. Line 2 baking sheets with parchment paper.

In a measuring cup, combine almond milk and the vinegar. Let sit for at least 5 minutes.

In a large bowl, whisk together the flour, oats, baking powder, baking soda, salt and the spices.

In a medium bowl, combine coconut oil, sugar, applesauce, maple syrup, flaxseed meal and vanilla extract. Add the milk mixture and mix well to combine.

Add the wet ingredients to dry ingredients and stir until just combined.

Use a small scoop or a tablespoon to place dough onto the prepared baking sheet. Flatten the cookies with damp fingers and gently shape them into rounds.

Bake for 8~10 minutes or until set and the bottoms are beginning to turn golden brown. Remove from the oven and let cool on the baking sheet for 3~4 minutes before transferring them to a cooling rack to cool completely.

Once the cookies are completely cooled, place 6~8 cookies on a parchment lined baking sheet, bottom side up. Set aside 6~8 more cookies.

Thaw the ice cream for 10 minutes. Place a scoop of ice cream on the cookies that are on the parchment paper. Place the other cookie on top and press down lightly.

Freeze the sandwiches at least 30 minutes before serving. If the sandwiches are completely frozen, then thaw them 5~10 minutes before serving.