This is my entry to Lakshmi's RCI (Regional Cuisines of India) event. I have very fond memories of the places and food from all the south Indian states. When I was 12 years old, my dad (he is an avid traveler) took us for a 2 week South India tour on LTC. He planned along with few of his colleagues, hired a big AP Tourism bus and off we went on the trip that I still remember very vividly. There were about 30-35 people altogether including 2 drivers (who by the way became good friends with us kids).
We started off our trip in Karnataka (HYD-Hampi), visited Gomateshwara in Shravanabelagola(fun walking up the mountain as kids), beautiful temples of Bellur, Halebid, Mysore etc. Then came beautiful Kerala – Cochin, Trivandrum, Gokarnam etc. Finally it was the temple state of Tamil Nadu – Madurai, Kanchi, Tiruchirapalli, Trichy, Ooty, Palani, Coimbatore etc.
As I was typing this, I was wondering how in the world did we cover so many places in 2 weeks and would I be able to do something like this for my kids in the future (would I have the patience and stamina to do it when I get to my parents age). Along with experiencing the rich culture of our country, we even got to taste the different cuisines in different states. I wish I was a little older and a little more interested in food at the time. But I still remember the freshly made coconut chips from Kerala and the smell of freshly made idlis from the street stalls wherever we went.
I would have to thank Lakshmi for coming up with this event. It has made me very very nostalgic and I could probably fill up pages about this trip with the places we visited, food we had, things we bought, our fights on the bus etc. So I'll stop right here and get to my recipe.
This recipe is from our neighbor in India, who is a Tamilian. The only change I made is to add a potato along with ridge gourd. I just love the combination of spices, lentils and veggies in this recipe.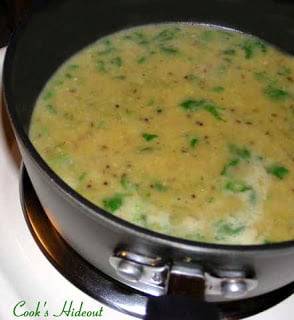 Ingredients
1

Potato

- small

½

cup

Toor dal

1

tbsp

Tamarind

paste

to taste

Salt
For the masala paste:
1

tbsp

Urad dal

12

Pepper corns

¼

cup

coconut

Grated

1

tsp

Cumin seeds
For tempering/ popu:
½

tsp

Urad dal

½

tsp

Cumin seeds

½

tsp

Mustard seeds

6

Curry leaves
Instructions
Heat 1tsp ghee in a pan, add the ingredients for making the paste and sauté for 3-4 minutes. Remove, cool and grind into a paste with little water.

Cook dal, chopeed ridge gourd and potato together in pressure cooker till done.

Heat 1 tsp oil in a pan, add urad dal, cumin & mustard seeds, hing and curry leaves, when the seeds splutter, add the dal mixture, tamarind pulp, salt and the ground paste.

Cook on medium low heat for 10 minutes. Serve with rice and papad.