I'm posting two recipes today to send them off to two events. This first one is for Open Sesame 2nd Edition. Choose a box, get a riddle, solve the riddle and post a recipe with the ingredient were the rules of Open Sesame. I thought it sounded like fun and I sent an email to Siri for my riddle. I flunked my first try, but got it right the second time. Here's the riddle (for Box 2).
I am a flower but adorn a bouquet, I do not
I have an inbuilt perfume in my being
So strong and so intense that my oil will make your insides 'hot'
My medical impact all over the world seen.
My 'Yorubas' infusion is the 'savior' of star wars
I have been used as a barter by the fellow 'sadiqi's' during trades
One does not have to fight tooth or 'nail' for me
I am usually pink but mostly available browned in shades
I may be dry , I may overpower your tongue
But add a little for that midas touch
Come now, start thinking of that spice
Whose bite make your 'teeth' say Ouch!
My first guess was "Peppercorn" which was wrong and costed me 5 points. Second was correct and the answer is CLOVES.
Thanks to Siri and Dhivya for this very unique blog event.
For the recipe, my MIL made Phool Makhani Curry with spicy clove masala. I never had phool makhani before, they look like big pop corn, but they are actually popped lotus seeds. They are pretty bland to begin with, but absorb any and all the flavors that you add.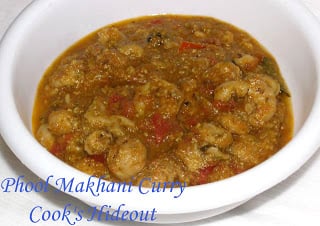 Ingredients
1

Onion

– medium, roughly chopped

3

chilies

Green

¼

cup

Coriander leaves

2

Tomatoes

– medium chopped

½

tsp

Chili powder

Red (or to taste)

to taste

Salt
For the masala:
6

Cloves

½

Cinnamon

" stick

1

Cardamom

Whole
Instructions
Grind the masala ingredients into a smooth powder in a spice blender.

Blend onions, green chilies and coriander leaves into a smooth paste.

Heat 1 tsp oil in a pan; add the makhanas and sauté till they turn slightly brown on all sides. (These fried makhanas can be eaten as is with a sprinkle of salt and pepper).

Heat 1 tbsp oil in a pan, add the onion paste and fry till it turns golden. Add tomatoes, ground masala, red chili powder and salt; cover and cook for 5-8 minutes, till tomatoes turn into a mush.

Add fried makhanas and mix well. Add ½ - 1 cup water, cover and simmer for 10 minutes. Makhanas absorb the gravy and shrink in size. They looked like chole after done.
Notes
One last thing to mention is my first award ever, Trupti of Recipe Center gave me 'Rockin Girl blogger' award. Thank you so much Trupti for passing me this award.