BM# 75: A-Z Bake Around the World: Day 16
Bake of the Day: P for Potato Pirozhki
Country: Russia
For today's letter P, I had quite a few baked dishes listed out. I really wanted to make Mexican Pan de Muertos or Mexican bread of dead -- but I was running short on time, so had to scrap that idea. Then I had puff pastry from France but I already made 2 dishes from France done already.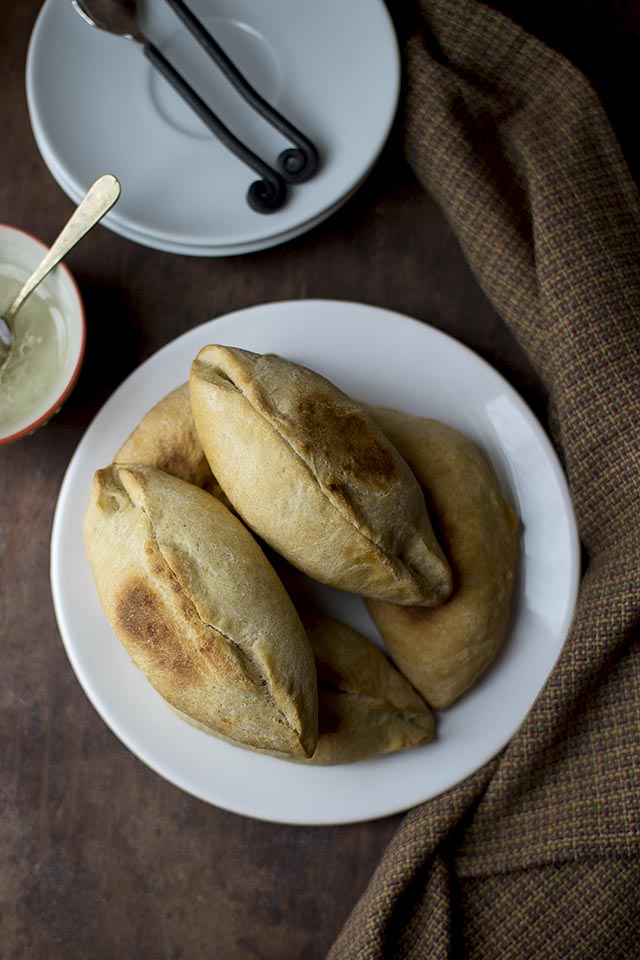 So finally ended up making these Potato and Cheese Pirozhkis from Russia. Recipe is from King Arthur flour and this is another version of our very own samosa. I already posted a Jewish version, Potato & Spinach Knish, few days back. That was a vegan recipe, but this one has cheese and is equally delicious.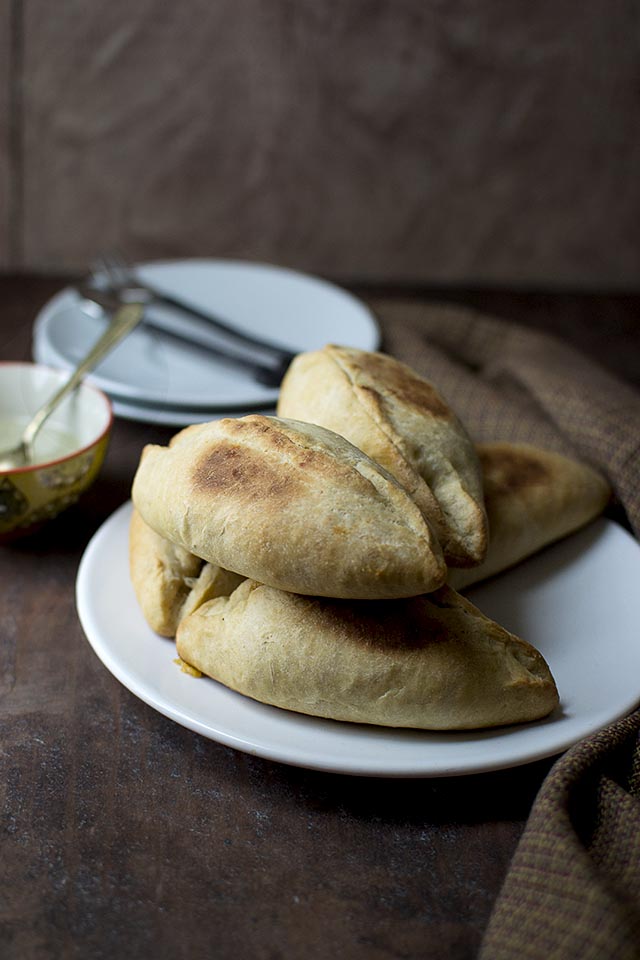 I heard about Pirozhkis for the very first time on Orange, the new black - a Netflix show. One of the Russian characters in the show describes in great detail about the pirozhkis she used to make at her restaurant. That intrigued me and I googled to see how they looked. Pirozhkis are stuffed little pastries traditionally made with meat and cheese filling.
I wanted to make them with soy granules or (TVP) but I didn't have any on hand, so used boiled and mashed potatoes along with green peas and cheese. Potatoes and cheese is such a delicious combination that the whole family enjoyed these little Russian pastries.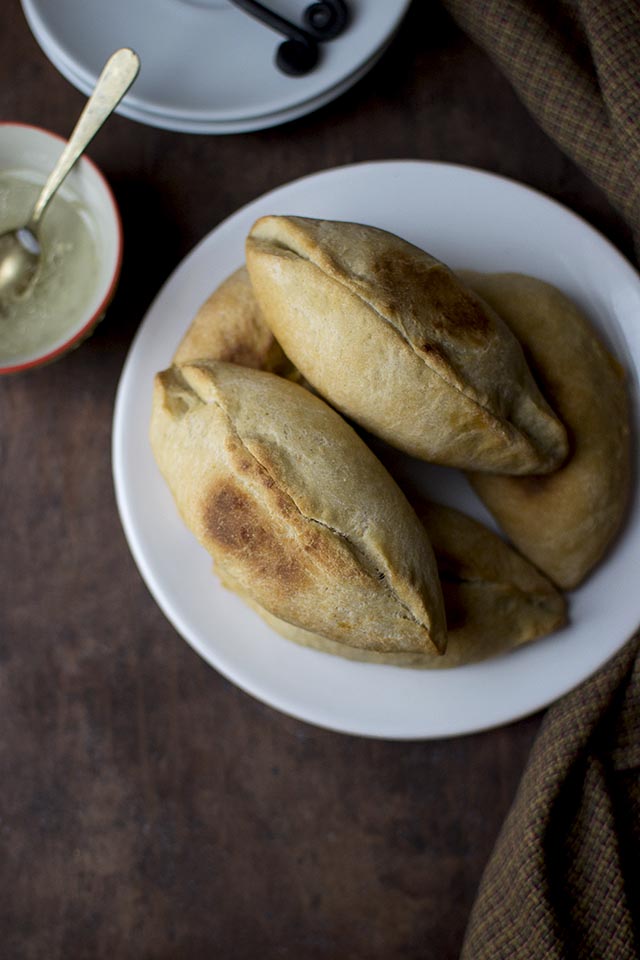 King Arthur flour's recipe uses a pillowy soft dough enriched with sour cream, butter and eggs (which I replaced with egg replacer powder). My pirozhkis did not turn as golden as I wanted them too, but they tasted awesome.
These are great to serve hot from the oven as an appetizer or along side soup or salad for a more substantial meal. They are also great as on-the-go snack or a quick meal.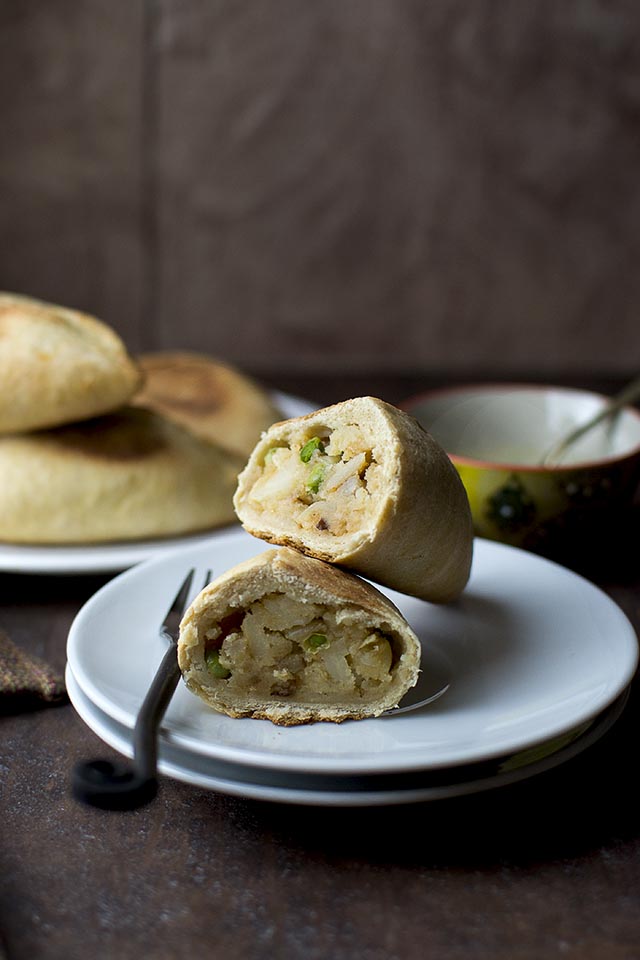 I served the pirozhkis with a very simple Russian garlic dip called 'Vmochanka'. It has just 4 ingredients -- garlic, olive oil, salt and warm water. I was skeptical on how the dip would taste, but it tasted absolutely delicious. Do give this Russian savory pastry a try with the garlic dip.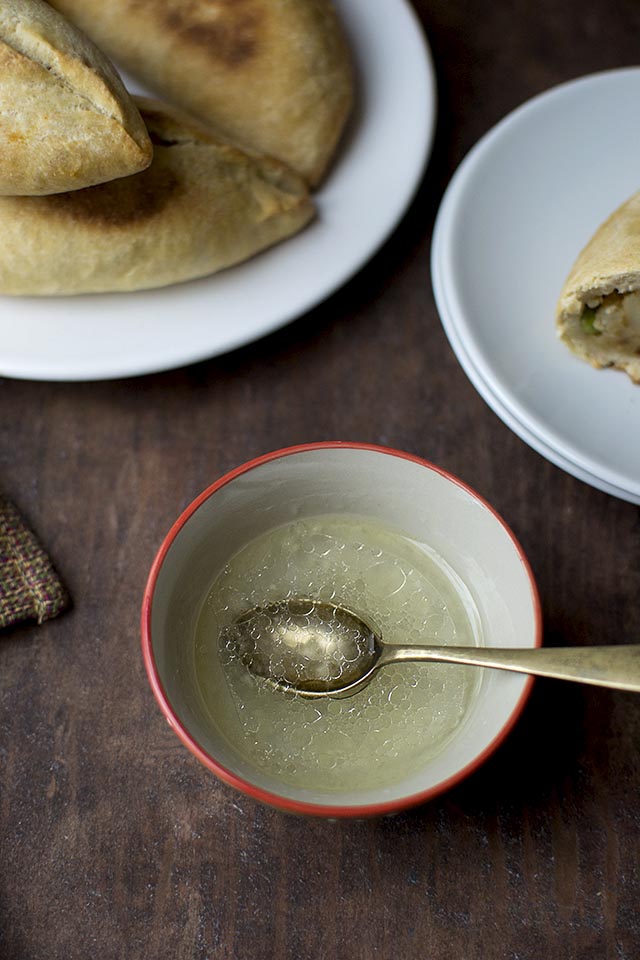 Check out the Blogging Marathon page for the other Blogging Marathoners doing BM# 75.
[inlinkz_linkup id=693901 mode=1]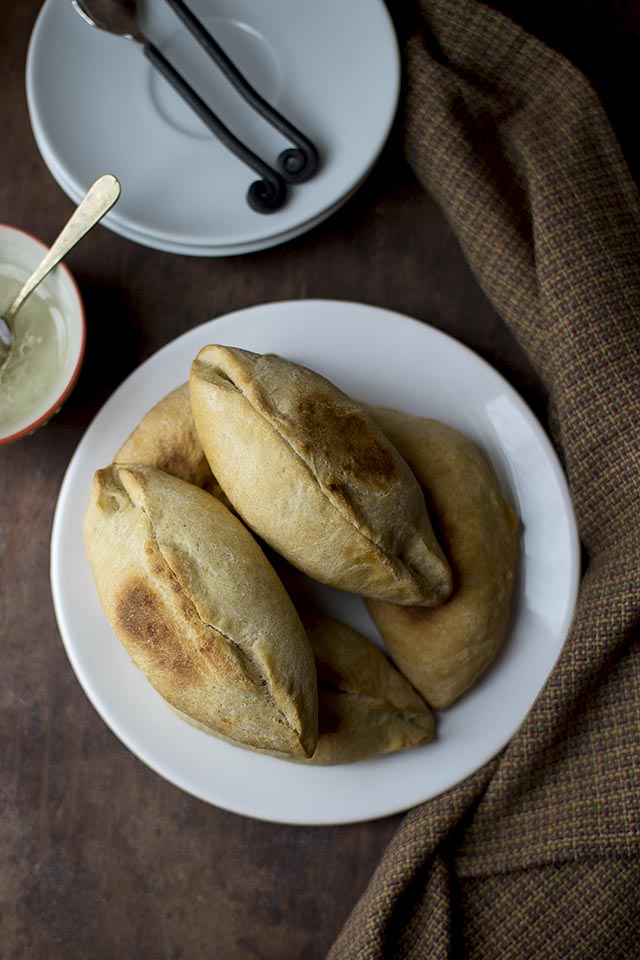 Potato Pirozhki
Pirozhkis are Russian stuffed pastries made with pillowy soft enriched dough and a cheesy, potato filling. They are great to serve with a garlic dip and can be served as an appetizer or a meal or a snack.
Print
Pin
Rate
Ingredients
For the Dough:
1½

cups

All purpose flour

½

cup

Wholewheat flour

1

tsp

Instant Yeast

1

tbsp

Sugar

¾

tsp

Salt

1

tbsp

Egg replacer whisked in 3tbsp water (for 1 large egg)

2

tbsp

Pizza dough flavor (optional)

¼

cup

Sour cream

2

tbsp

Unsalted Butter, softened

¼

cup

Lukewarm Water
For the Filling:
2

Medium Potatoes, boiled, peeled and mashed

2

tsp

Oil

1

Small Onion, finely chopped

2

Garlic cloves, finely minced

To taste

Salt Pepper

½

cup

Grated Cheddar Cheese
Instructions
Make the dough:
Combine all the ingredients for the dough in a large mixing bowl or the bowl of a stand mixer. Mix and knead until a soft, smooth dough forms. Transfer the dough to a lightly greased bowl, cover and set aside to rise for 90 minutes or until puffy but not necessarily doubled in volume.
Make the Filling:
Heat oil in a pan, add the onion and cook till it turns translucent. Add the garlic and cook for a minute.

Next add the boiled and mashed potatoes and season with salt and pepper. Cook covered for 4~5 minutes for the flavors* to mingle.

Cool the filling to room temperature and stir in the cheese.
Make Pirozhkis:
Divide the dough into 8 equal pieces; shape each piece into a ball and place them on a parchment lined baking sheet leaving about 1" inch between them. Cover and rest for 15 minutes.

Shape each ball into a flattened round about 5" in diameter, brush the surface with some milk and place 1~2tbsp filling onto the center. Pull the dough over the filling, pinching 2 opposite edges together tightly, to seal in the filling. It should look like a dumpling. Place the buns on the parchment lined baking sheet, cover and set aside for 1 hour or until puffy.

Preheat the oven to 400°F.

Brush the buns with milk (or egg wash) and bake them for 15~20 minutes or until golden brown. Remove from the oven and allow to cool for 5~10 minutes before serving.
Notes
I added some Indian spices (red chili powder, chaat masala & lemon juice) to the filling to suit our taste.