BM# 68-Cooking Carnival: Day 24
Theme of Week 5: Fruit based Desserts
Dish: Qubani Ka Meetha
After 2 days of using
fresh
fruit
in desserts, today I have a dish that uses dried fruit instead. Qubani ka Meetha is a traditional Hyderabadi dessert that has been on my to make list for a very very long time. Finally got a chance to make it for Cooking Carnival.
This has got to be the simplest Indian dessert ever. No need to make sugar syrup (which I still run miles away from), no need to deep fry and no elaborate procedure -- perfect dessert to make for me. The most time consuming part of the whole recipe is soaking the dried apricots. Once you get that done, it takes about 35~45 minutes hands on time. I thought cracking the seeds was a little tricky because they are small and smacking them to get to the kernel needs some patience. Other than opening the almond shaped kernels, the recipe is breeze to make.
To be honest, I have never tasted or even seen qubani ka meetha before. I used dried apricots from India that were a little on the dark side. I've seen many qubani ka meetha photos online and most of them have a nice orange hue, mine turned out dark. But it tasted delicious and my husband attested to it.
Serve qubani ka meetha warm or cold with cream or vanilla ice cream. The recipe I used is from Sweet temptations by Sanjeev Kapoor.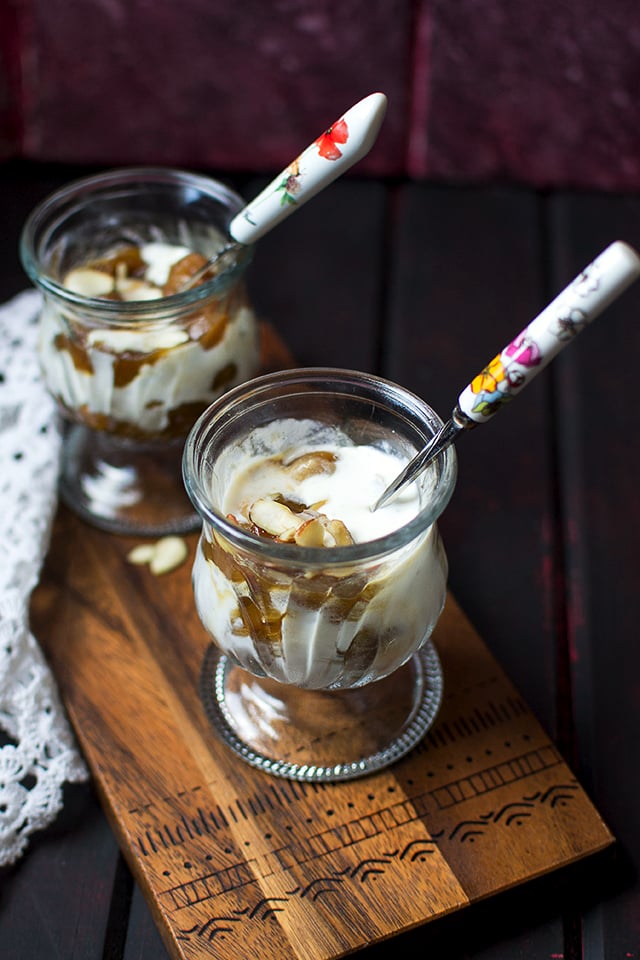 Qubani Ka Meetha
Qubani ka meetha is a traditional Hyderabadi dessert made from dried apricots. It is very simple to make with just a few ingredients. Serve it with some fresh cream or vanilla ice cream.
Print
Pin
Rate
Ingredients
1

cup

Apricot

Dried / Qubani

¼ ~ ⅓

cup

Sugar

(adjust as per taste)

Vanilla Icecream cream

/ Whipped , to serve
Instructions
Soak dried apricots in 3cups of water overnight, or at least 6 hours.

Once the apricot are nice and plump, drain them reserving the soaking water.

Remove the seeds from the apricots, then wash the seeds and crack them to open the kernels.

Blanch the kernels in boiling water for 3~4 minutes, remove the skin and set them aside.

Boil the apricots in the same water they were soaked, for about 10~12 minutes.

Add the sugar and continue to boil for nother 3~4 minutes or until the sugar dissolves.

Remove from heat and cool slightly. At this stage, you can either puree the apricots or leave them whole (like I did).

Serve with fresh cream or vanilla ice cream and garnish with apricot kernels. Enjoy!!