BM# 68-Cooking Carnival: Day 4
Theme of the Week 2: Whole Grains in Salads
Dish: Summer Barley Salad
We are into Week 2 of this month's Mega marathon and my ingredient choice for this week is 'Whole Grains'. Since Whole grains is a broad category to choose recipes from, I'm going to do a sub-category under it. I will posting Salads made with Whole grains this week. Since today is unofficial end of Summer in the US, I have a very summery salad made with Barley for today.
Whole grains are any grains that are are eaten in their 'whole' form. They include grains like wheat, corn, rice, oats, barley, quinoa, sorghum etc. Whole grains are very good source for disease-fighting phytochemicals and antioxidants. In fact they have valuable antioxidants that are not found in fruits & vegetables, as well as B vitamins, vitamin E, magnesium, iron and fiber.
I try to buy whole grains from the bulk section of Whole foods, so I can only get how much I need. I store the grains in the fridge for short term and move them to the freezer for longer storage.
Barley is one of the oldest cultivated grains. Barley has a particularly tough hull, which is very difficult to remove without losing some of the bran. So lightly pearled barley is technically not a 'whole grain' (as some of the bran is missing), but its full of fiber and much refined than a fully refined grain.
Today's recipe, Summer Barley Salad, could not be any simpler. Recipe is from the Kitchn. Barley cooks up to be chewy and is a great alternate to pasta in a salad. I used the veggies and herbs from my garden and this dish turned out to be quite delicious. It is a great make ahead dish to make for picnics or to pack in lunchboxes.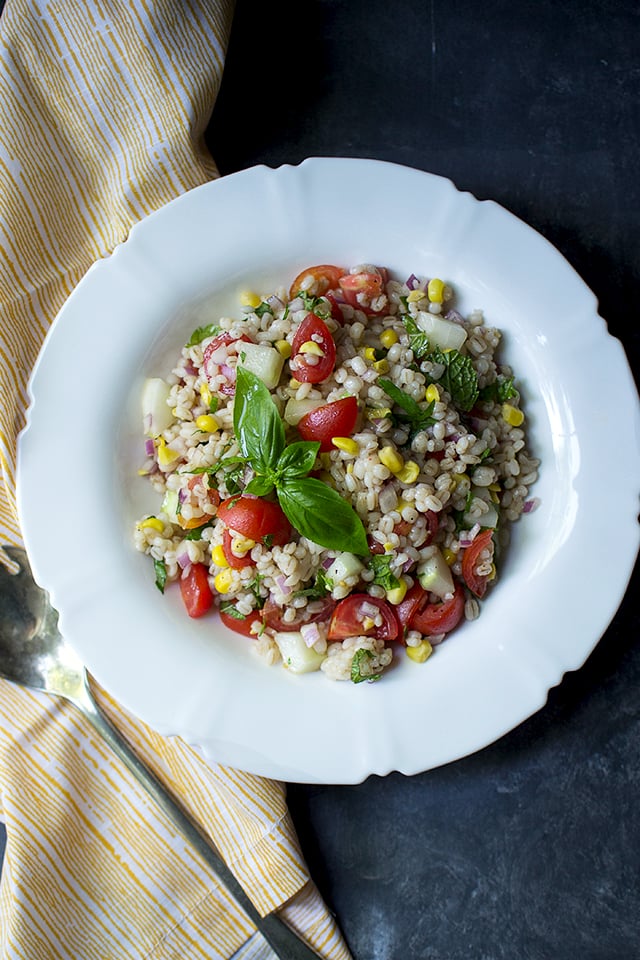 Summer Barley Salad
Healthy & Nutritious Summer Salad made with Whole Barley. A great make ahead dish for picnics or pack for lunches.
Print
Pin
Rate
Ingredients
1

cup

Barley

Pearl

1

Cucumber

Small , peeled, seeded and diced

12 ~ 15

Cherry Tomatoes

1

Red Onion

Small , finely chopped

1

cup

Corn

kernels (fresh or frozen)

¼

cup

Extra virgin Olive oil

3

tbsps

White wine vinegar Sherry vinegar

or

To taste

Salt Pepper

&

3

tbsps

Parsley

Fresh , chopped

3

tbsps

Basil

Fresh , chopped

3

tbsps

Mint

Fresh , chopped
Instructions
Cook Barley:
Combine barley and 3cups of water in a saucepan with a pinch of salt. Bring the mixture to a boil, lower the heat and simmer covered until all the water is absorbed and barley is soft yet chewy. Add more water if the pan becomes dry before the barley has finished cooking.
Make the Dressing:
In a small bowl, combine vinegar, olive oil, salt and pepper. Whisk until combined.
Make the Salad:
Combine slightly cooled barley, chopped veggies (cukes, tomatoes, red onion and corn) and the dressing. Mix well to combine. Taste and adjust the seasoning.

Serve right away or let it sit for a little bit for the flavors to mingle.
Notes