Blogging Marathon# 31: Week 2/ Day 2
Theme: Meatless Dishes
Dish: Vegetarian Curried 'Egg' Salad
Day 2 of BM# 31 and today I'm remaking my favorite Egg salad into a meatless dish. There are a ton of recipes that use only tofu, but the tricky part of making good eggless egg salad is getting the creaminess right. Egg yolks give that creaminess and using only tofu might make the salad too dry.
For those of you who never tasted Egg salad, it is a mayonnaise based salad with chopped boiled eggs and then seasoned and flavored as per taste. I think the first time I ate an egg salad was during my Masters while working at the deli. The owner used to make me an egg salad sandwich on rye bread with all the fixings and it was super yummy!! I've peeled a zillion eggs during my stint at the deli and learnt how to make a good egg salad too. But today it's about this eggless tofu salad 🙂
So when I found this recipe that uses pureed chickpeas I knew this would be a winner. The pureed chickpeas mimic real yolk in both texture and taste. The only thing I would do differently next time is not to pulse tofu in the food processor. I think I like bit more texture to my salad and I would break tofu into bigger chunks rather than pulse to crumbles the next time I make this salad.
I was a little skeptical how the taste would be since we are using raw tofu here, but I have to say I really enjoyed it. It's almost close to the real egg salad (which by the way is one of my favorite ways to enjoy eggs). I like some onion action in my egg salad, so I went ahead and added some in this tofu version as well. But feel free to add caramelized onions (like I did in this egg salad) or celery or anything other flavorings to this basic recipe to jazz it up.
Serve it as a filling for sandwich or put a spoonful on crackers or top it on a bed of lettuce, this salad is great eaten any which way. Enjoy!!
Recipe adapted from the Pig & Quill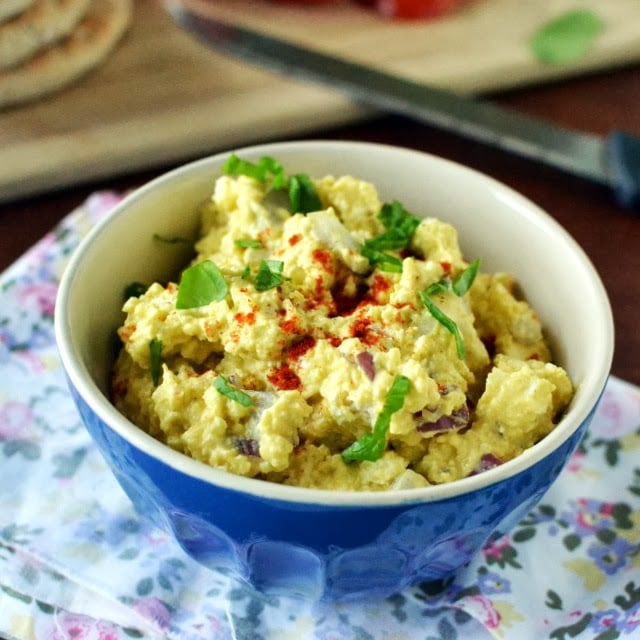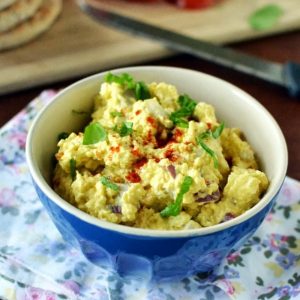 Ingredients
8

oz

firm Tofu

. Extra - (~ half of a 16oz. package)

¾

cup

Chickpeas

- rinsed and drained (half of a 16oz. can)

3

tbsps

Mayonnaise

(or more for creamier salad) -- Use Veganaise  to make the salad vegan

1 - 2

tsps

Curry powder

(as per taste)

1

tsp

Chili powder

1

Red onion

- small, finely diced

to taste

Salt Pepper

&
Instructions
Drain tofu and wrap it in paper towels and/ or kitchen towel and let it drain for at least 20-30 minutes.

In the meantime, blend chickpeas, mayonnaise, curry powder, chili powder, salt and pepper into a almost smooth paste.

In a medium bowl, crumble tofu with a fork into desired size. You can pulse in the food processor also.

Add the chickpea puree, chopped red onion to the crumbed tofu and mix gently to combine. Taste and adjust the seasoning accordingly. If you have time, chill the salad for a little bit before serving.
Notes
I had this eggless tofu salad as a sandwich on a Wheat thin roll topped with baby spinach and tomato.
Lets check out what my fellow marathoners have cooked today for BM# 31.