BM# 75: A-Z Bake Around the World: Day 23
Bake of the Day: W for Wholewheat Pita Bread
Country: Middle East (Syria/ Lebanon)
After 6 days of continuous sweet dishes, I have a savory dish Wholewheat Pita bread today. This is a soft, puffy baked flatbread that is part of many Middle Eastern, Mediterranean, Balkan cuisines. They are very similar to Indian naans but are softer and have a pocket in the middle.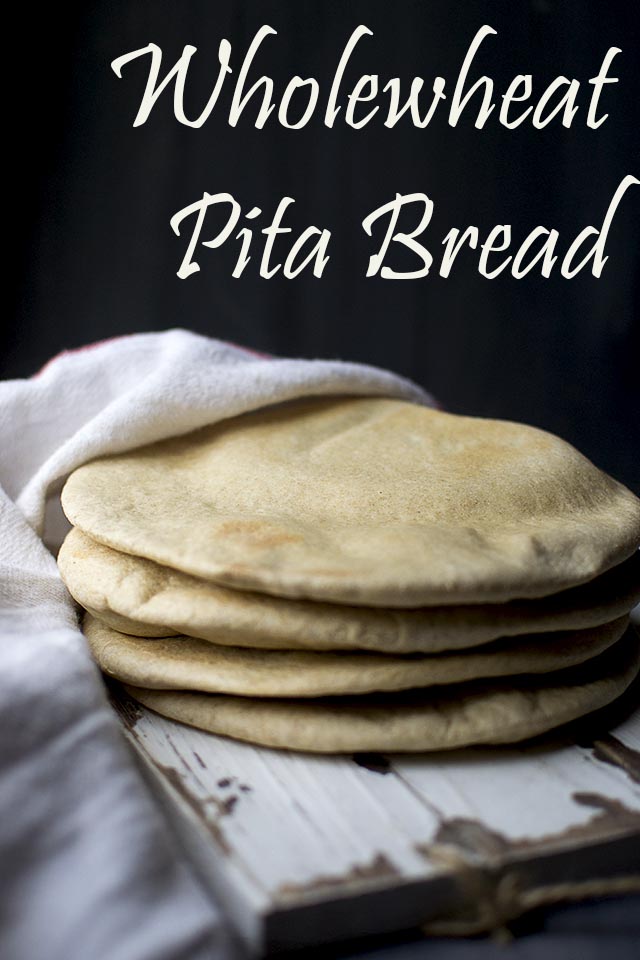 I am teaming up with 40 other food bloggers this week for a blog event called RecipeMakeover. We were asked to redo a favorite recipe or any recipe at all to make it a little healthy or better for us. There are many ways a recipe can be made better, so I made a Wholewheat pita bread that has more fiber and nutritious than regular ones.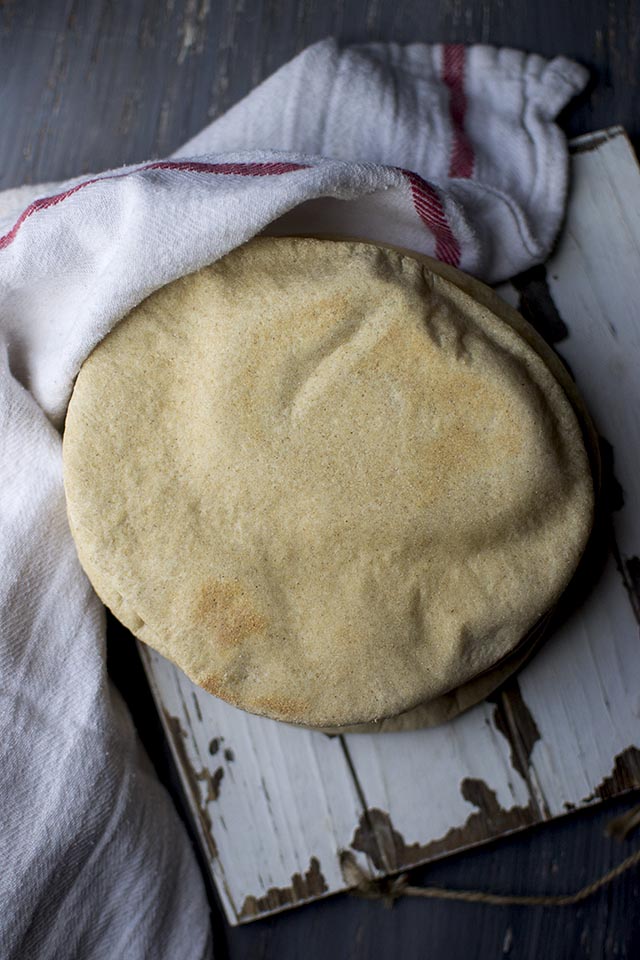 Since I'm in the midst of mega marathon and the letter of the day is W, I went with Wholewheat Pita for the day. This recipe is from King Arthur flour Whole grain baking cookbook. Generally the store bought whole wheat bread is very stiff and a little like cardboard, in both taste and texture.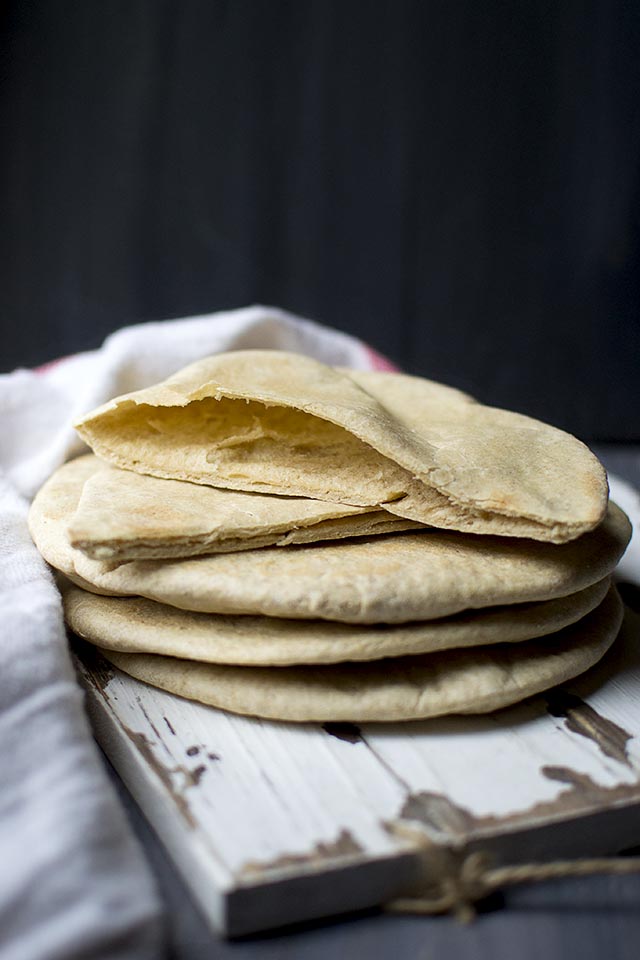 This version makes a fluffy, nicely ballooned pita, that is just perfect for stuffing with falafel, veggies, salad or whatever you want to fill it with. I made myself a nice falafel sandwich with the freshly made pitas.
Leftover bread can be frozen for later use. Just make sure to completely cool and then wrap tightly in foil or plastic wrap. Place in a ziplock bag and freeze for up to 1 month. When ready to serve, microwave the bread for 30 seconds to 1 minute and serve right away.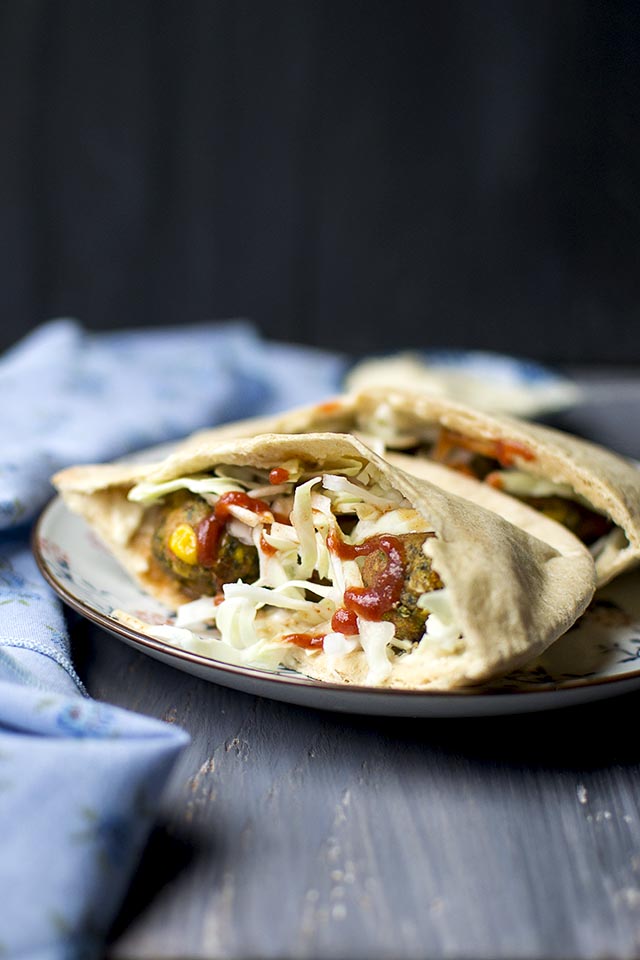 Check out the Blogging Marathon page for the other Blogging Marathoners doing BM# 75.
[inlinkz_linkup id=693911 mode=1]
[inlinkz_linkup id=710473 mode=1]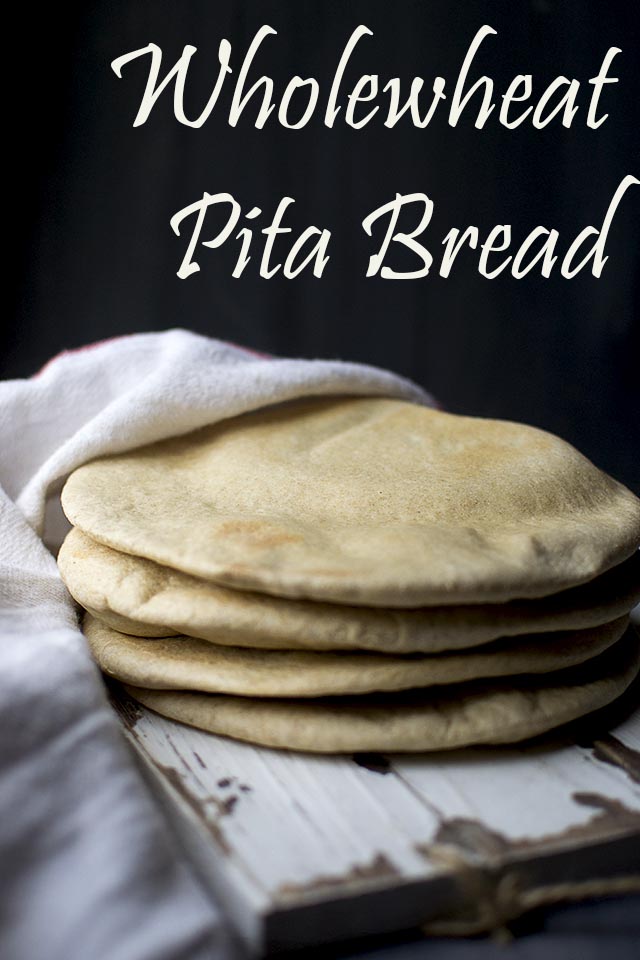 Wholewheat Pita Bread
Wholewheat pita bread made with wholewheat flour. These soft and fluffy flatbread balloon perfectly and the pocket is great to be filled with falafel, veggies and just about anything.
Print
Pin
Rate
Ingredients
1¾

cups

Wholewheat flour

1½

cups

bread flour

1½

tsp

salt

1½

tsp

Instant Yeast

1¼

cups

Warm Water

2

tbsp

olive oil
Instructions
Combine all the ingredients; mix and knead until a soft, pliable dough forms -- about 8 minutes by hand or 5 minutes in the mixer. You may have to add a little more flour, but don't add too much as the wholewheat flour tends to absorb liquid as they develop.

Cover the bowl and let the dough rise until doubled in volume, about 1½ hours,

Place a baking stone on the bottom rack of the oven and preheat the oven to 450°F.

Turn the dough onto a floured surface and cut it in the half. Divide one half into 4 equal pieces and form each into a ball. Let the balls rise for 10 minutes, covered, while dividing the second half of dough in the same way.

Roll out each dough into a 6" diameter circle and less than ¼" thick. Place the rolled pitas 2 at a time on the hot baking stone. It should take 3~4 minutes for the pitas to puff up.

Turn them once while they're baking to cook the pitas evenly on both sides. Remove the pitas from the oven and repeat with the remaining pitas. Stack the warm pitas together in a kitchen towel.