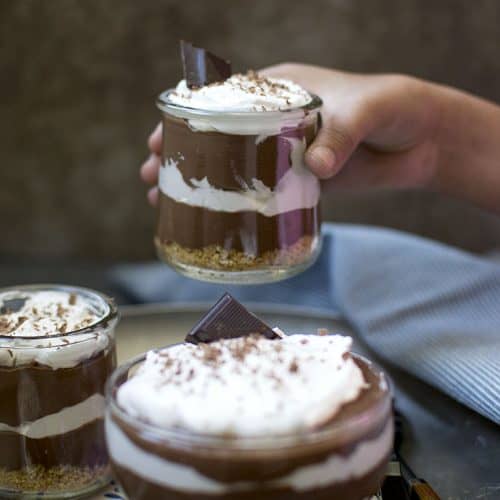 Vegan Chocolate Cream Pie
Individual Vegan Chocolate Cream Pies are deconstructed and plant based version of the classic chocolate cream pie.
Vegan Chocolate Pudding:
1/3~½*

cup

Granulated Sugar

2

tbsp

Divine Cocoa powder (or unsweetened cocoa powder)

2

tbsp

corn starch

¼

tsp

salt

1¼

cups

Almond Milk

1¼

cups

Almond or Coconut Creamer

1

tsp

Vanilla extract or ½tsp Vanilla bean paste

1

bar (5.3oz)

Semi Sweet Chocolate, coarsely chopped (I used Divine Semi sweet 55% baking bar)

1

tbsp

Vegan Butter
Other Ingredients:
1

cup

Graham Cracker Crumbs

2

tbsp

Vegan Butter, melted

2

cups

Coconut whipped cream* or Almond whipped cream (store bought)

As needed

Chocolate shavings, for garnish
Make Vegan Chocolate Pudding:
In a medium heavy pan, whisk sugar, cocoa, cornstarch and salt. Slowly whisk in the milk and cream and vanilla bean extract (if using). Make sure there are no lumps.

Slowly bring the mixture to a boil over medium heat while whisking constantly.

Lower the heat to a simmer cover and simmer gently for 8~10 minutes or until the pudding begins to thicken. Remove from the heat and whisk in the butter and vanilla extract.

Let the pudding cool completely.
Prep other layers:
In a small bowl, combine the graham cracker crumbs and melted butter. Mix well to combine.

Make coconut cream frosting* or use store bought vegan frosting.
Assemble:
Layer the graham cracker crumbs in the bottom of 4 small serving bowls, top with alternating layers of chocolate pudding and whipped cream. Garnish with shaved chocolate. Chill for at least 4 hours and Enjoy!!
If you want the pudding to be on the sweet side, increase sugar to ½ cup.
If you don't have access to vegan creamer, then use the same quantity of almond or other plant based milk. The pudding may take slightly longer to thicken.
Refrigerate a can of full fat coconut milk overnight. Open and scoop out the now thickened coconut cream into a mixing bowl. The clear coconut water can be used in soups, smoothies etc.