Chapat are Parsi style crepes that are slightly thicker than French crepes but thinner than pancakes. They are great to serve for breakfast or as an evening snack.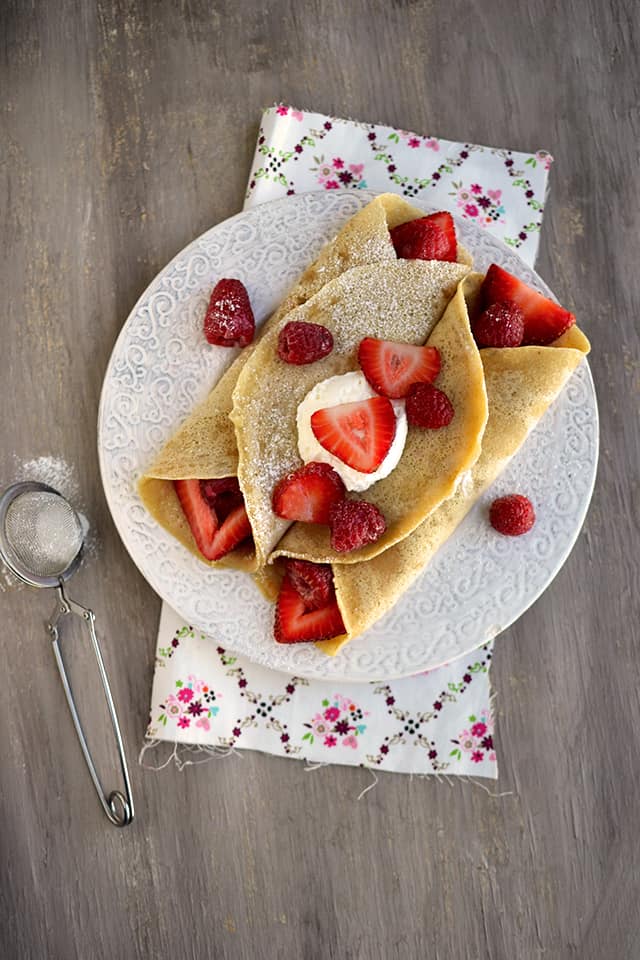 I love making pancakes and waffles for breakfast on the weekends. On every weekend mind you, though my kids would LOVE it if I made them every weekend. In my quest to expand my weekend breakfast repertoire, I tried these Parsi style crepes called Chapat.
Chapat | Parsi Crepes:
Recipe for from Peri's Spice Ladle. If you are looking for some amazing Parsi recipes and insight into Parsi cuisine, then head on over to her site.
What I have learnt is that Parsi crepes are similar to French Crepes. But they are flavored with spices like cardamom and cinnamon making them absolutely delicious. Texture wise they are thicker than a traditional crepe but wider and thinner than a pancake.
Easy Crepe Recipe:
These Indo-Persian fusion crepes are very easy to make. Mix the dry ingredients, add the wet ingredients and set aside for a few minutes for the batter to thicken. Make crepes and enjoy.
These are great to serve for breakfast or as an evening snack. Also great to make for Valentine's day or Mother's day for breakfast in bed. is fast approaching these crepes with berries is the perfect dish to serve for your mom.
Ingredients for Parsi Style Crepes:
All purpose flour is the main ingredient. I substituted it with whole wheat pastry flour for some added fiber and nutrition, they still turned out still soft and delicious.
Another important ingredient is semolina flour or fine sooji rawa. This gives the chapat a hearty texture that is unique to these Parsi style crepes.
You can adjust the amount of sugar based on your personal preference. I kept it to a minimum, so you can option to drizzle more syrup while eating. If served with fresh fruit, then I don't think there is any need for more sugar in the recipe.
How to make Perfect Chapat:
Thickness of the batter determines how good these crepes are going to turn out. The amount of milk/ liquid to add to the batter depends on a number of factors. Please use the quantity in the recipe as a guideline and add more if the batter looks too thick.
This recipe can be easily made Vegan by substituting milk with non-dairy milk. My favorite would be either almond or oat milk. Use egg replacer powder or a flax egg instead of the egg.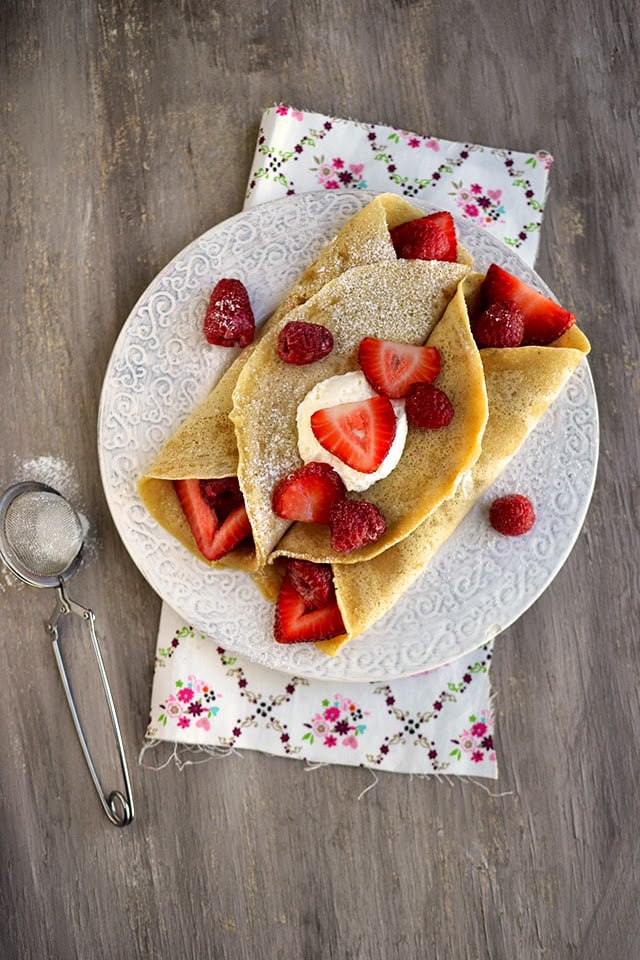 Parsi Style Crepes (Chapat)
Chapat are Parsi style crepes that are slightly thicker than French crepes but thinner than pancakes. Great to serve for breakfast or as an evening snack.
Print
Pin
Rate
Ingredients
1

cup

Whole-wheat Pastry flour (or All purpose flour)

½

cup

Semolina flour or fine Sooji rawa

2

tbsp

Sugar

¼

tsp

Ground Cardamom

¼

tsp

Ground Cinnamon

⅛

tsp

Ground Nutmeg

½

tsp

Salt

2

tsp

Orange Zest (optional)

1¼

cup

Milk*

1

tbsp

Egg Replacer whisked in 3tbsp water (or 1 large Egg)

1

tsp

Vanilla extract

As needed

Butter, for the pan
Topping Ideas:
As needed

Fruit Preserves

As needed

Maple Syrup or Chocolate Syrup
Instructions
In a medium size mixing bowl, combine flours, sugar, spices, salt and orange zest (if using).

In another bowl, combine milk, egg replacer mixture (or whisked egg) and vanilla extract.

Add the wet ingredients to dry ingredients and mix until just combined. Set the mixture aside for 15~20 minutes. The batter should be of pouring consistency. Add more milk if it is too thick.

Heat a 8" non-stick pan on medium heat. Add a small pat of butter and wipe it off with a paper towel.

Pour ¼ cup of batter into the pan. Gently swirl the pan around to evenly distribute the batter. Cook for about 1 minute or until the bottom of the crepe starts to leave the pan around the edges. Genty flip and cook for 10~15 seconds.

Remove onto a plate and repeat with the remaining batter. Serve right away with toppings of choice.
Notes
Adjust the quantity of milk depending on the thickness of the batter.
Batter should have a pourable consistency. Add more milk if the batter looks too thick. Add some flour if the batter looks too thin. 
Make these VEGAN by using non-dairy milk. My favorites are Almond or Oat milk.
Sub the egg with egg replacer powder or use a flax egg.
Non-stick pan or well seasoned cast iron pan is best to use here because they avoid sticking to the pan.
Leftover crepes can be stored in an ziplock bag with parchment paper separating the crepes and frozen for up to 3 months.
How to Serve:
I served the crepes with berries and some cream for breakfast. My kids had the leftovers with some Nutella on top 🙂