These Almond Cranberry biscotti are crispy, crunchy and perfect cookies to dunk in coffee or tea. This version is eggless and is very easy to make.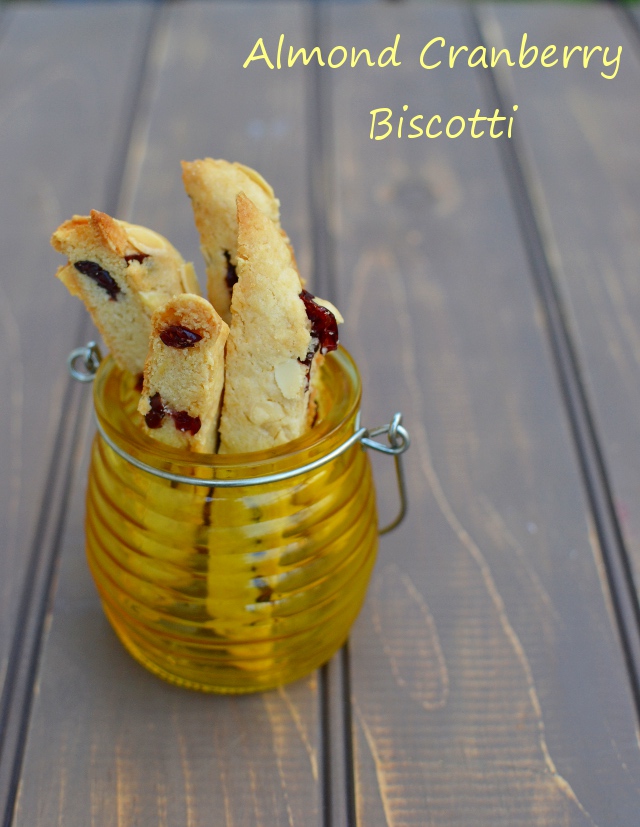 For this month's Home Baker's Challenge, Priya Suresh @ Priya's Versatile Recipes wanted us to bake some crispy & crunchy Biscottis. She gave us options to bake either savory or sweet biscottis. Since I have a houseful of sweet toothed people, I made the sweet biscotti.
I was excited when I saw Priya's picks for this month and I wanted to bake both sweet and savory biscottis, but couldn't find time to make the savory one. I'm glad that I was able to make the sweet version that was liked by all at home. Hopefully I'll make the savory ones too some time soon.
Biscotti | Italian Cookie:
Biscotti literally means 'twice baked/ cooked' in Italian. They are also known as 'cantucci' and are almond cookies that originated in Tuscan, Italy. These cookies are double baked, oblong shaped cookies that are crunchy and dry. They are perfect for dunking in a drink - coffee, tea or even wine.
They are many variations/ recipes for biscotti. Make them plain or add dried fruit, chocolate chips, cranberries or nuts to make them exciting.
Eggless Biscotti:
I love baking eggless cookies and cakes, like this tutti-fruity cookies or this eggless candy cake. To make this almond cranberry biscotti recipe eggless, I used egg replacer powder. The cookies turned out just perfect.
I feel comfortable turning a recipe with up to 2 eggs into an eggless one with egg replacer powder. If the recipe calls for more than 2, I feel the replacer powder doesn't give the necessary structure to the baked treat.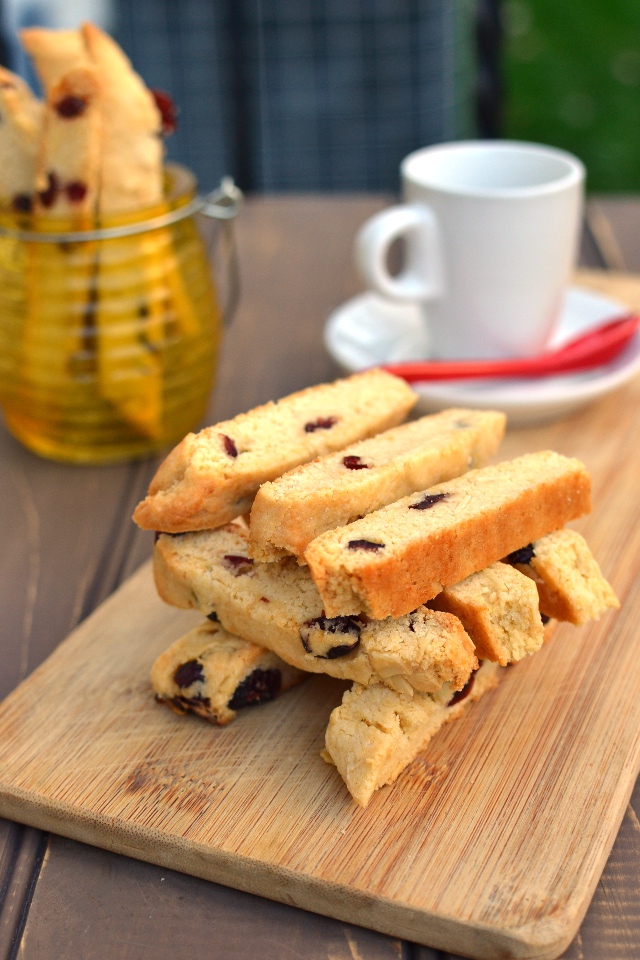 Almond Cranberry Biscotti:
I used King Arthur flour's American Style Vanilla Biscotti recipe and added 2 of my favorite ingredients. Almond and cranberry are a great combo. Crunchy, nutty almonds with sweet-tangy cranberries play each other well in recipes in both taste and texture.
I also added some fiori di sicilia extract. This extract is a combination of citrus and vanilla with a pleasingly floral aroma. It almost feels like holiday season tasting these biscottis.
Italian biscotti are hard, but these American style biscottis are light and crunchy. The recipe is very similar to that of drop cookies.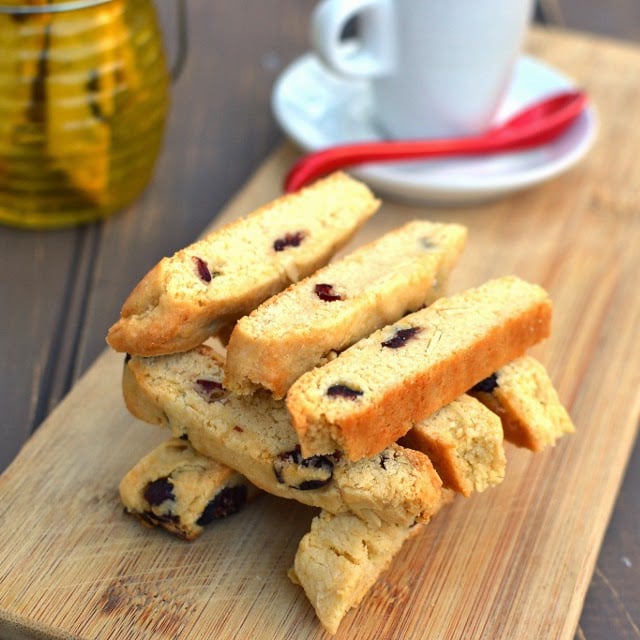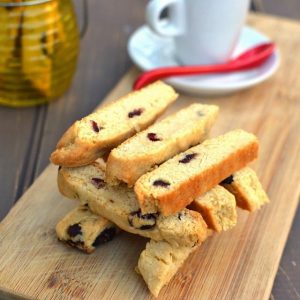 Eggless Almond Cranberry Biscotti
These Almond Cranberry biscotti are crispy, crunchy and perfect cookies to dunk in coffee or tea. This version is eggless and is very easy to make.
Print
Pin
Rate
Ingredients
6

tbsps

Butter, at room temperature

⅔

cup

Sugar

½

tsp

Salt

1

tsp

Vanilla extract

½

tsp

Fiori Di Sicilia (optional)

1½

tsps

Baking Powder

2

tbsp

Egg replacer - whisked in 6tbsp of water (or use 2 large eggs)

2

cups

All purpose flour

½

cup

Almonds, Sliced

½

cup

Dried Cranberries
Instructions
Preheat oven to 350°F. Lightly grease a large baking sheet or line it with parchment paper.

In a mixing bowl, beat butter, sugar, salt, extracts and baking powder using a hand mixer until light and fluffy.

Add the egg replacer mixture (or the eggs, one at a time) and beat until completely combined.

With the mixer on low speed, add the flour slowly and stir until smooth. Add the almonds and cranberries and mix until incorporated.

Plop the dough onto the baking sheet and divide it into 2 equals parts.

Wet your fingers and smooth the dough out into approximately 14"x2½"x¾" rectangle. It doesn't have to be this exact.

Bake in the preheated oven for 25 minutes. By this time, the dough will start browning around the edges and slightly firm to touch.

Remove from the oven and let cool for 10-25 minutes.

When ready for the second bake, fill a spray bottle with room temperature water and spritz the baked logs evenly with the water. This will keep the dough from crumbling when cutting.

Using a very sharp serrated knife, cut the log into ½" - ¾" wide cookies. Make sure to cut the log up and down perpendicular to the pan and cut evenly so that the biscotti don't topple when baking.

Set the biscotti on the edge on the baking sheet. Reduce the oven temperature to 325°F and bake for 25-30 minutes or until the biscottis feel very dry and starting to turn golden. Remove onto a wire rack and let cool completely before storing in an airtight container where they stay good for weeks.
Notes
Almonds and Cranberries can be subbed with other nuts, dried fruit or chocolate chips.
Change up the spices to suit the ingredients - like cinnamon with dried apple and pecans.