I'm joining the 3rd group for Blogging Marathon# 5 with "Curry in a Hurry" theme. Thanks to Valli for letting me join the group again or in other words letting me continue the marathon for another week. So for the next 7 days I'll be posting different curries that can be made within 30 minutes.
30 Minutes is the most I have on a week night to cook before all of us get cranky with hunger. I try to keep things simple and try to make dishes that don't need too much baby sitting or lot of prep work. Here's one such dish that I made from Sandeepa's Bong Cookbook for last week's Bengali marathon but couldn't post since I already had my 7 Bengali recipes.
Eggplant/ Brinjal is my absolute favorite veggie and potato-eggplant is one of my favorite combos. My mom makes simple vankaya-bangaladumpa kura (potato-eggplant curry) that is simply out of this world and it doesn't even have any masalas or anything else to jazz it up; it's just the veggies cooked with salt and curry powder. It's just yumm.. After using poppy seeds in these dishes, poppy seeds have become my new favorite ingredient. These seeds are tiny but the creamy consistency they give to the dish is simply fabulous.
I had some eggplants that needed to be used up, so I added them too to make this Alu beguni posto. I hope alu posto purists are not going to pelt me with potatoes. This is my way of combining my favorite ingredients and I've to say the end result was "Moja" (delicious in Bengali???).
Thank you Sandeepa for correcting the name of the dish. Sandeepa's original recipe here: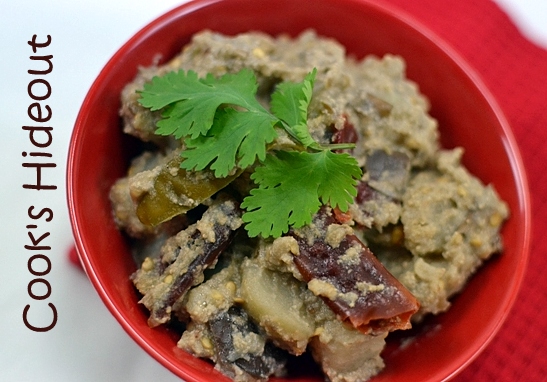 Ingredients
3

Potatoes

– medium, peeled and diced

4

Eggplant

– medium, chopped

3 - 4

chilies

Green

2

chilies

Dry Red

¼

cup

Poppy seeds

to taste

Salt

1

tsp

Cumin seeds

¼

tsp

Turmeric
Instructions
Grind poppy seeds into a smooth powder or if your blender needs some help, sprinkle some water to let the blade moving and make a smooth paste.

Heat 2tbsp oil in a sauté pan, add cumin seeds and once they start to splutter add red chilies and sauté for 30 seconds.

Next add potatoes and eggplant; sauté on medium-high flame until potatoes turn lightly brown around the edges, about 5-6 minutes.

Add poppy paste and turmeric, mix well to coat all the veggies.

Add ½ cup of water, salt and green chilies; lower the heat to medium; cover and cook until the veggies are cooked through, about 10-12 minutes.
Notes
Serve with rice and dal for a complete meal.
Lets check and see what my fellow marathoners have been cooking today:
Curry in a hurry under 30 min:Aarthi, Divya, Jayashree, Jayasree,Kaveri, Pavani,
Seven Days of Indian Sweets:Gayathri, Priya Suresh,
Seven Days of Microwave Meals:
Monika,
Seven Days of Regional Specials: Cool Lassi(e), Harini, Vaishali,Suma
Seven Days of Colorful Dishes Kid's Special:
Kalyani
Summer Coolers: Kamalika, Srivalli