I have nothing to boast about my roti making skills. I have to kick myself in the back for not even trying to watch and learn when my mom made rotis. I couldn't even roll a roti (I'm not too confident even now, to be honest) until my husband taught me how to. He used to make rotis for us and slowly I started learning and making them on my own. Both of us are not big roti eaters and frankly during the week I don't have time to make them. When my MIL visits us, she makes the rotis since I don't want to embarrass myself with the outcome. I only have a couple of recipes that work well for me and with my limited skills I avoid any recipe that has any complicated instructions like stuffing, folding etc.
So when Valli announced that "Indian Breads" was one of the themes for4th blogging marathon, I decided to challenge myself and make 7 different types of Indian breads that I've never made before. For the next one week I'll be posting my roti successes and mishaps as they occur in my kitchen. I found an excellent site by Yogi Gupta that has detailed recipes for a ton of Indian dishes along with a whole section on Indian breads. Most of my trials are from this website.
As I mentioned earlier, I'm trying to make (and learn) 7 different types of Indian breads that involve stuffing, rolling, using different flours, leaveners etc. To start of my Blogging Marathon #4 (Group 3), I made this basic Aloo Paratha – Potato Stuffed Indian Bread. I was skeptical about filling oozing out and rotis turning into disks, but the end result were soft yummy parathas that were just perfect (for my standards).
What did I learn: Making Stuffed parathas is not Rocket Science.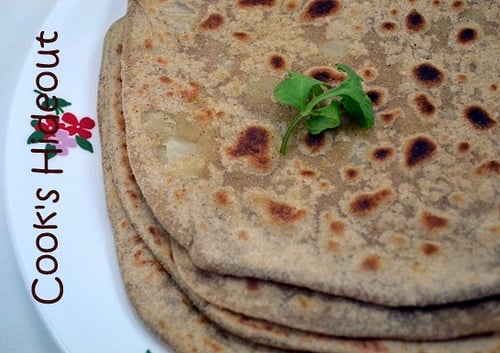 Ingredients
2

cups

Atta (Chapati flour)

½

tsp

Salt

2

tbsp

Ghee, plus more to brush on the paratha

½~⅔

cup

Water
Filling:
3

Medium

Potatoes, boiled and mashed

¾

tsp

Red chili powder

2

tsp

Lime juice

1

tsp

Salt

2

tbsp

Cilantro, finely chopped
Instructions
Make the Dough:
Sift flour, salt and red chili powder. Add ghee and rub into the flour mixture until it forms crumbs. Add water and knead to make soft and smooth dough. Cover dough with a damp paper towel or plastic wrap for at least 30 minutes.
Make the Filling:
In the meantime, make the filling by mixing all the ingredients under "Filling", this should have the consistency of dough. Divide the filling mixture into 8 equal parts.
Make Aloo Paratha:
Divide the dough into 8 equal parts.

Roll out the dough to about 4-5" diameter circle. Place the one of the filling part in the center. Pull the dough around the filling to cover and forms a ball. Gently flatten the dough ball with the fill and roll out carefully to form a 6" diameter circle.

Heat tawa and cook the paratha for about 1 minute; flip over and cook for another 1 minute. Brush some ghee/ oil on the top surface; flip and cook for another 1 minute. Brush the other side with ghee/ oil and cook for another 1 minute. So it takes about 4 minutes to make the paratha with each side cooked for 2 minutes each.

Remove on a clean kitchen towel, cover until all the parathas are made. Serve with yogurt and pickle.
Notes
Ghee can be substituted with vegetable shortening or vegan butter instead.