BM# 44: A-Z Cooking Series -- Around the World in 30 days
Country: A for Argentina
Dish: Creme Caramel with Dulche de Leche
This month, our blogging marathon group is setting off on a culinary journey around the world. I have to say this group is filled with hyper active women who get crazy ideas and thanks to our ever enthusiastic leader, Valli, we are able to channel all our energies into something interesting and exciting at the same time. So after our A-Z Indian cooking series, we started thinking on what the theme for the next mega marathon would be and A-Z International cooking series was the next obvious and logical choice.
Starting today, we will be visiting a different country and enjoying a dish or two from the local cuisine. I've always loved the concept of Passport to a certain country by making and enjoying their dishes right at home without even leaving your kitchen. Rachael ray used to make some of these passport style dishes in her '30 minute meals' years ago.
Deciding on one country to cook from a whole list was a difficult task for me. To make things simple, I decided to cook from countries that I'm really familiar with. Since my husband travels a LOT and gets a chance to taste the local food, I've cooked from the countries he visited. Also I'm lucky to have a very diverse group of friends from different countries. I've asked them to share their favorite recipes that I can cook for this series. For a few countries, I played it safe and cooked simple dishes that I'm sure the whole family likes. 
A for Argentina: Starting off the series with Argentina. It is located in the southeastern South America and one of the countries that my husband frequently visits. He likes the country, but says it is really difficult to get vegetarian food there. Not surprisingly because Argentina has the highest consumption of red meat in the world. But he found some authentic Italian restaurants that serve amazing Italian food that he enjoys a lot.
Argentina is famous for its Tango and for delicious milk based desserts like dulche-de-leche, alfajores and so on.
Today's dish is a baked custard, very similar to flan and creme brulee. I was always under the impression that making creme caramel was a very tedious process and it was best left to the professionals, but I was pleasantly surprised that it wasn't as laborious as I thought it to be. It is relatively easy to put together and the resultant dessert tasted so creamy and delicious.
Making caramel is not something I've mastered yet. But I think I found a technique to make a decent caramel. I cooked on the stove top till it was just about to turn amber and poured in the ramekins. Then I microwaved the ramekins for a few seconds until I got the right color. I know this is totally bizarre, but it worked for me 🙂
I used dulche-de-leche that my husband bought from Argentina and it added such a nice depth of flavor to the dessert. Little goes a long way with this dish, so I prefer making it in small individual ramekins -- for perfect portion control.
Recipe adapted from here: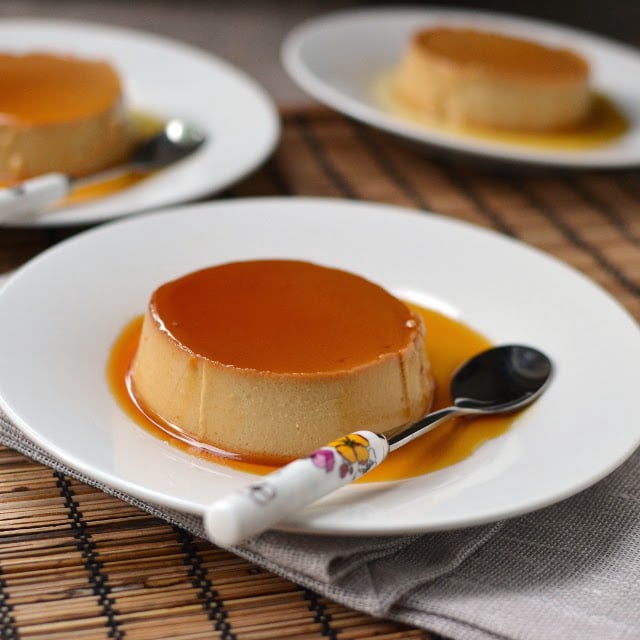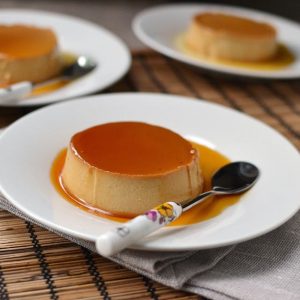 Ingredients
1½

cups

Cream

Light

¼

tsp

Salt

2

Eggs

Large

2

Egg yolks

Large
Instructions
Keep 4 6~7 oz. ramekins ready.

Make the Caramel: Combine sugar and water in a saucepan. Heat on medium flame swirling the pot once in a while until sugar melts and turns orange to amber color.** Immediately divide the caramel evenly among the ramekins. Let cool.

Make the Custard: Preheat the oven 325°F. Combine cream, dulche de leche and salt in a saucepan. Stir until the mixture is smooth and starts to barely simmer -- it should register 160°F on an instant read thermometer.

In the meantime whisk eggs in a bowl. Once the cream is hot enough, temper the eggs with the hot liquid. Slowly add 1~2 ladleful of hot cream mixture into the eggs, while whisking constantly.

Now add the egg mixture back into the saucepan while whisking constantly. Set aside.

Line a roasting pan with a kitchen towel. Bring a big pot of water to boil. Pour the custard into the caramel lined ramekins. Place them in the roasting pan and pour the hot water so it reaches half way to the top of ramekins.

Bake for 25~30 minutes or until the custard is just set. Remove from the oven and let cool completely.

Refrigerate for at least 4 hours or overnight. Run a sharp knife around the edge of the ramekin and invert it over the serving plate. Serve right away and Enjoy!!
Notes