For Day 3 of BM#5, I made this yummy Bengali egg curry. Eggs are beaten and steamed to make egg cake which is then chopped and added to delicious gravy. Recipe adapted from Sandeepa's Bong Cookbook. This is my third recipe in a row from Sandeepa's blog which is filled with ton of yummy Bengali dishes that are easy to make and her posts are always so much fun to read. So if you haven't already, do check out Sandeepa's blog.
Coming back to the egg curry, I followed the recipe, but had to make slight changes to suit our palette. Here's how I made it.
Sandeepa's original recipe here.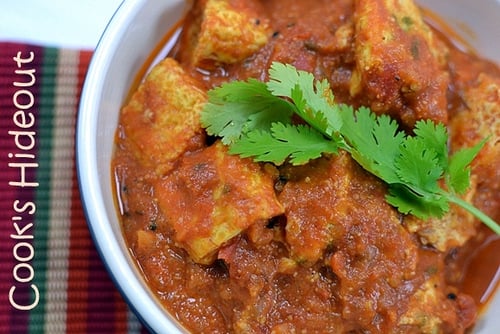 Ingredients
For the Egg Cake:
6

Eggs

1

Red onion

– small, finely chopped

2

chilies

Green – finely chopped

¼

cup

Coriander leaves

– , finely chopped

1

tsp

Ginger

paste

3

tbsps

Milk

to taste

Salt

a pinch

Baking powder
For the Gravy:
1

Red onions

– medium, finely chopped

½

cup

Tomato

puree

½

tsp

Panch phoron

1

tsp

Ginger garlic

+ paste

2

tbsps

Cashew butter

1

tsp

cumin

Ground

1

tsp

coriander

Ground

½

tsp

chili powder

Red

½

tsp

Sugar

to taste

Salt
Instructions
To make the Egg cake: Beat the eggs in a bowl. Add all the other ingredients and whisk until combined. Grease a stainless steel container with cooking spray and pour the egg mixture into it. Cover and steam in a pressure cooker (without the whistle) for 5-6 minutes from the time it starts to give out steam. Open the lid after 3 minutes and unmold the cake and cut into bite size pieces. Set aside.

To make the gravy: Heat 2tbsp oil in a large sauté pan; add panch phoron and once the seeds start to splutter, add onions and sauté until lightly browned around the edges.

Add g+g paste and cook for 1 minute or until they don't smell raw anymore.

Next add tomato puree, cover and cook on medium flame for 5 minutes.

Add spice powders, sugar and salt along with 1 – 1½ cups of water to make the gravy. Let the gravy come to a simmer, whisk in cashew butter and add chopped egg cake pieces. Simmer the curry for 8-10 minutes or until the gravy is thickened. Serve with rice or roti.
Notes
I served the curry with rice and a Bengali style moong dal (recipe coming up tomorrow) for a complete Bengali meal.
Let's check out what my fellow marathoners have been cooking up today:
Curry in a hurry under 30 min: Priya Suresh, Srivalli, Usha
Seven Days of Colorful Dishes Kid's Special:Vardhini,
Seven Days of Indian Sweets: Harini, Suma, Veena
Seven Days of Regional Specials: Aarthi, Kalyani, Pavani, Shylaja
Summer Coolers: PJ, Vaishali
Under 15 mins Quick Breakfast:
Sushma Pinjala