Blogging Marathon# 27: Week 2/ Day 6
Theme: Traditional dishes
Dish: Bobbatlu (Puran Poli)
I made bobbatlu on Ugadhi day. This is my first attempt at making these traditional sweet stuffed breads and they turned out pretty good - soft and delicious. I believe in mass production, as in making burfis or halwas, I'm not a big fan of hand crafting individual pieces. But I took the leap and decided to make bobbatlu and I'm really glad that I did. It was kind of a confidence booster because they came out much better than I had imagined.
Traditionally bobbatlu are made with all purpose flour (maida), but since I always like to sneak in some fiber and a little nutrition in the form of wholewheat flour, I added ½ cup of atta (wholewheat flour) and 1 cup of AP flour. May be next time I will add more atta to make it even more nutritious.
Most of the recipes I saw online for bobbatlu used jaggery for the stuffing, but we are used to sugar in the stuffing, so that is what I used too. I also added some grated fresh coconut. My mom's sister (Peddamma) makes excellent bobbatlu and while making I was thinking and trying to remember how she used to make them. So thank you Peddamma for the inspiration.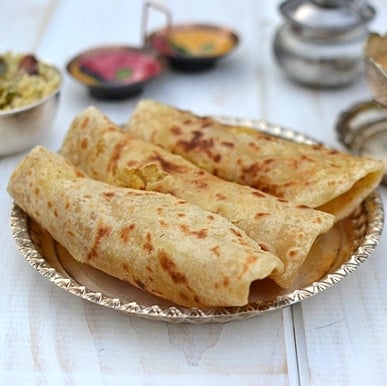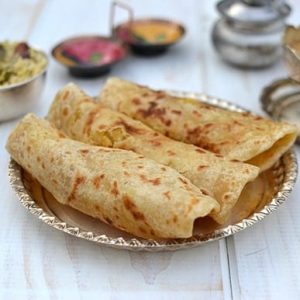 Ingredients
For the Dough:
1

cup

All purpose flour

½

cup

Atta

(wholewheat flour)

a pinch

Salt

2

tsps

Ghee

- and more for making bobbatlu
For the Stuffing:
⅔

cup

Chana dal

(Indian yellow split peas)

⅔

cup

Sugar

½

cup

coconut

Grated (I used frozen that I thawed)

½

tsp

Cardamom

Ground
Instructions
Make the dough: Mix all the ingredients for the dough; add water as needed to make a very soft and pliable dough. Dough should be softer than roti dough; knead well so it gets glossy. Make sure it is not too sticky. Rest the dough covered for 1 hour.

For the Stuffing: Soak chana dal for 30 minutes, then pressure cook until very soft. Drain the water (reserve this water to make pulusu/ pappu) and let it dry for 10 minutes. Then grind it to a smooth paste. Remove into a bowl and add sugar; mix well.

Add the chana dal mixture to a nonstick pan and cook on medium flame for 8-10 minutes, stirring occasionally until the mixture starts to leave the pan. Add ground cardamom and mix well. Cool the mixture and divide it into 12-14 equal size balls.

To make Bobbatlu: Knead the dough well couple of times and divide it into 12-14 equal size balls. Flatten a ball into a small disc. Place the stuffing in the center and pull the dough to cover it. Place this on a lightly ghee greased aluminum foil and using fingers spread it out into a 6" round disc. Make sure it has even thickness.

Cook bobbatlu on medium flame until light brown spots form on both sides. Add some ghee while cooking for added flavor.

Remove and keep covered. Repeat for the rest of the bobbatlu.
Notes
Lets check out what my fellow marathoners have cooked today for BM# 27.