I bought a bag of Buckwheat a while back, after using it once, it got safely stacked away in the back of the refrigerator. With the new house and the moving it took me quite sometime to find it again. So finally it got to see the light of day (not the whole bag, but at least some portion of it) in these pancakes.
Recipe is from Wholegrains Baking by King Arthur flour. Pancakes turned out soft and delicious; addition of molasses made them look darker and burnt but they were just perfect. I froze the leftover pancakes wrapping 2-3 per pack in foil and placed in a freezer safe zip-lock bag; microwaved for a minute or toasted until thawed would make them perfect for a weekday breakfast.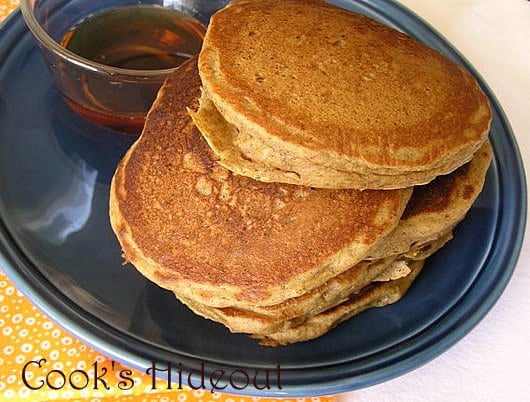 Ingredients
1

cup

Buckwheat flour

¾

cup

All Purpose flour

2

tsps

Baking powder

1

tsp

Baking soda

1

Egg

Large `

2

cups

Buttermilk

2

tbsps

Molasses

1

tbsp

Butter

– melted

½

tsp

Salt
Instructions
In a large bowl, whisk the flours, baking soda & salt.

In a measuring cup, add buttermilk and melted butter.

Whisk egg with molasses in a small bowl.

Form a well in the center of the dry ingredients and add all the wet ingredients. Stir the batter swiftly with a few strokes, just until the dry ingredients are thoroughly moistened.

Heat a non-stick or cast iron griddle on medium heat. Add 1tsp oil and wipe the griddle with a paper towel so that the whole griddle is nicely greased. Pour about ¼ cup of batter and cook until bubbles form, about 2-3 minutes. Gently flip over and cook the other side for another 1 minute.

Serve with maple syrup or any fruit compote.
Notes
These pancakes are quite filling and make a great weekend breakfast. Want to make them for your Dad tomorrow for Father's Day?? Happy Father's day to all Dads. Have fun & Enjoy!!!