BM# 75: A-Z Bake Around the World: Day 2
Bake of the Day: B for Bialys
Country of the Bake: Poland
Today I have a pastry called Bialy or bialystoker kuchen, from the city of Bialystok in Poland. Hundreds of thousands of Eastern European Jews immigrated to America and settled in New York city. They brought these bialys with them. There used to be dozens of bialy bakeries in New York but they have dwindled down in numbers in the recent past.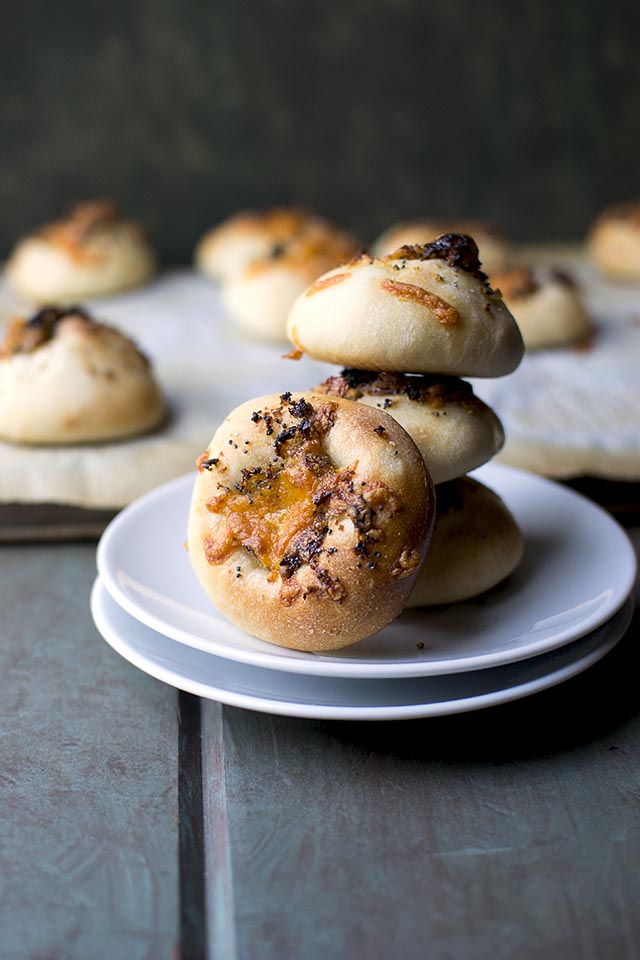 A Bialy is similar to a bagel in that it is a round, chewy roll. But that's were the similarities end, bialys don't have a hole in the middle, instead there's a depression that is filled with onions or cheese (or both). Also bagels are boiled before baking while bialys are only baked.
This recipe for Bialy is from 'The Hot Bread Kitchen' cookbook. The author Jessamyn Waldman Rodriguez says that these bialys have become one of their signature breads and received critical acclaim. So, I had to try these for my bagel loving family.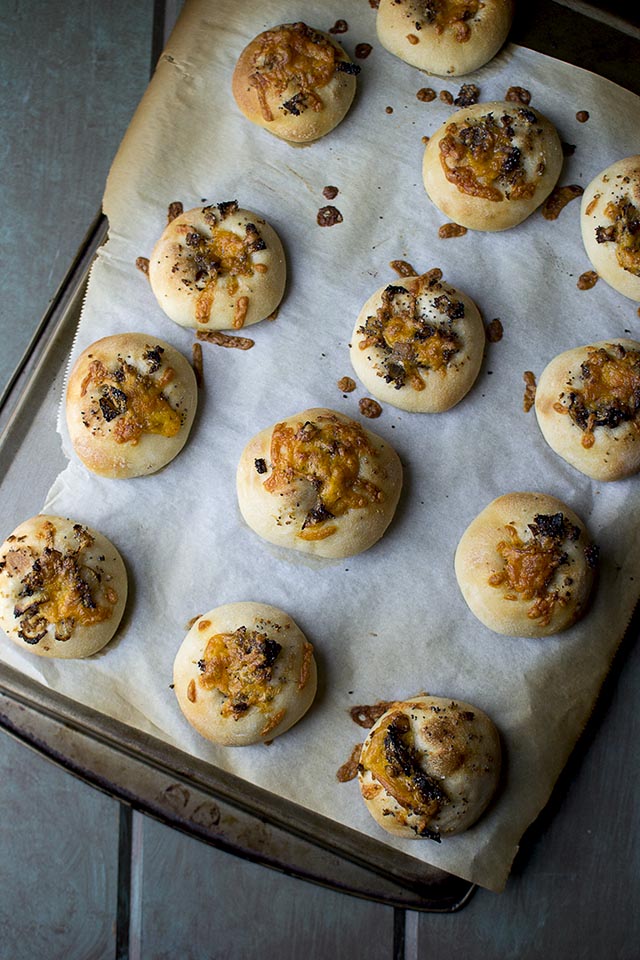 I made the mini onion and cheese bialys. The recipe starts with the making of pâte fermentée about 8~24 hours ahead of time. This extra step extends the fermentation time and allows to achieve a light, flavorful loaf with less yeast. It contains ingredients of simple French bread dough -- flour, water, yeast and salt. Unlike other pre-ferments, pâte fermentée does not impart a sour flavor to the bread -- instead it adds depth of flavor and extends the shelf life of the bread.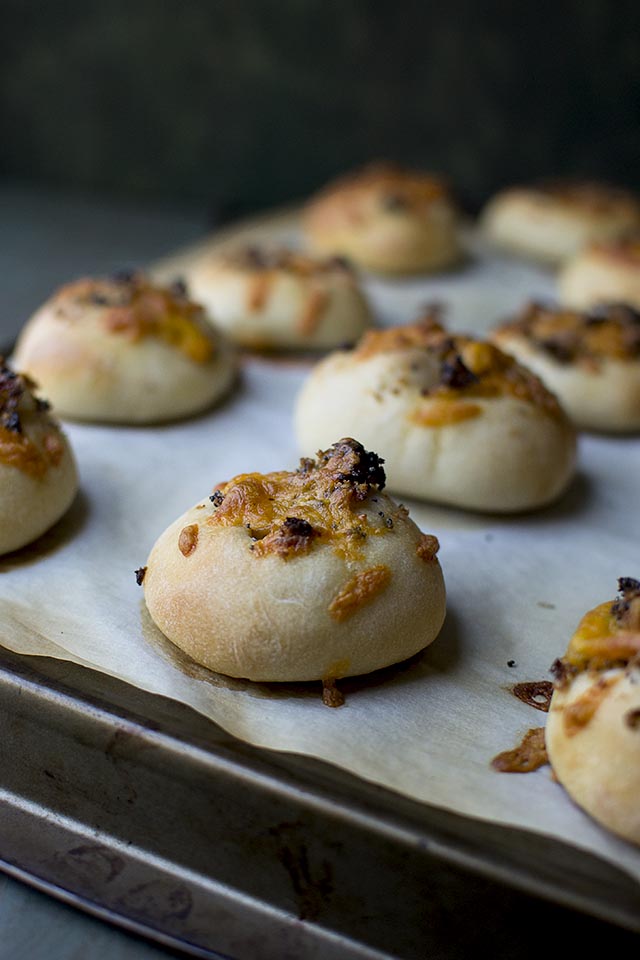 These little bialys turned out chewy and delicious. The caramelized onion, cheese and poppy seeds filling tastes delicious. We ate a few warm right out of the oven. The leftovers keep well in an airtight container for up to 2 days. I cut the bialy in half, lightly toasted them and then ate them with some cream cheese -- so yummy!!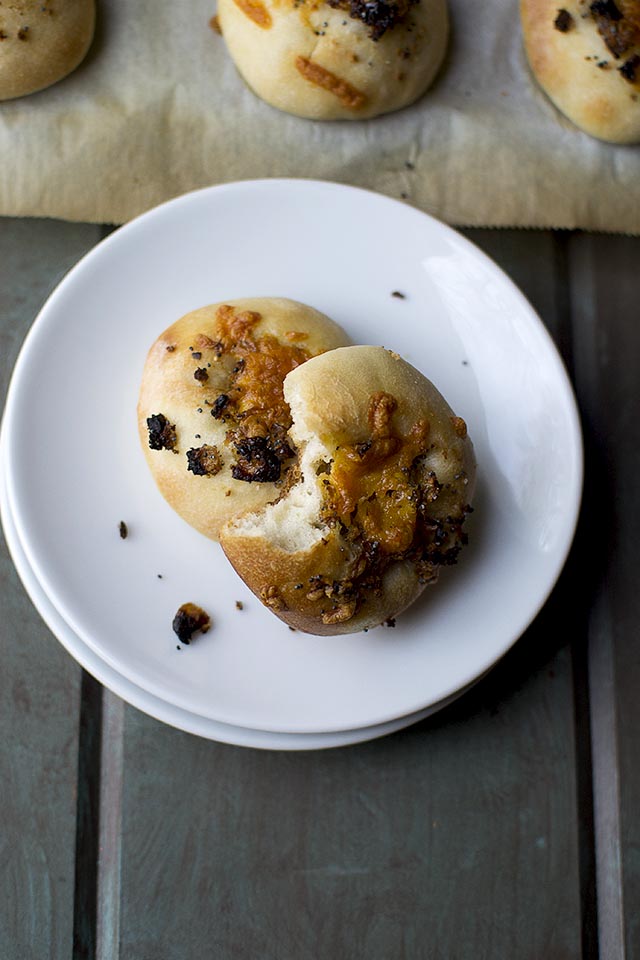 Check out the Blogging Marathon page for the other Blogging Marathoners doing BM# 75.
[inlinkz_linkup id=693881 mode=1]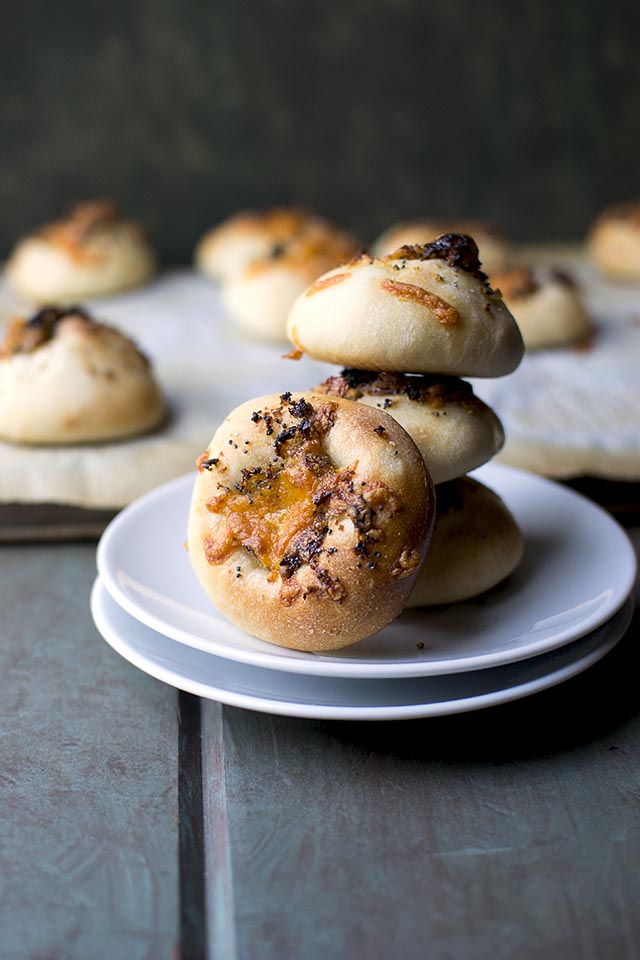 Caramelized Onion & Cheese Bialys Recipe
These caramelized onion and cheese mini Bialys are chewy and delicious. They are great to serve warm but taste amazing toasted with some cream cheese.
Print
Pin
Rate
Ingredients
For Pâte Fermentée:
2

tbsp

Lukewarm Water

⅙

tsp

Instant Yeast

½

cup

bread flour

¼

tsp

salt
For Bialy Dough:
⅔

cup

Lukewarm Water

1¾

cups

bread flour

From Above

Pate Fermentee

½

tsp

Instant Yeast

1½

tsp

salt
For the Caramelized Onion & Cheese Filling:
2

tbsp

olive oil

2

Medium Onions, finely diced

¼

cup

Dried Bread crumbs

¾

tbsp

Poppy seeds

1

cup

Grated Sharp Cheddar Cheese

To taste

kosher salt
Instructions
Make Pâte Fermetée:
Combine all the ingredients for the pâte fermentée in a mixing bowl. Mix until a shaggy dough forms; cover with a plastic wrap and let stand at room temperature for 30 minutes.

Refrigerate the mixture for at least 8 hours and up to 24 hours.
Make Bialy Dough:
Combine the water and flour in a mixing bowl or the bowl of a stand mixer. Let it rest for 20 minutes.

Next add the pâte fermentée (straight from the fridge -- no need to bring to room temperature), yeast and salt -- mix until all the ingredients are well combined. Add a little more water if needed to make a smooth, pliable dough. Knead for 7 (on mixer) ~ 10 minutes (by hand).

Transfer the dough to a clean bowl. Cover and set aside for about 1½hours or until doubled in volume.
Make the Caramelized Onions:
Heat oil in a large skillet on medium-low heat. Add the onions and cook, stirring occasionally, until the onions just start to brown and have reduced in volume, about 15~20 minutes.

Transfer the onions to a bowl and stir in the bread crumbs, poppy seeds and salt. Set aside to cool.
Make Bialys:
Transfer the dough to a lightly floured surface. Divide the dough into 12 equal pieces. Form each piece into a small bun; cover with plastic wrap and let rest for 5 minutes.

Once all the pieces have turned into buns, proceed in the same order in which the pieces were shaped into balls; flatten each ball with the heel of your hand into a disk about 2" diameter.

Place the disks on the back of a baking sheet that is lined with parchment paper. Loosely cover with plastic wrap and set aside for 1~1½hours.

Preheat the oven to 500°F for at least 30 minutes.

Uncover the bialys and using the index and middle fingertips make a depression in the center of each disk of dough. Put about 1tbsp of the filling and a tiny bit of cheese on each bialy.

Bake until golden brown, about 12~15 minutes. Transfer to a wire rack to cool for a few minutes. Serve right away. Leftovers can be kept in an airtight container at room temperature for up to 2 days.