BM# 44: A-Z Cooking Series -- Around the World in 30 days
Country: C for China
Dish: Vegetarian Shanghai Fried Rice
So after trying 2 dishes from South America (Argentina & Brazil), we are travelling all the way to Easten Asia, to China. C for China was an obvious choice for me. Being in the apparel retail industry for as long as I did, I've had a lot of interaction with China and lot of Chinese too.
I went to China 8 years back for business and had a chance to try the local Chinese dishes. Traditional Chinese food is very different from the Chinese food we get in both India and the U.S. Both of the Indo-Chinese and American-Chinese dishes are highly customized and cater to the local palate.
Chinese cuisine is highly diverse and varies between the provinces. Styles and tastes are varied by class, region and ethnic backgrounds, A number of different styles contribute to Chinese cuisine but perhaps the best known and most influential are Cantonese, Shandong, Jiangsu and Szechuan cuisines. These styles are very distinct from one another due to factors such as availability of ingredients, climate, history, cooking technique and lifestyle.
I had so many Chinese dishes in mind that I wanted to try and I even asked one of my close Chinese friend to give me few recipes too. She told me few simple salad recipes, but that was before we went on India trip. At some point in the middle, I remembered this Shanghai Fried rice that I ate in Shanghai and I decided to make this simple fried rice for today.
This is a very simple fried rice with minimum ingredients. The main ingredient is 'Chinese Five Spice' powder. It is a combination of Star Anise, Cloves, Chinese Cinnamon, Black Pepper & Fennel seeds. You can either make it at home by grinding all the spices yourself or you can buy it pre-made, which is what I did. I added scrambled egg to make this rice a complete meal, but you can choose to omit it or add other protein (tofu, paneer etc) instead.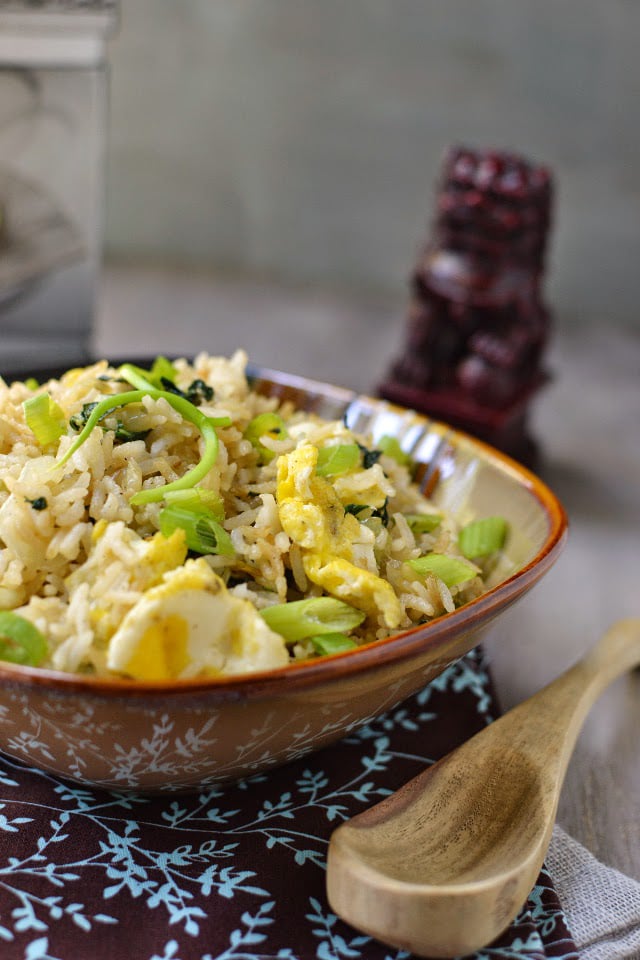 Ingredients
3

cups

Rice

Cooked

3

Bok Choy

Baby - bulbs, chopped

4 ~ 5

Scallions

- chopped

1

Ginger

" - piece, grated

3

cloves

Garlic

- finely minced

1

tbsp

Soy sauce

½

tsp

Five Spice

Chinese

½

tsp

Red Chili

flakes - (optional)

3

Eggs

(optional)

to taste

Salt Pepper

&
Instructions
Heat 1tbsp oil in a pan or wok. Scramble the eggs to desired doneness, remove from the pan and set aside.

In the same pan, add 2tsp more oil and when hot, add ginger, garlic and red pepper flakes. Once they turn golden, add the scallions and bok choy. Cook till the veggies are wilted, about 3~4 minutes.

Add the cooked rice, soy sauce, chinese five spice powder, salt and pepper. Mix well to combine all the ingredients. Fry till the rice is slightly crispy in the bottom.

Add the scrambled eggs and mix well. Serve hot and Enjoy!!
Notes