Churme ka laddu is a very famous Rajasthani delicacy. These are made with atta or whole wheat flour. Traditionally the dough is deep fried in ghee, low and slow until golden brown, then powdered and mixed with the sweetener and made into laddoos using more ghee. 
Since I try to minimize our ghee consumption, I found this healthier version of the laddoos on Sanjeeta's blog and used her tip to bake the dough instead of deep frying. I used a little more ghee than the original recipe and the resultant laddoos are delicious with a melt in your mouth texture. 
The powdery version of the laddoos aka churma is eaten along with dal baatis. My palette is not very used to the sweet and savory combination, but I really enjoyed the bal-baati-churma combo a lot.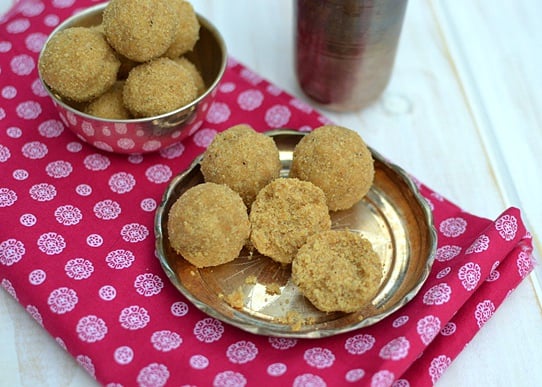 Ingredients
1

cup

Atta Whole wheat flour

/

¼

cup

Ghee

– divided

¾

cup

Jaggery

– grated

1

tsp

Cardamom

Ground

Milk

– as needed
Instructions
Preheat oven to 400°F.

Mix atta with 2 tbsp ghee until it resembles crumbles. Slowly add lukewarm milk and mix until a smooth dough forms.

Divide the dough into same sized balls – I was able to make 4 medium sized balls with the quantities given. Press the balls in your fist to form somewhat oval shaped dough with the impression of your fingers on one side.

Brush some melted butter on the dough balls and place on a baking sheet and bake for 20-25 minutes or until golden brown on all sides.

Remove the baked dough out of the oven and let cool.

Grind the baked dough in a food processor until fine, add elaichi (cardamom) and grated jaggery to the food processor and pulse until combined. If you want smoother laddoos, sieve the ground dough mixture before adding the other ingredients. This is your churma..

To make Churme ka laddoo, add some melted butter to churma and form balls with your hands. Enjoy!!
Notes
Lets check out what my fellow marathoners have cooked up for Day 2 of BM# 12.