Blogging Marathon# 30: Week 4/ Day 3
Theme: Tea Kadai Menu
Dish: Coconut Buns (Pani Popo)
Today's dish has been on my to-make list for a long time and when I saw Coconut cream buns on Valli's 'Tea Kadai menu' theme for BM# 30, I knew it was time to make these buns. I'm not sure how the actual coconut cream buns that are sold at the the stall look like, but I went ahead and made these super soft and fluffy buns with a sweet coconut glaze. We loved them a LOT.
I bookmarked this recipe for coconut buns aka Pani Popo from King Arthur's site over 2 years ago. Pani popo are Samoan coconut buns where soft, tender buns are bathed and baked in sweet coconut syrup. The thought of gooey sweet creamy coconut was so enticing and delicious, but it took me all this time to finally make them.
The buns did not disappoint. They were as tasty and indulgent as I had imagined. The best part is scooping up warm coconut sauce with the warm, flaky bun and eating it right out of the baking pan, yummmm!!
Original recipe used eggs, but I used egg replacer and the buns came out perfect. You can't even tell these are eggless, they were just as soft and fluffy as the ones with eggs.
To make this, first we have to make buns using a sweet yeast dough and then bake them with the sweet coconut sauce. I think the next time I make them I'm going to add some wholewheat flour to amp up the fiber and make them a little guilt free.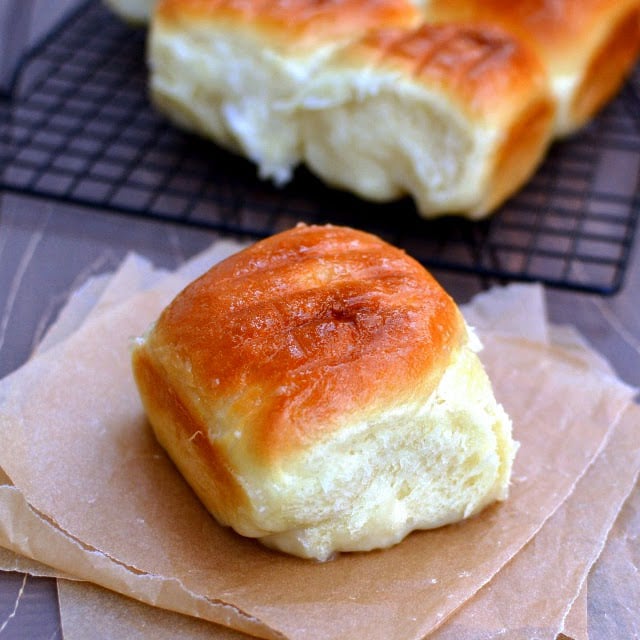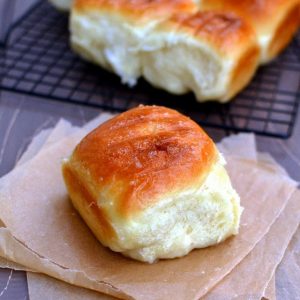 Ingredients
For the Buns:
3½

cups

All purpose flour

¼

cup

Sugar

¼

cup

Milk

Nonfat dry

2¼

tsps

Yeast

Instant

¾

cup

water

Lukewarm

2

tbsp

Egg water

Replacer - whisked in 6tbsp (or use 2 large eggs)

2

tbsps

Unsalted Butter

- softened

1¼

tsps

Salt

1

tsp

Vanilla extract
For the Coconut Syrup:
1

cup

Coconut

Powder

1¼

cups

Water

½

cup

Sugar

1½

tsps

Corn starch

a pinch

Salt
Instructions
Make the Dough for Buns: Combine all the ingredients for the bun in the bowl of a stand mixer, or a large bowl. Mix and knead until everything comes together into a smooth dough, about 5-7 minutes with the stand mixer. Dough should be soft and pliable.

Place the dough in a greased bowl. Cover and let rise until doubled in volume, about 1 hour.

Grease a 9"x13" cake pan. Set aside.

After the first rise, gently punch the dough and divide into 12 equal pieces.

Shape each piece into a rough ball by pulling the dough into a very small knot at the bottom. Roll into a smooth ball and evenly place them in the greased pan.

Cover loosely with plastic wrap and let rise for 45-60 minutes.

About halfway through the rising, preheat the oven to 350°F.

Make the Coconut Sauce: Last 20 minutes of rising, make the sauce. Combine all the ingredients for the sauce in a small saucepan over medium-high heat. Whisk well to combine and cook for 5-7 minutes until sauce thickens.

Make Pani Popo: After the buns have risen, pour the sauce evenly over them and bake for 18-25 minutes until the tops are golden brown. I baked mine for 22 minutes.

Cool in the pan and serve them warm from right out of the pan. If you want to save them for later, then invert them onto a cooling rack, store in an airtight container for up to 2-3 days.
Notes
 Lets check out what my fellow marathoners have cooked today for BM# 30.