These easy to make Buttery Crescent Cookies make great edible gifts for your loved ones during Holidays.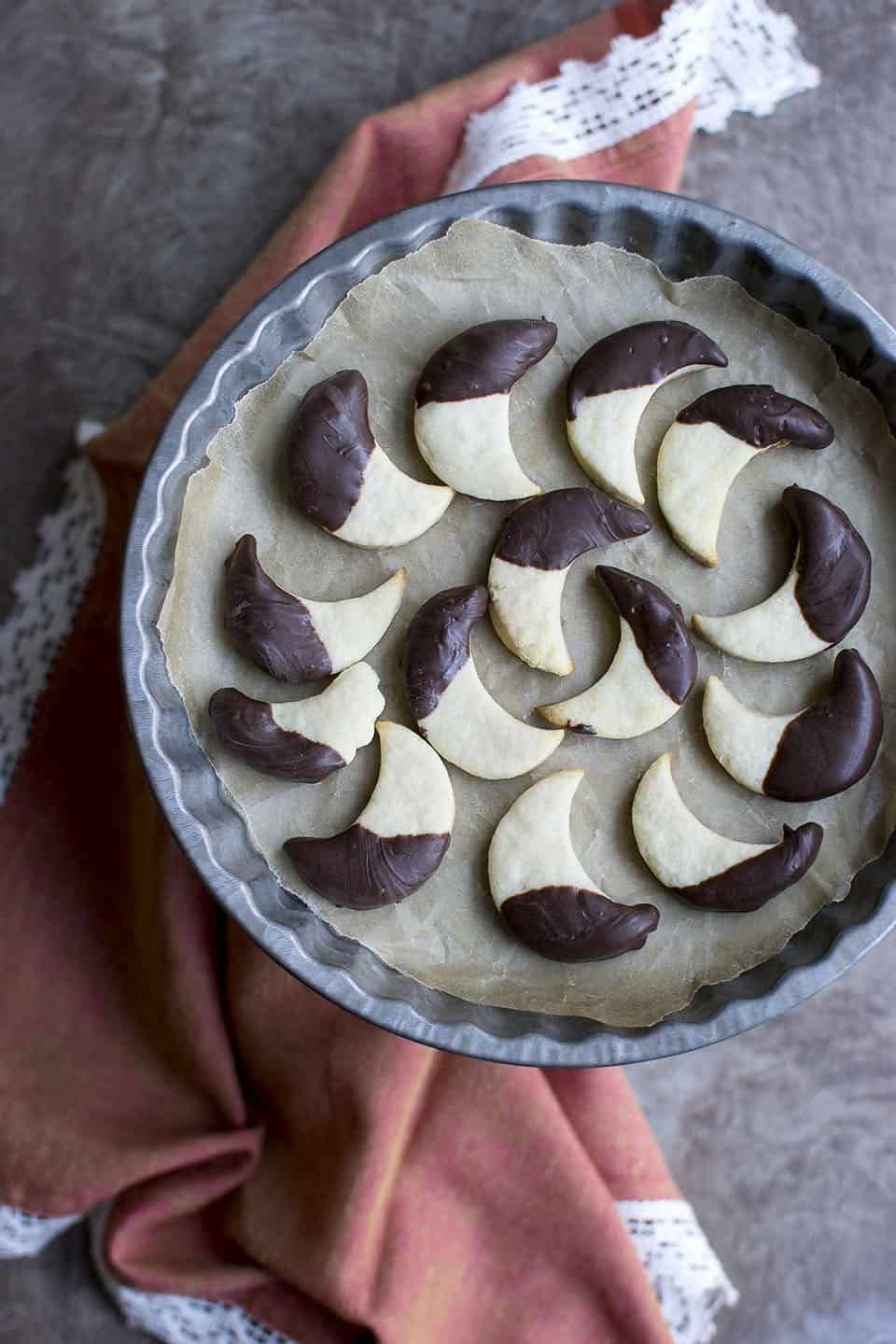 I baked these rich and buttery crescent cookies. Dipped them in chocolate for an extra treat. It is that time of the year to start planning and start baking those delicious goodies for your family and friends. I love baking cookies to give as edible gifts -- shows my love for them and gives a personal touch to the gift.
I used Bob's Red Mill flour to make these cookies and I am so happy to be doing this sponsored post for them.
Buttery Crescent Cookies for Holidays:
Bob's Red Mill products are my favorite because they are of the highest quality which in turn make all my baked goods truly shine. During the holiday season, first thing I make sure is to have all my baking ingredients ready. So I buy bags of flour (all purpose, wholewheat and so on), baking soda/ powder, egg replacer (for my vegan baking) and so on.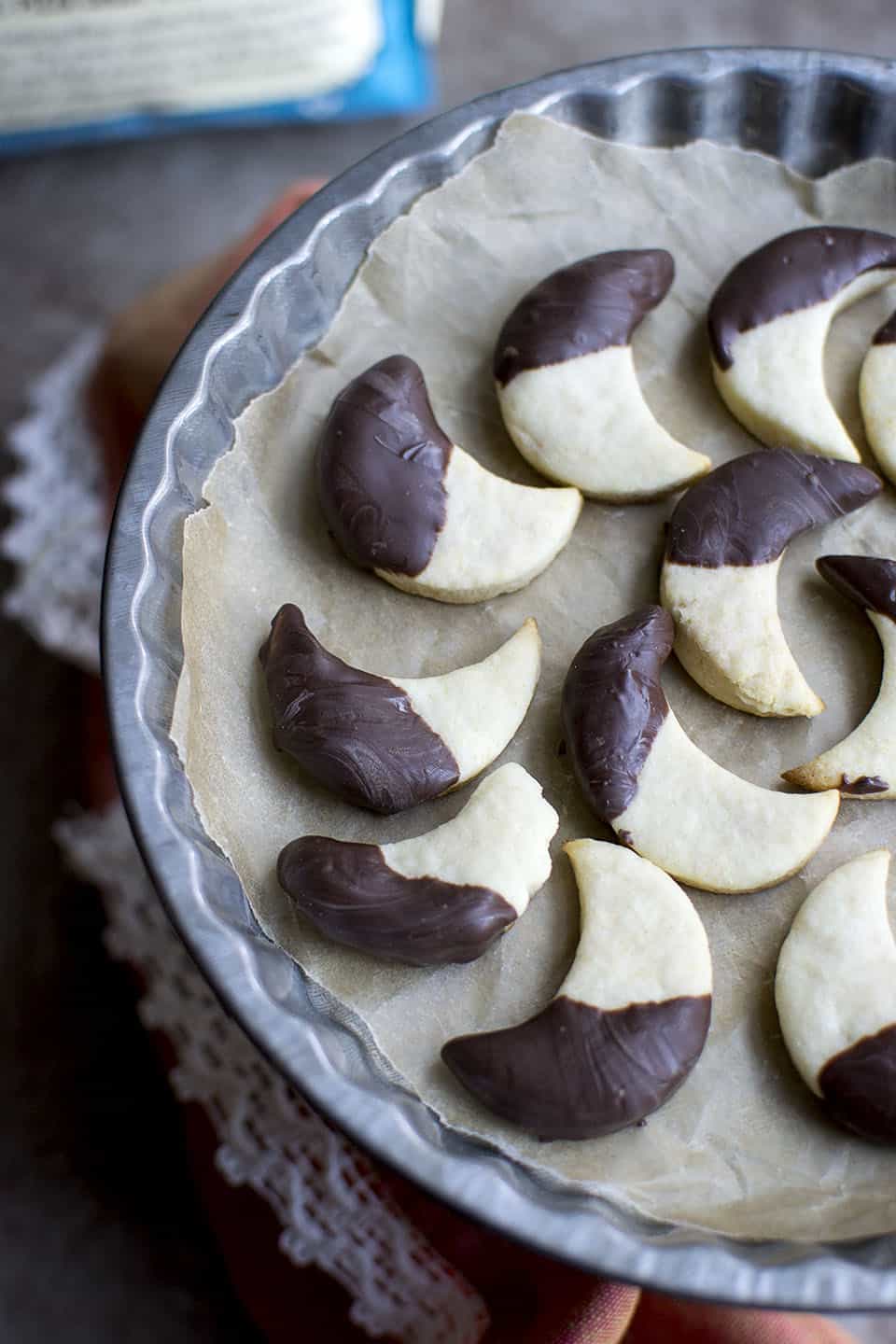 Baking for Family:
Did you know that Psychologists have found that baking for others promotes a sense of well being and benefits the baker as much as, if not more, than the recipient? This makes so much sense because cooking for others makes me feel so happy and connected.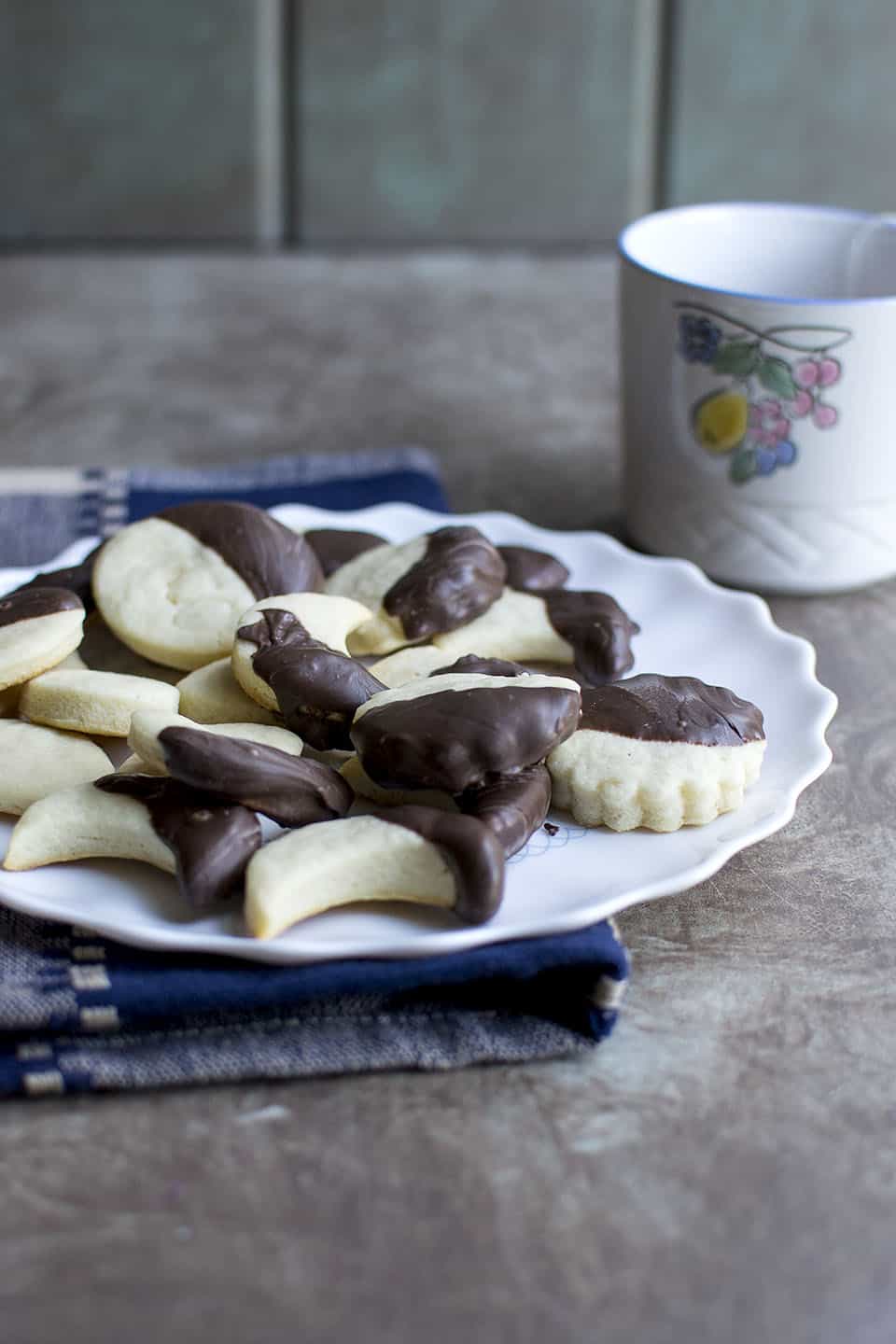 Buttery Crescent Cookies:
These Crescent cookies are basically short bread cookies that are very easy to make and taste absolutely delicious. The addition of milk powder makes them just melt in the mouth.
These can be cut into any shape you like, but I made these crescent shape ones. They remind me of Chand cookies (meaning 'Crescent moon' cookies) that are served with tea at eateries in India.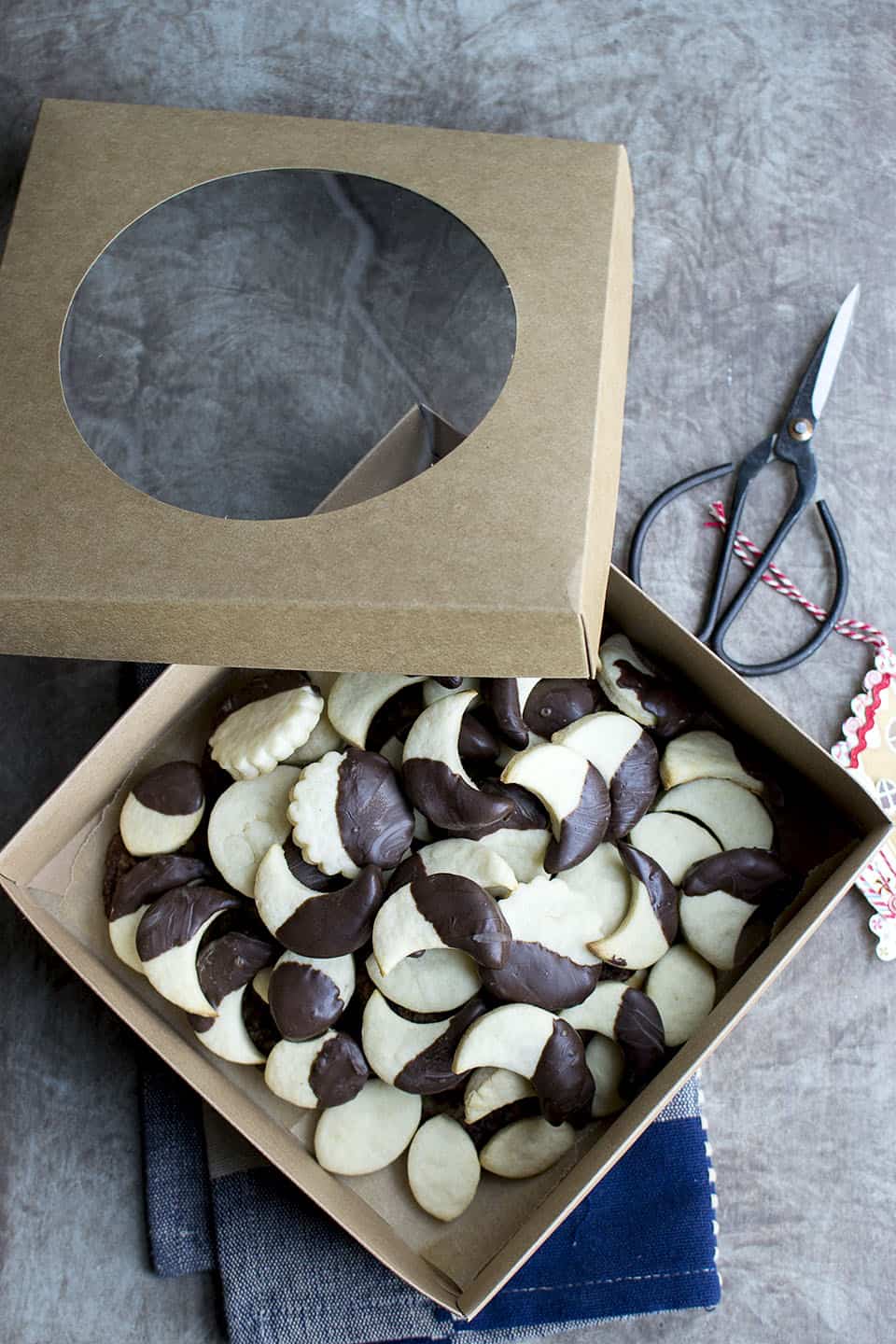 Edible Holiday Gift:
Bake these Crescent cookies for your loved ones. They are easy to make and using high quality ingredients from Bob's Red Mill makes them fool proof. As they say, Made with Love and Baked with Bob's. Happy Holidays and Happy Baking to all of you!!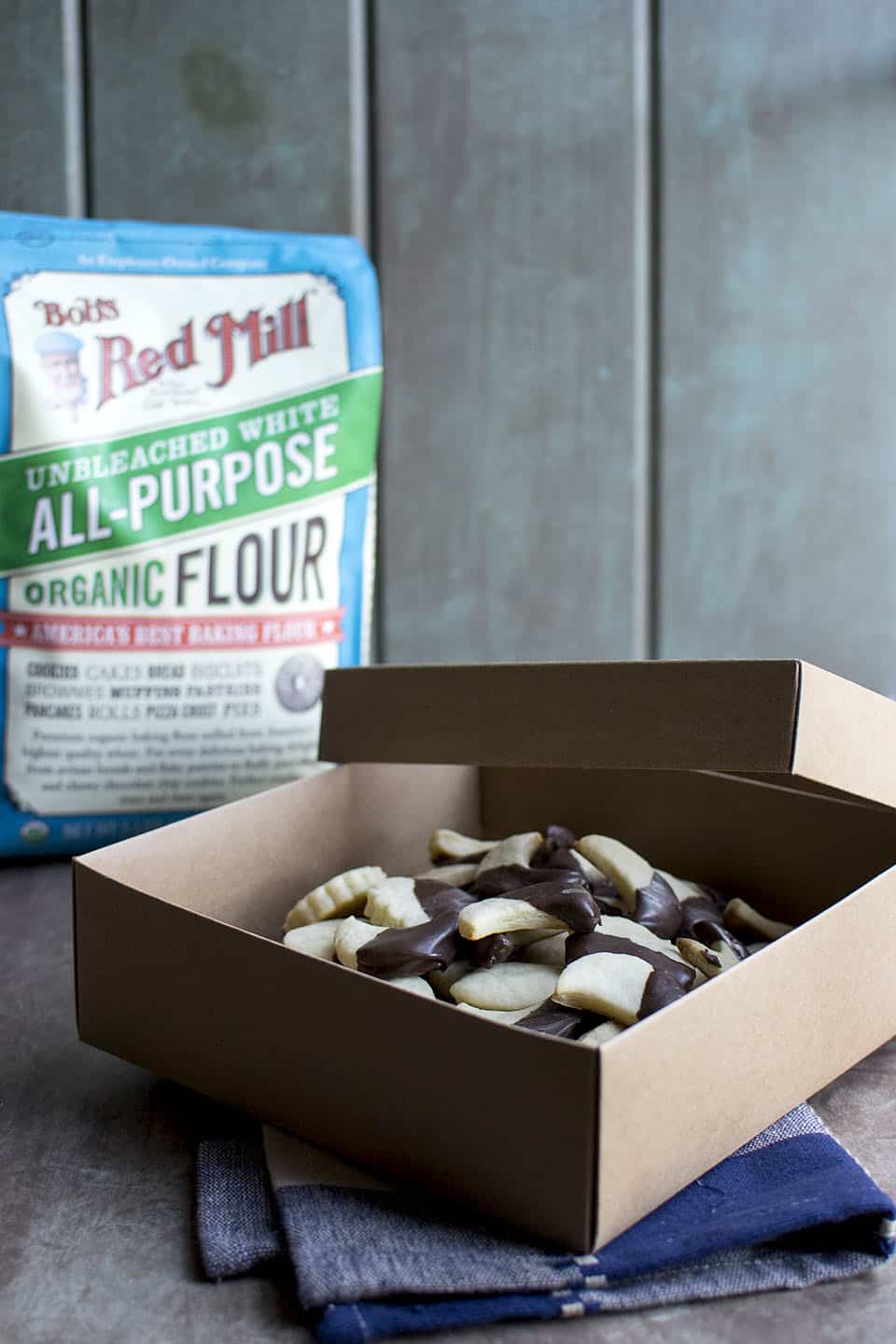 This is a sponsored post for Bob's Red Mill. All opinions in the post are entirely mine.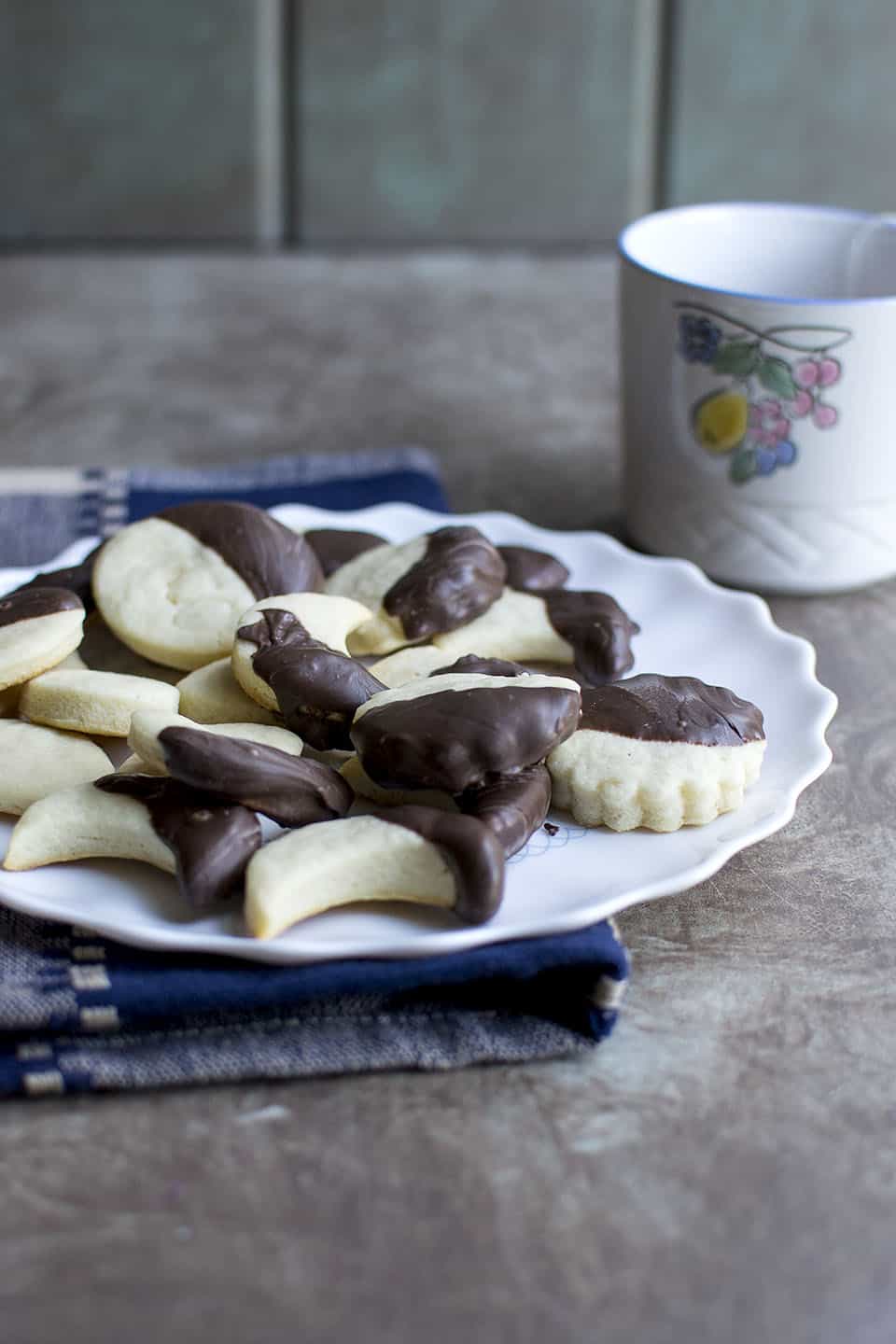 Crescent Cookies (Holiday Edible Gift Recipe)
Looking for easy to make cookies this holiday season. Try these rich and buttery Crescent cookies!! They are great with tea or as edible gifts to your family and friends. AD
Print
Pin
Rate
Ingredients
For the Cookies:
½

cup (1 stick/ 8tbsp)

Unsalted Butter, softened

½

cup

Powdered/ Confectioners Sugar

¼

cup

Milk Powder (Non-fat is fine)

1

tsp

Pure Vanilla Extract

1½

cups

all purpose flour

½

tsp

baking powder
For the Chocolate:
½

cup

Semisweet Chocolate Chips

1

tsp

shortening
Instructions
Make the Cookies:
Preheat the oven 350°F. Line 2 baking sheets with parchment paper.

Beat butter with confectioners sugar until light and fluffy.

Add the milk powder and vanilla extract; stir until combined.

Stir in the all purpose flour and baking powder and mix until combined. If the dough seems too dry, add a 1~2tbsp milk. If the dough is too wet, add 1~2tbsp of flour. The dough should be nice and pliable.

Lightly flour the work surface, roll out the dough into an ½" thick rectangle. Use a 2½~3" round cutter and cut the dough into crescent shape cookies. Re-roll the scraps and cut into more cookies.

Transfer the cookies onto the prepared baking sheets and bake for 8~10 minutes or until the tops are slightly firm and bottoms are lightly golden.

Remove from the oven and place them on cooking racks to cool completely.
Prep the Chocolate:
Melt the chocolate chips with shortening in a microwave safe bowl. Make sure to stir every 30 seconds to melt the chips evenly.

Once the cookies have cooled, dip them in the chocolate and place them on a wire rack to set.

When the chocolate has set, they are ready to be served or packed for gifting!!