For this month's #Food of the World event, we are traveling to Cuba. Cuban cuisine is quite new to me. I've never made any Cuban dishes at home nor tried anything outside. So I took to Google looking for vegetarian Cuban recipes.
Cuban cuisine
is a fusion of Spanish and Caribbean cuisines. Cuban recipes share spices and techniques with Spanish cooking, with some Caribbean influence in spice and flavor. Traditional Cuban meal is not served in courses, all the dishes are served that the same time.
The typical meal consists of plantains, black beans, Cuban bread, pork with onions and tropical fruits. Black beans and rice, referred to Moros and plantains are staples of the Cuban diet. Garlic, cumin, oregano and bay leaves are the dominant spices.
I made a simple Cuban vegetarian meal with black beans, yellow rice and fried plantains. Found this recipe for Cuban black beans on
Chow.com
and changed it just a little bit. I cooked the beans in the pressure cooker to speed up the process. They don't use any chili pepper, the only flavoring spices are ground cumin and ground pepper. The beans turned out flavorful, mildly spiced.
The author says that Cuban black beans are never served with yellow rice, but I served them together anyway because I happened to make them on the same day. If you want to follow the tradition, then serve the black beans with some Cuban bread or regular rice.
Recipe adapted from Chow.com: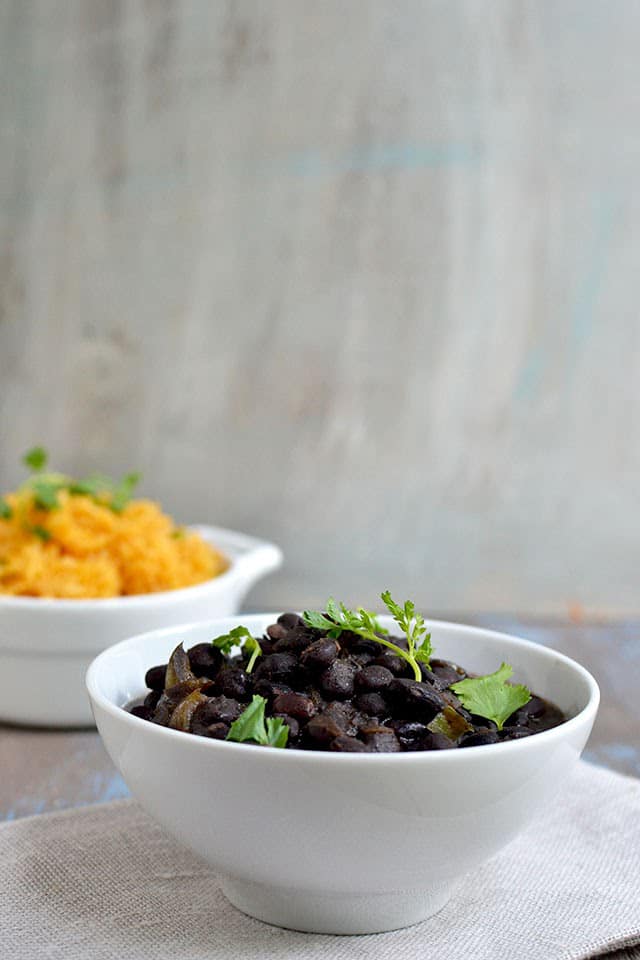 Ingredients
1

cup

Black Beans

2

Onion

Medium , quarterd and finely chopped

2 1 quartered and 1

Peppers

small Green , finely chopped

4

cloves

Garlic

- 2 cloves left whole and the other 2 finely minced

1

Bay leaf

1

tsp

Cumin

Ground , divided

½

tsp

Apple cider Vinegar

to taste

Salt Pepper

&
Instructions
Soak the beans for at least 10~12 hours or overnight.

Now cook the beans along with the quartered onion, green pepper, 2 slit garlic cloves, ½tsp ground cumin, salt and pepper. Add water to reach 1" about the beans line. Bring the mixture to a boil, lower the heat and simmer for 1½~2hours or until the beans are very tender. Alternately beans can be pressure cooked until tender, for about 8~10 minutes. Then proceed with the recipe as mentioned below.

Remove the onions and peppers and grind them to a paste and add it back to the black beans and keep simmering.

Heat 2tbsp olive oil in a saucepan, add bay leaf, the remaining 2 finely minced garlic, finely chopped onion and green pepper. Cook till the onions are turning lightly brown and the peppers are tender.

Add the cooked onion mixture to the black beans along with apple cider vinegar, remaining ground cumin, salt and pepper. Cook for 10~15 minutes for the flavors to mingle, beans are tender and the broth gets nice and thick. Serve hot with some Cuban bread.
Notes
Please visit our cohosts blogs and follow their sites! 
Diane: http://www.simplelivingeating.com
Adelina: http://www.homemaidsimple.com
Shey: http://justnotthecakes.blogspot.com
Mireille: http://www.theschizochef.com/blog/
Usha: http://www.myspicykitchen.net
Pavani: http://www.cookshideout.com
Subscribe to our mailing list
Submit your Cuban recipes using the linky tool below:
An InLinkz Link-up