BM# 44: A-Z Cooking Series -- Around the World in 30 days
Country: D for Dominican Republic
Dish: Rice & Beans
We are back to South America today, to Dominican Republic. It is a nation on the island of Hispaniola in the Caribbean region. Chrsitopher Columbus landed in Hispaniola in 1492, during the first of his 4 voyages to America. Dominican Republic is the most visited destination in the Caribbean. 
The first time I heard of this country was 9 years ago from a colleague who was from Dominican Republic. He was a very jovial person and had lots of stories to tell about his country. What I found interesting was he cooked his own lunch and brought it to work. I never got a chance to taste his food since it was mostly meat based but it always smelt soo good.
Dominican cuisine is typical to what can be found in other Latin American countries, but many of the names of the dishes are different. Meals tend to have meats and starches. Many dishes are made with Sofrito (a mix of local herbs) and is used as a wet rub for meats and sauteed to bring out all of a dish's flavors.
I picked a dish very commonly made all over South America. Every county in Latin & South America has their own version of rice and beans. While looking for dishes to make from Dominican Republic, I found this amazing blog called 'Aunt Clara's Kitchen' written by Clara, a Dominican herself. She has so many traditional recipes on her blog and here pictures are absolutely mouth watering and perfectly go with her beautiful write-ups.
I made this filling one pot dish from her blog. It is so simple to make and it tasted so comforting and delicious, even both my kids ate without complaint. I'm sure I'll be making this dish very often. It is also a good dish to pack for lunch boxes.
Recipe adapted here: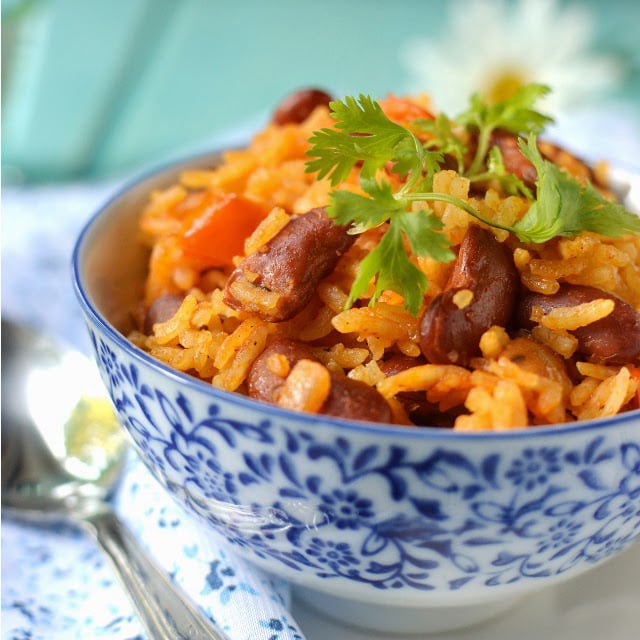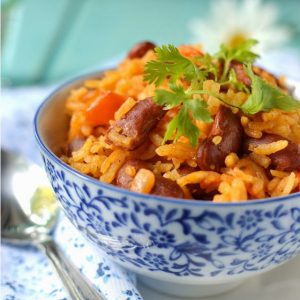 Ingredients
1

cup

Rice

2

tablespoons

Oil

1

Small

Onion, finely chopped

1

Small

Bell Pepper or Cubanelle pepper, finely chopped

¼

teaspoon

Dry Thyme

¼

teaspoon

Dry Oregano

2

cloves

Garlic

1

tablespoon

Tomato paste

1½

cups

Cooked Red Kidney Beans

To taste

Salt & Pepper

¼

teaspoon

Crushed Red pepper

2

cups

Water

2

tablespoons

Cilantro, finely chopped
Instructions
Wash, rinse and soak rice for 15~20 minutes. 

Heat oil in a large sauté pan on medium heat. Add onions, peppers, thyme, oregano and garlic. Cook till the onions are lightly browned. Stir the tomato paste and cook for 1~2 minutes. 

2 tablespoons Oil,

1 Small Onion, finely chopped,

1 Small Bell Pepper or Cubanelle pepper, finely chopped,

¼ teaspoon Dry Thyme,

¼ teaspoon Dry Oregano,

2 cloves Garlic,

1 tablespoon Tomato paste

Next add the kidney beans and cook for 2 minutes. Add the rice along with salt, pepper & crushed red pepper. Stir in the water and bring the mixture to a boil, lower the heat to simmer and cook covered for 15~20 minutes or until the rice is cooked through. Let sit for 5~10 minutes. Then sprinkle chopped cilantro and serve.

1½ cups Cooked Red Kidney Beans,

To taste Salt & Pepper,

¼ teaspoon Crushed Red pepper,

2 cups Water,

2 tablespoons Cilantro, finely chopped
Nutrition
Calories:
300
kcal
|
Carbohydrates:
50
g
|
Protein:
7
g
|
Fat:
8
g
|
Saturated Fat:
1
g
|
Polyunsaturated Fat:
2
g
|
Monounsaturated Fat:
5
g
|
Trans Fat:
0.03
g
|
Sodium:
213
mg
|
Potassium:
318
mg
|
Fiber:
5
g
|
Sugar:
3
g
|
Vitamin A:
328
IU
|
Vitamin C:
12
mg
|
Calcium:
48
mg
|
Iron:
2
mg