BM# 44: A-Z Cooking Series -- Around the World in 30 days
Country: E for Egypt
Dish: Koshari (Vegetarian Rice & Lentil Dish)
We are going to the northeast corner of Africa to Egypt today. Except for an ex-colleague, I don't know many people who have visited Egypt. But it is probably one of the countries that will be on my bucket list. Egypt has one of the longest histories of any modern country, arising in the 10th millennium BC as one of the world's first nation states. Egypt's rich cultural heritage is an integral part of its national identity, having endured and often assimilated various foreign influences, including Greek, Persian, Roman and so on. Egyptian Pyramids reflect this legacy and remain a significant focus of archaeological study and popular interest all over the world.
Egyptian Cuisine is mostly based on foods that grow out of the ground, which is good news to vegetarians. Meat has been very expensive for most Egyptians throughout the history, so a great number of vegetarian dishes have been developed. It is interesting to know that the Archaeological excavations in Egypt revealed that workers on the Great Pyramids of Giza were paid in bread, beer and onions, a customary diet as peasants in the Egyptian country side.
There is a whole list of amazing vegetarian dishes in Egyptian cuisine and I picked Koshari -- a mixture of rice, lentils and macaroni/ noodles for today. Some people consider it to be the national dish of Egypt. I wanted to make this dish from one of the cookbooks 'Cooking Light way to cook vegetarian' long time back. It's not until recently I got a chance to try it out.
It is a simple, but filling dish. It has rice, lentils and vermicelli/ macaroni cooked together and served with creamy caramelized onions and spicy-sweet tomato sauce. It is a little time consuming dish to make, but it is well worth the effort and tastes amazing with different layers of flavors. Both my kids absolutely loved it and I'm sure I'll be making this dish very often now.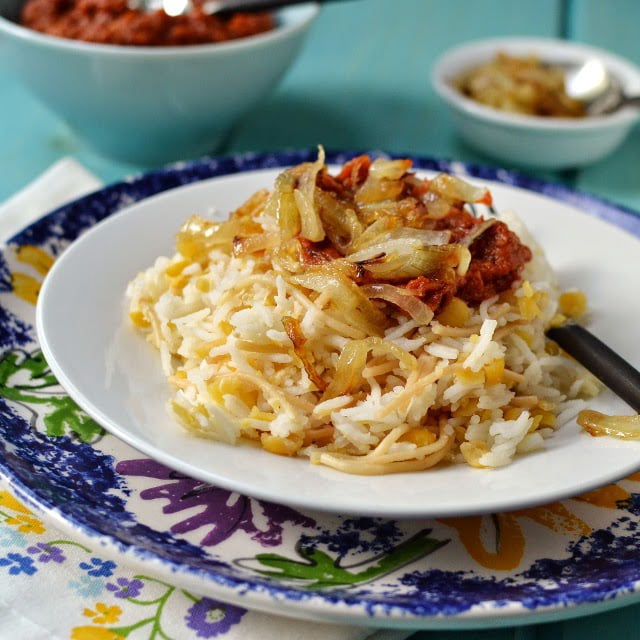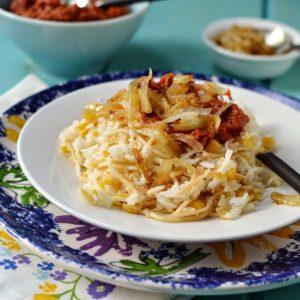 Ingredients
For Koshari:
1¼

cups

Rice Long grain rice

Hot cooked

⅔

cup

Lentils Split Peas

Dried or Yellow

¼

cup

Vermicelli

- broken into 1" pieces

2

Onions

- large, thinly sliced
For the Tomato Sauce:
½

cup

Onion

- finely chopped

2

cloves

Garlic

- finely minced

¼

tsp

Red Pepper

Crushed

14.5

oz . cans

Tomatoes

of Diced

to taste

Salt Pepper

&
Instructions
Prepare the Tomato Sauce: Heat 2tsp extra virgin olive oil in a saucepan over medium heat, add the onion and cook till it turns golden, stirring occasionally, about 8~10 minutes. Add garlic and cook 1~2 minutes.

Stir in tomatoes along with their juice, salt, pepper and cook for 10 minutes or until slightly thick. Puree the tomato mixture using an immersion blender or the regular blender until smooth. Keep warm.

Prepare Caramelized Onions: Heat 2tbsp extra virgin olive oil in a pan over medium heat. Add the thinly sliced onions and cook for 12~15 minutes or until deep golden brown, stirring frequently. Remove onion with a slotted spoon onto paper towel lined plate; set aside.

Prepare Koshari: In the same pan, on medium heat, add vermicelli and saute for 2 minutes or until golden brown, stirring frequently. Set aside.

In a medium saucepan, combine 2½~3 cups of water and lentils; bring to a boil. Cover, reduce the heat to simmer and cook for 30 minutes or until the lentils are tender. Remove from heat, add vermicelli, stirring well to combine. Wrap a kitchen towel around lid, and cover lentil mixture; let stand for 10 minutes or until vermicelli is tender.

Add the cooked rice and salt to taste to the lentil mixture; fluff with fork.

Serve immediately with tomato sauce and caramelized onions.
Notes