Spicy, creamy, hearty and absolutely delicious Goan Feijoada. Traditional Portuguese meat based dish veganized with the addition of vegetarian sausage.
Goa is India's smallest state by area and is located on the the weat coast of India. Goa is India's richest state with a GDP per capita 2½ times that of the country as a whole. Goa is a former Portuguese province; the Portuguese overseas territory of Territory India existed for about 450 years until it was annexed by India in 1961. Goa has beautiful beaches and breathtaking views that attract large numbers of international as well as domestic tourists.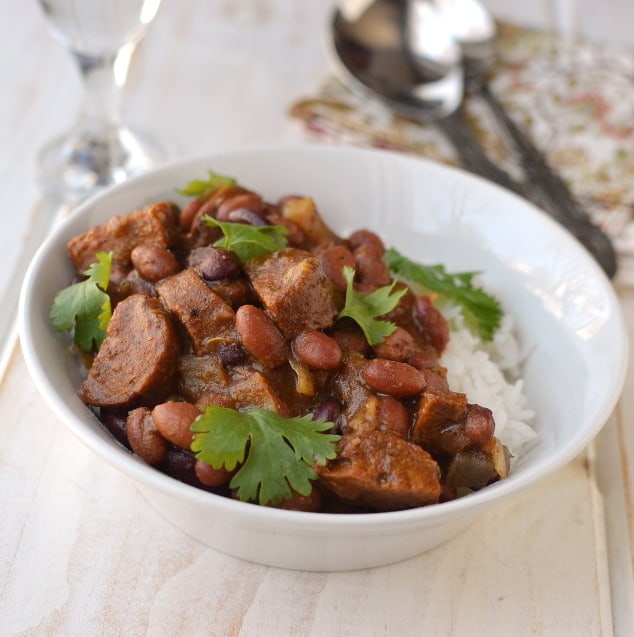 My dad visited Goa a number of times for business purposes and he used to bring back bags full of cashews. Visiting Goa is something I would love to do sometime. Even though I cannot swim and will probably won't enjoy the beaches, but I want to explore the historic and artistic cathedrals and churches.
Cuisine: Goan food can be divided into Goan Catholic and Goan Hindu cuisine, each of which has its own distinct taste, charateristic and cooking style. Pork is widely used in dishes among the Goan Catholics. While the Hindu cuisine is partly pescetarianism and partly lacto vegetarian. Hindu cuisine mainly uses less heat, tamarind and kokum for souring and jaggery for sweetness. They use coconut oil as the medium of cooking.
Staple Food: Rice, Fish
Specialties: Vindaloo, Xacuti, Khatkhate, Feijoada, Bebinca etc.,
Today's Dish: I have tried quite a few Goan dishes in the past. I love the use of spices in goan dishes and my absolute favorite is this Xacuti. For this edition I wanted try the famous Goan sweet dish called bebinca, but changed my mind at the last minute and made yet another famous spicy curry from Feijoada.
Vaishali's blog has some very traditional Goan dishes and after browsing through her recipes I found this amazing curry that is brought over by the Portuguese. It is traditionally made by the Catholics using pork sausage, but Vaishali veganized it and added some vegan sausage to increase the protein in the dish. I followed suite and did the same. The dish turned out spicy, creamy, hearty and absolutely delicious.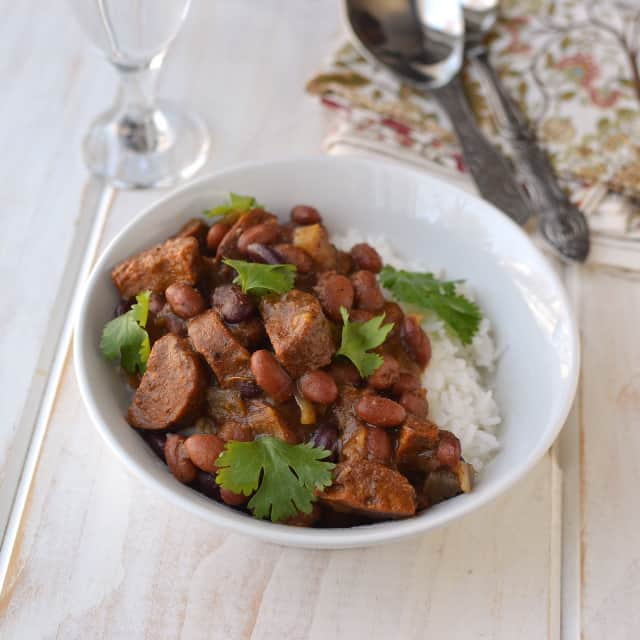 Recipe from Vaishali's holycowvegan: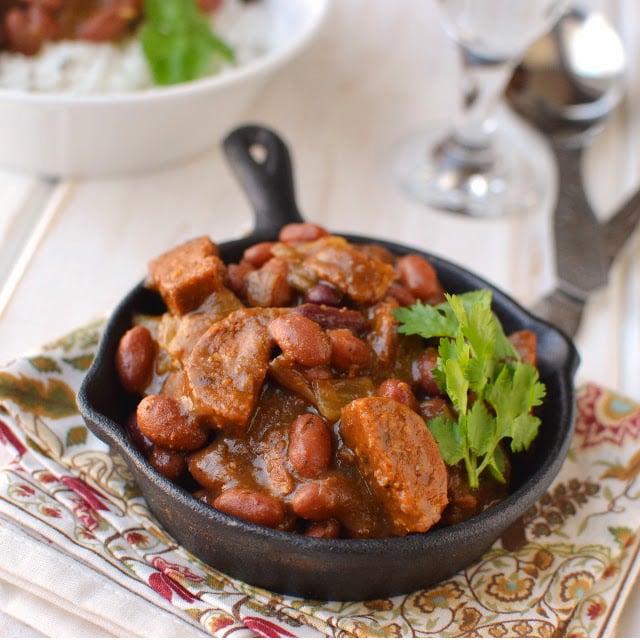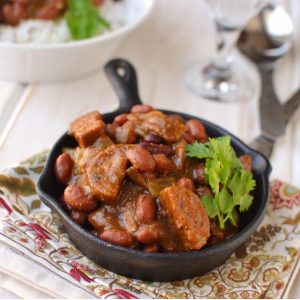 Goan Feijoada
Spicy, creamy, hearty and absolutely delicious Goan Feijoada. Traditional Portuguesee meat based dish veganized with the addition of vegetarian sausage.
Print
Pin
Rate
Ingredients
1 15

oz . cans

beans Pinto Beans

of Pink or - drained and rinsed

1

cup

Sausages

Vegan - chopped into half moons (optional)

1

Onion

- medium, chopped

3

chilies

Dry red

4

cloves

Garlic

10

Cloves

10

Peppercorns

1

tbsp

Coriander seeds

1

tsp

Cumin seeds

1

cup

Coconut Milk

1

tsp

Tamarind

paste

to taste

Salt

2

tbsps

Cilantro

- finely chopped
Instructions
Heat a pan; dry roast the red chilies, coriander seeds, cumin seeds, peppercorns and cloves until fragrant, about 4~5 minutes over medium-low heat. Remove from the pan into a blender.

In the same pan, dry roast garlic cloves until golden brown spots appear. Add them to the blender. Cool slightly before grinding into a smooth paste along with coconut milk.

Heat 2tbsp oil to a saute pan; add the onions and cook until slightly browned around the edges. Add the vegan sausages, if using, until they are nicely toasted.

Next add the tamarind paste and the ground masala paste. Mix well and bring the mixture to a boil. Reduce to simmer and cook for 5 minutes.

Add the beans along with 1 cup of water and salt. Bring the curry to a boil, reduce flame to simmer and cook for 12~15 minutes, for all the flavors to mingle. Garnish with chopped cilantro.

Serve hot with rice or bread.
Notes
Lets check out what my fellow marathoners have cooked today for BM# 39.
An InLinkz Link-up