Easy to make Green Bean Casserole with corn - no canned products. Fresh green beans and mushrooms in a creamy and cheesy sauce. Perfect Thanksgiving side.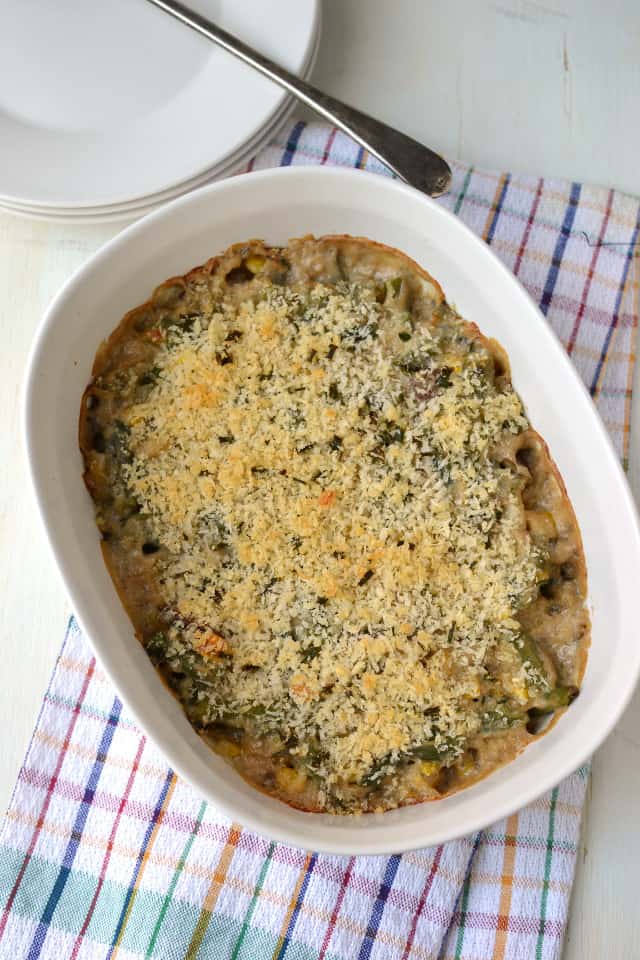 We are only a few days away from Thanksgiving and this will be my last dish for this year's Thanksgiving recipes. This dish is a variation to the traditional Green bean casserole with corn which is usually made using cream of mushroom soup and has a crispy fried onion topping.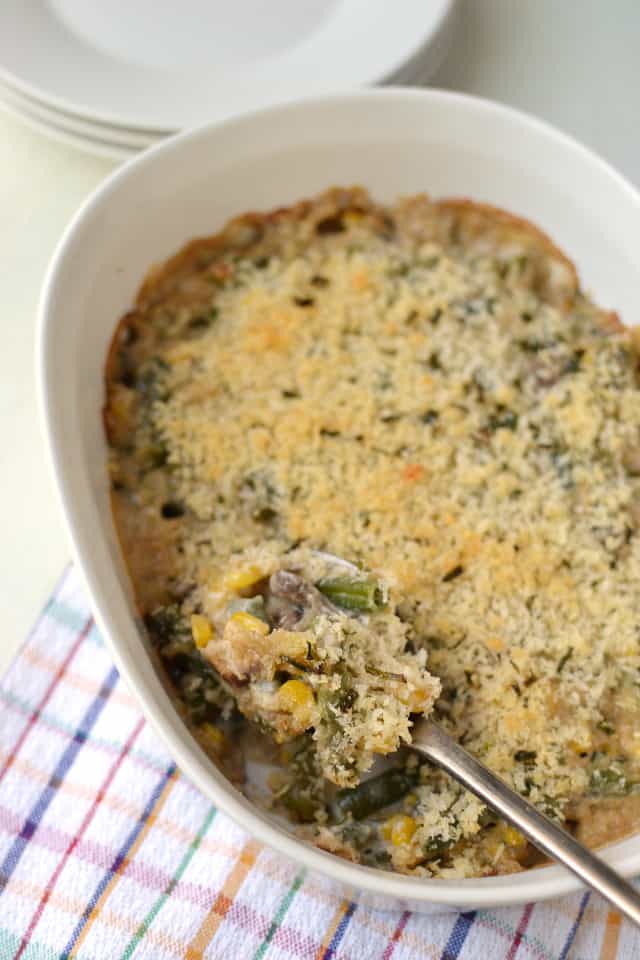 Updated Green Bean Casserole with Corn:
In this modified version, mushrooms and onions are cooked down and then a bechamel like sauce is made right in the pan -- then topped with crispy breadcrumb topping and baked off until hot and bubbly.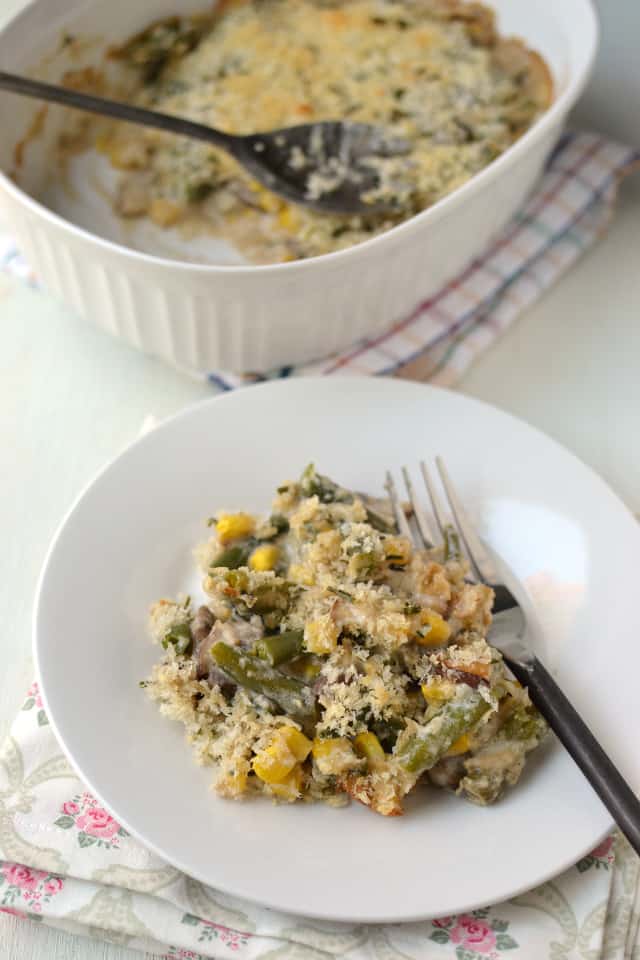 Crispy Topping:
I loved the addition of corn and the crispy breadcrumb topping the most in this recipe. It is creamy and cheesy but not overly so. Give it a try if you are looking for a different green bean casserole recipe.
Vegetarian Thanksgiving Menu:
I hosted my first ever Thanksgiving party last year and here's what was on the menu.
Appetizers:
William Sonoma's Crostini with Bean Spread
Salad & Side Dishes:
Farro Salad with Roasted Vegetables
Martha Stewart's Pan fried Brussels Sprouts
Pioneer woman's Mashed Potatoes
Entrees/ Main Dishes:
Dal Biryani
Vegetable Lasagna
Dessert:
Pumpkin Shooters
Don't forget to check out my Thanksgiving recipes for more vegetarian recipe ideas. This year one of our dear friends is hosting the party and I'm bring 2 dishes (Mac & Cheese and another rice dish). Will update the page with those recipes as well.
Wish you all a very Happy Thanksgiving!!!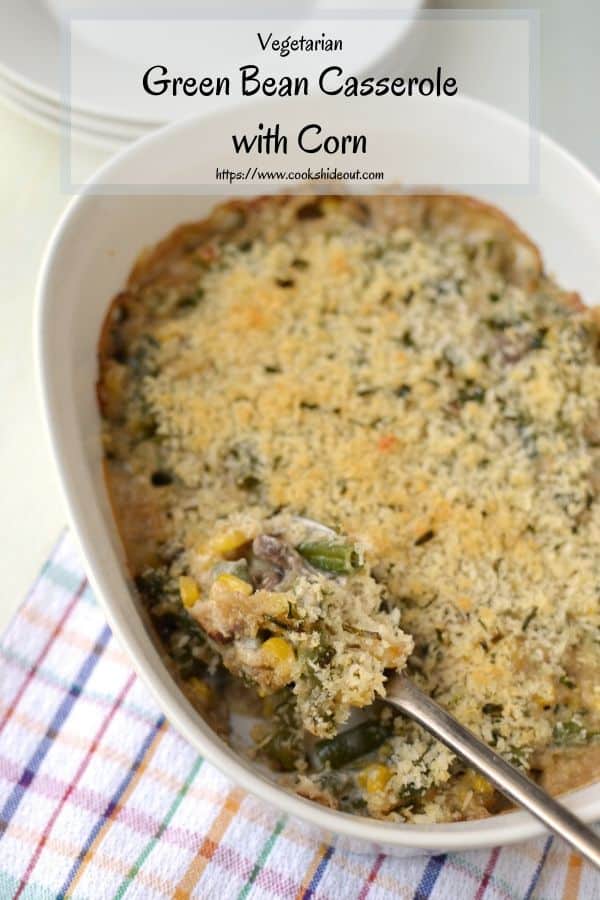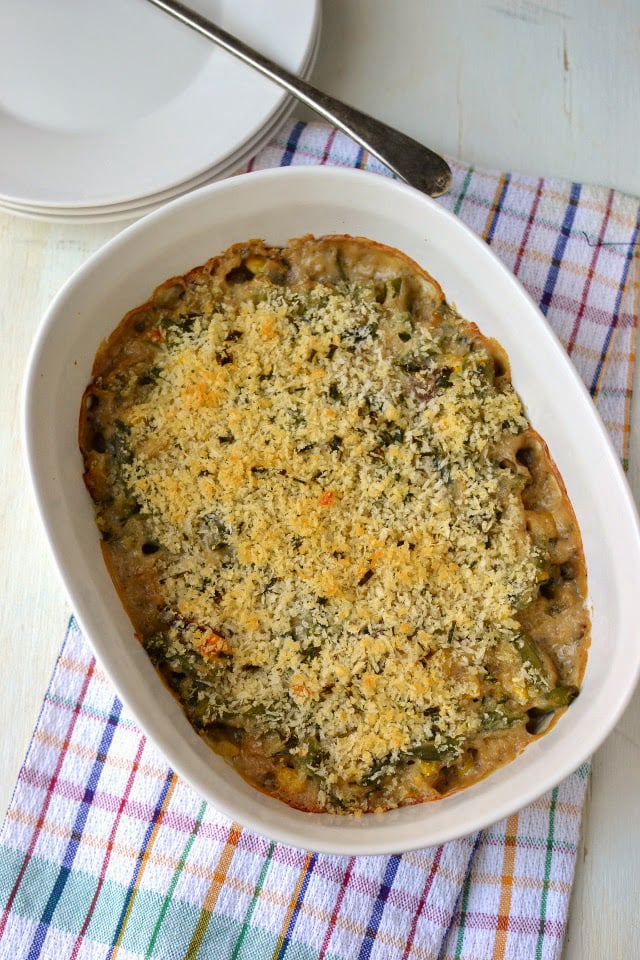 Green Bean & Corn Casserole (Vegetarian Thanksgiving Menu Ideas)
Easy to make Green Bean Casserole - no canned products, just fresh green beans and mushrooms in a creamy and cheesy sauce. Perfect Thanksgiving side.
Print
Pin
Rate
Ingredients
2

cups

Frozen Chopped Green Beans, thawed

1

cup

Frozen Corn

4

cups

Fresh Mushrooms, sliced

1

Medium

Onion, chopped

2

Garlic cloves, finely minced

1

tbsp

All purpose flour or Whole wheat flour

1

cup

Cheese Cheddar Cheese Jarlsberg / White Cheddar

½

tsp

Dried Thyme, or use 2tbsp fresh thyme

¼

cup

Fresh Chives - divided

1

cup

Dry Bread Crumbs, I used Panko bread crumbs

2

tbsp

Parmesan cheese, grated

To taste

Salt & Pepper
Instructions
Preheat oven to 375°F. Grease a 9"x13" baking pan or casserole.

In a large skillet, melt 2tbsp butter and 2tbsp oil on medium heat. Add mushrooms and onions and cook, stirring occasionally, until the veggies are tender and starting to lightly brown.

Stir in flour, half-n-half, thyme and 2tbsp chives. Cook for 3~4 minutes.

Next add the grated cheese and cook for 2 more minutes.

Add the green beans, corn, salt and pepper. Mix well and turn off the heat.

Transfer the mixture to the prepared baking dish.

Melt 2tbsp butter and combine with the bread crumbs and parmesan cheese.

Sprinkle the breadcrumb mixture evenly over the green beans. Bake for 30 minutes or until the casserole is hot and bubbling. Let cool for 10 minutes before digging in.
Linking this to Valli's 'Cooking from Cookbook Challenge: November -- Week 3'.
This post was originally published in November 2014. Format Updated in November 2019.