I think the biggest advantage of buying cookbooks instead of fiction books is once I read a novel and know the story I'm done with it and it just sits there collecting dust. Whereas a good cookbook can be used again and again. This is purely my opinion, I'm sure you might be reading the same novel again and again, I'm not judging you 🙂
So point of the matter is if you are in the market to buy a book for a food blogger, it is a great idea to buy a good cookbook. With so many books available, it is also a good idea to keep the interests of the said blogger in mind. For example, Amazon shipped us a 'Paleo Diet' cookbook by mistake and asked us to keep it if we wanted it. I would have jumped up in joy if it was vegetarian/ vegan/ baking related. Paleo diet is completely foreign to me, so we sent it back. Knowing the interests is key.
My sister definitely knew my interest in baking and she recently bought me 'Betty Crocker's - The Big book of Cupcakes' cookbook. I like to bake cupcakes more than regular size cakes. They are easy to decorate and so much more easier to eat. Portion control is also easy 🙂
This past weekend was my sister's birthday and she wanted a nutty cupcake like this Pistachio-Rosewater cupcake. I found these hazelnut cupcakes in the book she gifted me. The recipe is basically spiced up vanilla cupcake with chopped hazelnuts and topped with hazelnut-chocolate frosting. Original recipe had egg in it, so I used my basic vegan vanilla cupcake recipe and added the spices to jazz them up. Here's how I made these cupcakes.
Hazelnut-Chocolate Frosting: This is a super simple frosting with semi-sweet chocolate chips and Nutella (or other chocolate-hazelnut spread).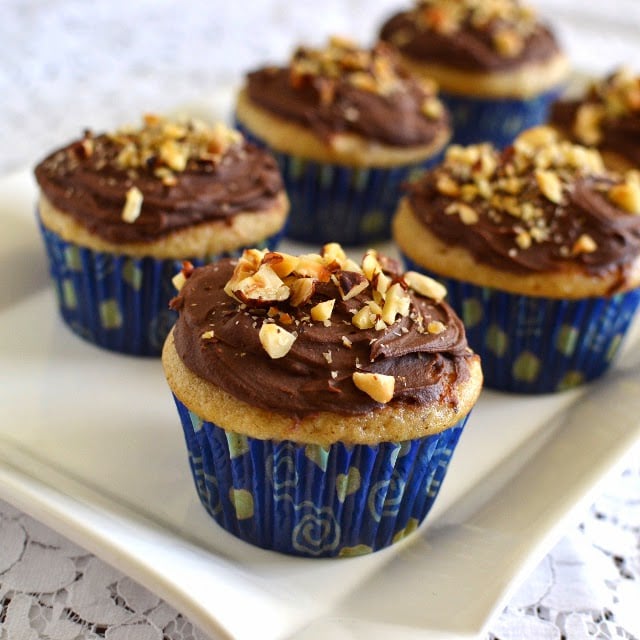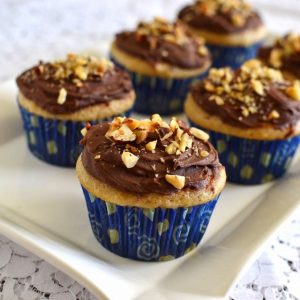 Ingredients
1¼

cups

All purpose Flour

2

tbsp

Cornstarch

¾

tsp

Baking Powder

½

tsp

Baking Soda

½

tsp

Salt

1

cup

Soy Milk

1

tsp

Apple cider Vinegar

⅓

cup

Canola Oil

¾

cup

Sugar

1

tsp

Vanilla extract

1

tsp

Cinnamon

Ground

½

tsp

Nutmeg

Ground

¾

cup

Hazelnuts

- toasted and skin removed
Hazelnut-Chocolate Frosting:
¾

cup

Chocolate

Semisweet Chips

¼

cup

Butter

2

tbsps

Nutella hazelnut cocoa

or other spread with

3½

tbsps

Whipping Cream

(heavy cream)
Instructions
Preheat oven to 350°F and line muffin pan with cupcake liners.

Whisk soy milk and vinegar in a measuring cup and set aside for a few minutes to curdle.

Beat together the soy milk mixture, oil, sugar, vanilla in a large bowl. Sift in the flour, cornstarch, baking powder, baking soda, salt, ground cinnamon and nutmeg and mix until no big lumps remain.

Stir in the chopped hazelnuts.

Fill cupcake liners ⅔rds of the way full and bake for 20-22 minutes or until a toothpick inserted in the center comes out clean.

Transfer to a cooling rack and let them cool completely before frosting.

To make the frosting: In a small saucepan, combine all the ingredients and heat over low heat, about 10~15 minutes, stirring occasionally, until chips are melted and mixture is smooth.

Cool until the frosting thickens. To speed up the cooling process, refrigerate the mixture for 20 minutes, stirring occasionally until thickened.

Once the cupcakes are cooled completely, frost the cupcakes. Sprinkle with chopped hazelnuts.
Notes
Sending these over to Valli's 'Cooking from Cookbook Challenge'.
Update December 2013: Sending these cupcakes over to Valli's Cake Mela.