I love grocery shopping and love buying new ingredients. I usually have no clue what to make with the new stuff but I know I'll find something to do with them. In this process I ended up with 6~8 different flours from various stores. While browsing through King Arthur catalog, I saw their
Ancient grains flour blend
and what caught my eye was the composition that they gave for the blend -- 30% each of amaranth, millet, sorghum flours and 10% quinoa flour. Incidentally I had all the flours on hand, so I decided to make my own at home.
If you are anything like me, then you would probably have at 2 of these flours in your pantry. If not, it might be economical for you to buy the already made flour blend. But I use these flours to make rotis, parathas and other baked goodies. Make sure to store the flours in either the fridge or the freezer, so that they don't get rancid.
This Ancient grains flour blend is gluten free and can be used to make gluten free pancakes, breads etc. Also you can substitute some of the all purpose or bread flour with this in baking.
Here's some info on all the ancient grains used in this blend:
Millet:
Chief cereal grain for millions of people in India, Africa, China and Russia. it is gluten-free and low in phytic acid. It is high in silica making it good for our bones.
Quinoa:
A staple food in Peru, Ecuador and Bolivia it contains up to 20% protein, it is high in certain amino acids that are lacking in other grains. It contains iron, calcium phosphorus, B vitamins and E.
Amaranth:
The grain is gluten-free, high in protein and amino acids as well as iron, calcium, other nutrients and fiber.
Sorghum:
An important worldwide food crop it is used primarily for animal feed in the US and even considered a "noxious weed" in 19 states. Also gluten-free it has more protein than corn and is high in iron and zinc.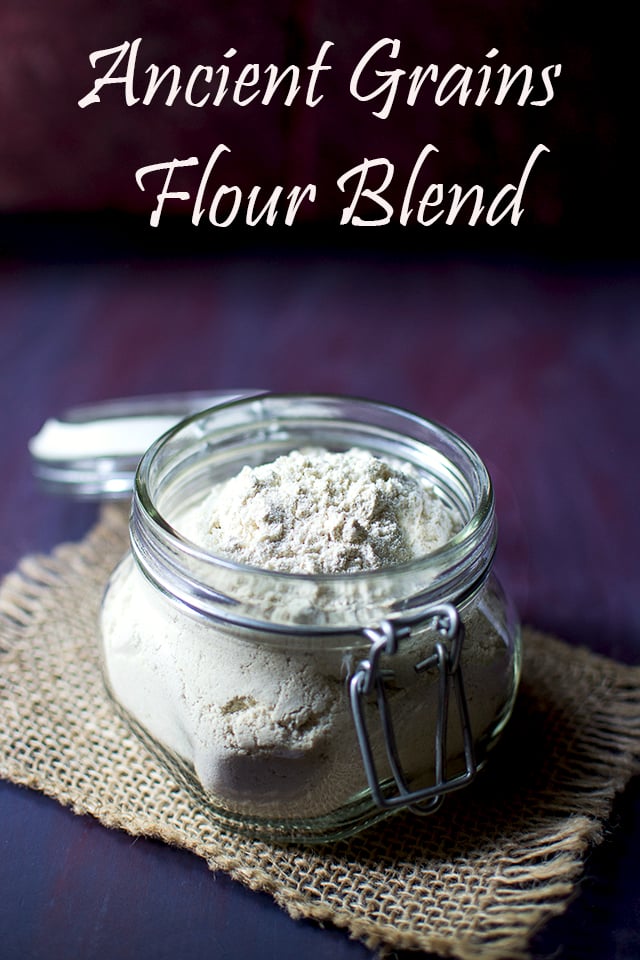 Homemade Ancient Grains Flour blend
Recipe to make homemade Ancient Grains Flour blend. It has Sorghum, amaranth, millet and quinoa flours. It is gluten free and can be used to make pancakes, breads etc.
Print
Pin
Rate
Ingredients
1½

cups

Millet flour

1½

cups

flour

Sorghum (Jowar )

1½

cups

Amaranth flour

(Rajgira )

½

cup

Quinoa flour
Instructions
Combine all the flours in a large mixing bowl and mix thoroughly. Store in an airtight container and use as needed. For longer shelf like store in the refrigerator.
To make 2½cups of Ancient grains flour:
Combine ¾cup each of Millet, Sorghum, Amaranth flours and ¼cup of Quinoa flour.
To make Quinoa flour:
Quinoa flour is quite expensive to buy. So I made my own by grinding quinoa in a spice grinder until very fine. I guess you can sieve it to take out any coarse bits, but I left it like that.
Nutrition