Blogging Marathon# 37: Week 1/ Day 3
Theme: National Dishes from around the World
Dish: Turkish -- Baklava
For the final day of this week's marathon I made Turkish national dish, Baklava. I don't remember the first time I tasted baklava, but it was love at first taste. Baklava is a very rich, sweet pastry made of layers of Phyllo (fillo) dough filled with nuts and sweetened with honey and syrup. 
This has been on my to-make list for a very long time. But with really good Turkish friends we have always had good quality baklavas to enjoy, I never got a chance to try it myself. So this was my chance to make baklava at home and I've to say even though the process of making it is a little tedious with the phyllo (fillo) tearing and so on, but the final product is absolutely tasty and well worth the effort. It is also less expensive to make these at home.
Working with phyllo/ fillo dough is a little tedious and sometimes a little frustrating too as it tends to rip and tear. It is very important to keep the phyllo covered with damp towel at all times to prevent drying out. But it is not the end of the world, everything will turn out OK once the dish is finished.
Nuts used in the filling are customizable. Traditionally pistachios, walnuts and sometimes hazelnuts are used, but a combination of nuts can also be used. I used walnuts and almonds.
This recipe is adapted from Ree Drummond's (Pioneer women), Divya's (Chef in you) & Michael Symon's recipes. Traditionally each and every phyllo layer is brushed with melted butter, but I followed Ree's recipe of melting every other layer.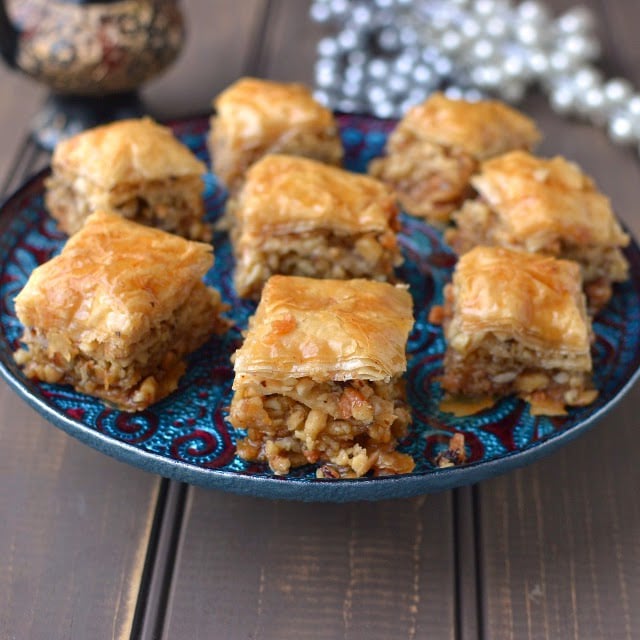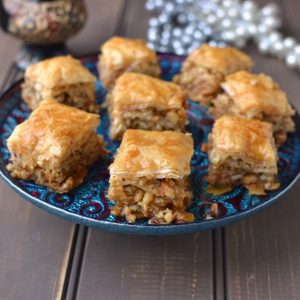 Turkish Baklava
Recipe to make homemade Turkish Baklava. Baklava is a very rich, sweet pastry made of layers of Phyllo (fillo) dough filled with nuts and sweetened with honey and syrup. 
Print
Pin
Rate
Ingredients
1

package

Phyllo

dough/ Fillo pastry, thawed

1

Butter

stick , melted

3 ~ 4

cups

Nuts

, chopped (I used almonds & walnuts)

1

tsp

Cinnamon

Ground
For the Syrup:
½

cup

Water

½

cup

Sugar

2

cups

Honey

2

tbsps

Lemon juice
Instructions
Preheat the oven to 350°F. Brush the baking pan generously with melted butter. I used a 9" square baking pan. 9"x13" baking pan can also be used.

dMix cinnamon with chopped nuts in a bowl and set aside.

Thaw the phyllo dough as per package instructions. Unwrap the phyllo dough and set them flat.

Set up a work station and have melted butter, chopped nuts, thawed phyllo and the baking pan ready for assembling the baklava.

Remove 8~10 sheets of phyllo and keep the rest covered with damp towel until ready to use.

Trim the sheets to fit the baking pan. I cut mine in half to fit the 9" square pan I used.

Brush the top phyllo sheet with butter, then carefully take that sheet along with the one underneath it and place it butter side down in the baking pan.

Now brush the top sheet and place the brushed sheet along with the one underneath it on the first 2 sheets that are already in the baking pan.

Repeat the brushing and layering 3 more times to have a total of 10 phyllo sheets in the bottom. Brush the sheet on the top (10th) sheet and sprinkle the chopped nuts evenly on top.

Repeat the brushing and layering 3 more times for a total of 6 sheets -- then sprinkle with chopped nuts.

Repeat this for 2 more layers. So there will be a total of 28 sheets and 3 layers of chopped nuts. If you don't have enough sheets then use only 2 layers of chopped nuts.

Brush the top layer with butter. Then using a very sharp knife, score the pastry into diamonds or squares.

Bake in the preheated oven for 45minutes~1hour or until evenly golden on the top.

Make the Syrup: Combine all the ingredients for the syrup along with the leftover melted butter. Bring to a boil, then lower the heat and simmer for 10 minutes. Set aside to cool slightly.

Once the phyllo is ready, remove from the oven and cool for 10 minutes.

Pour the syrup evenly over the baklava and set it aside uncovered for at least 5~6 hours or overnight.

Initially it might seem that the syrup is not enough, but after the rest period baklava turns out sticky and juicy.

Carefully score the already scored pieces and enjoy this delicious dessert.
Notes
Lets check out what my fellow marathoners have cooked today for BM# 37.