BM# 44: A-Z Cooking Series -- Around the World in 30 days
Country: H for Honduras
Dish: Baleadas 
We are going to Central America today to Honduras. Honduras was conquered by the Spanish in the 16th century and they introduced Roman Catholism and Spanish language along with numerous customs that have blended with the indigenous culture. The country became independent in 1821 and since been a republic. Honduras is best known for the production of minerals, coffee, tropical fruit and sugar cane, as well as for its growing textiles industry, which serves the international market.
The reason for choosing Honduras was when I started listing the countries my husband was away on business to Honduras and it ended up on the list. He was the one who suggested the dish too. Baleadas are one of the original and popular foods in Honduras. It is made of a thick wheat flour tortilla that is folded in half and filled with mashed beans and occasionally other ingredients. They are very similar to Mexican burritos in terms of fillings.
They are served as street food and also at fast food restaurants like Subway here in the US. At the restaurant, you can pick the ingredients that go into your baleadas and they make them fresh for you. I saw a video (that I can't seem to find now) where they were making even the tortilla fresh.
To make things simple, I used storebought tortillas and refried beans. You can make your own tortillas, but I was just not up to it when I made this meal. I had some canned refried beans in the fridge that needed to be used up, but you can use cooked kidney, pinto or black beans. This is such a simple and hearty meal that even my kids loved.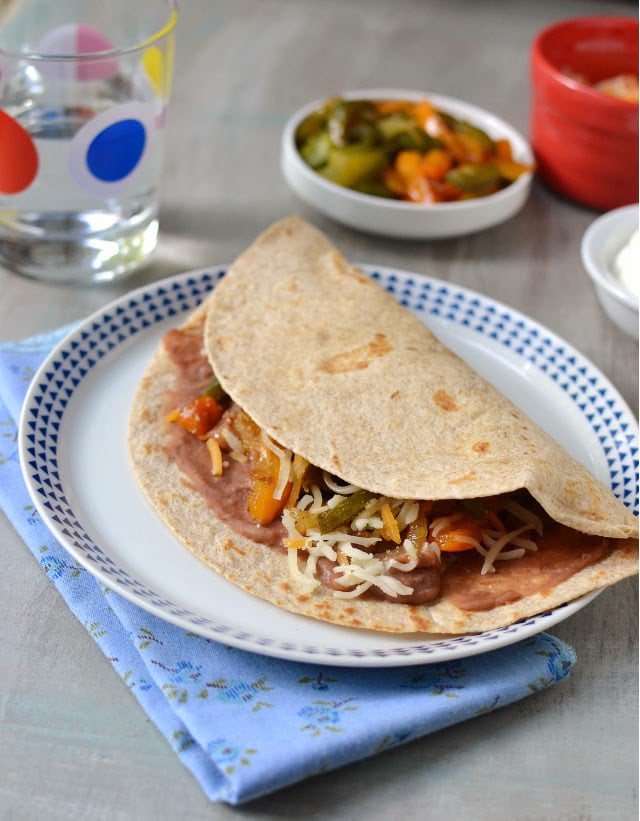 Ingredients
4

Whole wheat Flour tortillas

1

cup

Refried beans

- (or use red kidney beans, pinto beans or black beans)

1

tsp

cumin

Ground

1

Onion

- medium, thinly sliced

1

orange peppers

Green & - medium each, thinly sliced

Cheese

Grated - to serve (I used cheddar cheese)

to taste

Salt Pepper

&
Instructions
Heat 1tsp oil in a small saucepan, add the refried beans along with ground cumin, salt and pepper. Cook till heated through. Add water if the beans look too thick.

Heat 2tbsp oil in a sauté pan, add the chopped onions and peppers. Cook till the veggies are crisp tender, about 6~8 minutes.

To assemble: Spray a nonstick tawa/ griddle with cooking spray, place the tortilla and cook till heated through and slightly charred. Remove on to a plate.

Spread 2~3tbsp of beans mixture and top it with the veggies, shredded cheese and sour cream. Serve immediately.
Notes