Blogging Marathon# 34: Week 1/ Day 3
Theme: Cooking with Capsicum/ Peppers
Dish: Stuffed Peppers with Potato Curry
After a spicy pickle and a creamy pesto recipe with peppers, I have one of my favorite childhood stuffed bell pepper dish. My mom used to make it years ago and I loved the little capsicum boats stuffed with yummy potato curry. So for this week's 'Cooking with Capsicum/ Bell Pepper' theme, even though I had another dish in mind I ended up making this stuffed capsicum curry.
I have a paneer stuffed peppers cury already on the blog, but that is a rich dish with paneer and heavy cream. Today's dish is very homey with potato curry stuffing that is slightly spicy. Peppers in India are much smaller and the whole pepper can be hulled out and filled just like a plum tomato. But in the US, peppers are huge and so I halved them and stuffed the halves, then pan fried them until tender.
Here's how I made the dish: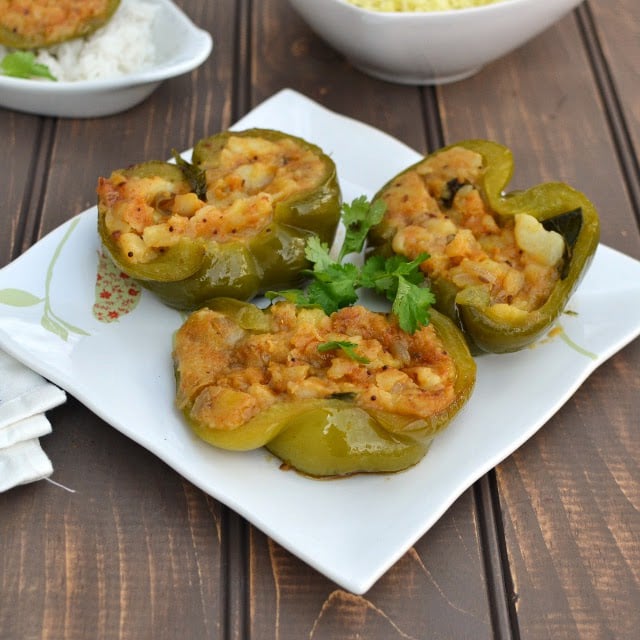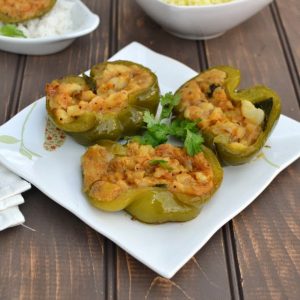 Ingredients
To make Stuffed Peppers:
3

Medium

Bell peppers

1

tbsp

Oil
For the Potato Stuffing:
1

tbsp

Oil

1

tsp

Mustard seeds

1

tsp

Cumin seeds

4

Medium

Potatoes, boiled and peeled

1

Small

Onion, diced

½

tsp

Red chili powder

½

tsp

Turmeric

1

tsp

Garam masala

To taste

Salt
Instructions
Prep the Peppers:
Core the peppers and remove the seeds and fibers from the inside. If the peppers are too big, then half them and remove the seeds. Prep all the peppers and keep ready.
Make Potato Curry:
Heat oil in a pan, add mustard and cumin seeds. Once the seeds start to splutter, add onions and cook until they start turning lightly browned around the edges.

Add turmeric, boiled and peeled potatoes, garam masala and salt. Mix well and cook covered in low flame for 4~5 minutes, so all the flavors have a chance to mingle. Turn off the heat and cool the stuffing for 10-15 minutes.
Make Stuffed Peppers:
Generously stuff each pepper with the potato curry.

Heat 1tbsp in a wide heavy bottomed pan, place the peppers cut side up in the pan and cook covered on medium-low flame until the peppers are completely cooked through and tender. Gently turn the peppers around during cooking, so all sides cook evenly. Sprinkle some salt on the peppers to season them, if desired.