Blogging Marathon# 39 - Indian States: Day 11
State: Jammu & Kashmir
Dish: Palak Nadir
Jammu & Kashmir is located in the Northern tip of India. It is mostly located in the Himalayan mountains and has international borders with China and Pakistan. Jammu & Kashmir consists of Jammu, Kashmir valley and Ladakh. Srinagar is the summer capital and Jammu is the winter capital. Kashmir valley is famous for its beautiful mountainous landscape and Jammu is famous for the numerous shrines that attracts Hindu pilgrims. Ladakh is known as Little Tibet and is renowned for its remote moutain beauty and Buddhist culture.
Cuisine: Ladakhi food has much in common with Tibetan food, the most prominent foods being thukpa, noodle soup and tsampa, roasted barley flour. Kawa is a traditional green tea made with spices and almonds, is consumed all through the day in the chilly winter weather.
Kashmiri cuisine has evolved over hundreds of years and is highly influenced by the food of the Kashmiri Buddhists and Pandits. Apart from this, it is also strongly influenced by the Central Asian, Persian and North Indian cuisines. Kashmiri Pandit cuisine is elaborate and is usually prepared with lots of yogurt, oil and spices. Dry fruits and Saffron is used widely in Kashmiri dishes.
Specialties: Ladyar Tsaman (paneer in turmeric), Dama oluv (dum ka aloo/ potatoes), Nadir Yakhean (lotus stem), Shufta, Panjeeri, Kasaar and many more.
Today's Dish: This is the first dish I ever made with lotus stems and I wasn't sure how they would taste. I bought frozen lotus stems and thawed a few pieces to try. I was pleasantly surprised how crisp and delicious they tasted. My little one couldn't get enough of them, she loved munching the lotus stems.
This curry could not be simpler to make and the final dish is very earthy and delicious. This is one of those dishes that doesn't have too many ingredients, but the end result is surprisingly tasty. Using all dry masalas with onions, ginger or garlic was interesting and also the addition of black salt or kala namak in a curry recipe was new to me. All in all a super tasty curry that goes perfect with either steamed rice or roti. 
Recipe from Kashmiri Food Recipes: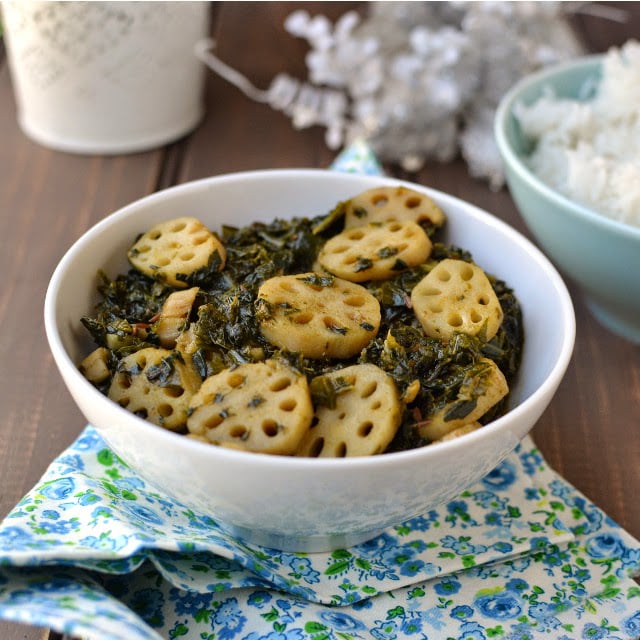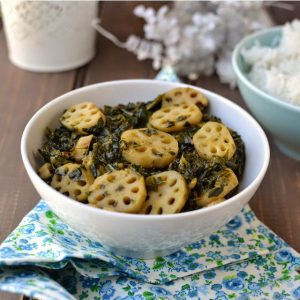 Ingredients
1

bunch

Spinach

- (I added some kale as well)

1

cup

Lotus

Stems - chopped (I used frozen)

1

tsp

chili powder

Red - (or more to taste)

½

tsp

fennel

Ground

¼

tsp

ginger

Ground

¼

tsp

Salt Kala Namak

Black /

¼

tsp

Asafetida

/ hing

1

tsp

Cumin seeds

to taste

Salt
Instructions
Heat 2tsp oil in a pressure cooker; add the chopped lotus stems and saute until crisp tender. Remove into a bowl and set aside.

In the same cooker, heat 1tbsp mustard oil and add cumin seeds and asafoetida. Once the seeds start to splutter, add the chopped spinach and salt. Cook until the water is evaporated, about 4~5 minutes.

Add the red chili powder, ground fennel and ground ginger. Cook for 1~2 minutes.

Add 1~1½cups of water. Cover the pressure cooker and cook for 2 whistles.

Once the pressure releases, mash the greens lightly with a spoon. Add the fried lotus stems and kala namak; cook for 5 minutes.
Notes
Serve hot with steamed rice or roti.
Lets check out what my fellow marathoners have cooked today for BM# 39.
Linking to Fabulous Feast Friday# 10 being hosted by Valli & Prachi.
An InLinkz Link-up