As a child I was never a picky eater and my mom never had any issues with my food. But I did have some absolute favorites (like eggplant, okra fry, potato fry, majjiga pulusu to name a few) and I also had some that I didn't like as much. I would say to myself: "Amma, why can't you make dosakaya pappu (cucumber dal)?? Why do you have to make this curry?" I never liked dosakaya kura, don't know the reason.
But I loved all leafy greens no matter how they were cooked. But after coming to the US, I never found some of the greens we find in India like chukkakura, I don't even know the English name for it. At least Indian stores in NJ are always stocked with fresh methi, bachali kura (red pohi??), thota kura (amaranth) and gongura. But since we don't visit Indian store as frequently as a Korean/ Chinese or our local farmers markets, I started to buy any green that looked remotely close to the ones I remember from India (to be honest while in India I didn't know the difference between spinach and methi!!!). I have been successful with some and totally disappointed with others (had to dump the whole dish in the garbage.. gross.. yucky and to top it all off-- my husband H still taunts me about that whenever I make anything green, so it was pretty bad).
My latest success is cooking with kohlrabi greens, they are mellow and don't have any distinguishable taste, almost like chard. So I made this dish that I learnt from my SIL in Sweden (which she made with spinach). Very simple to make and tasted good too.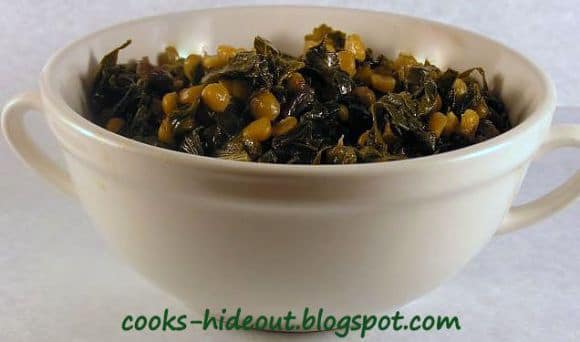 Ingredients
6

cups

Kohlrabi

greens – , chopped

1

Onion

– small, chopped

3

chilies

Green – slit

2

cloves

Garlic

– , minced

½

cup

Chana dal

– , soaked for ½ hour
For Popu (tadka):
½

tsp

Mustard seeds

½

tsp

Cumin seeds

2

Chilies

Red

to taste

Salt
Instructions
Wash the greens thoroughly and finely chop them.

In a pressure cooker, heat 2tsp oil; add tadka ingredients and once the seeds start to splutter, add garlic and sauté until fragrant and lightly browned, make sure that garlic is not burnt.

Add green chilies and onions and sauté until onions turn translucent, about 6-8 minutes.

Add the chopped greens, soaked chana dal, salt and 2-3 tbsp water; lock the lid and cook for 2-3 whistles. Once the pressure is down, open the lid and cook further if there is too much water or serve right away with steamed white rice.
Notes
This is my entry to Cooking for Kids: Leafy Greens event. Send in your entries before June 30th.