BM# 44: A-Z Cooking Series -- Around the World in 30 days
Country: M for Malaysia
Dish: Vegetarian Malaysian Curry with Coconut Milk
We are going to the Malaysia today. It is located in Southeast Asia. The country is multi-ethnic and multi-cultural. The population can be broadly divided into 3 ethnic groups: Malays, Chinese & Indian. Most of the Malaysian dishes have strong influences of all these countries.
One of my very good friends is from Malaysia and I asked her help in picking a recipe. She suggested couple of dishes that required procuring ingredients typical to Malaysia. Then I asked her Malaysian curry recipe and she sent me the recipe and then even made it for us. I planned on clicking her curry, but it was all gone so quickly that I didn't get a chance to take pics.
Then I found another Malaysian curry recipe that was slightly different from my friend's version. I double checked with my friend and after getting her nod of approval, I made this curry with freshly made curry paste and coconut milk.
Difference between Indian & Malaysian curries is that the veggies are cooked till fork tender and never over-cooked in Malaysian curries. Also what I found was the tang factor missing, there are no tomatoes or tamarind in the curry. But all in all this is a delicious curry that is best served with steamed rice.
Recipe adapted from here: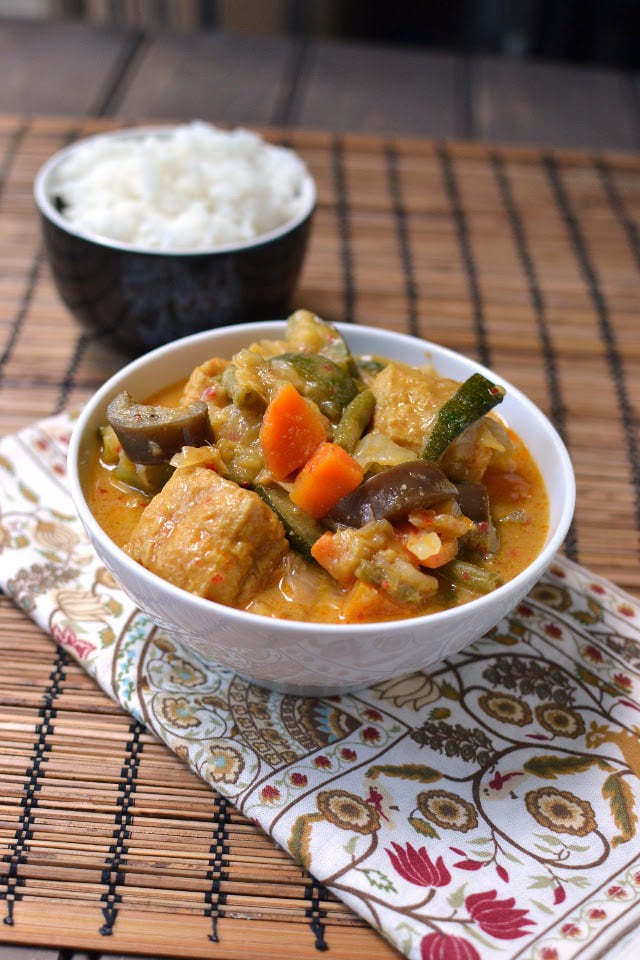 Vegetarian Curry with Coconut Milk
Recipe for a spicy and delicious Malaysian vegetable curry. Tastes great when served with steamed rice.
Print
Pin
Rate
Ingredients
For the Curry Paste:
3

chilies

Dry red (I used Indian red that were very spicy, if you are using milder , then increase the quantity)

2

red chili

Thai

2

tsps

Galangal

, grated

3

cloves

Garlic

1

Ginger

" - piece

2

Lemon Grass

- use only the white soft part

1

Red Onion

- small, chopped (or use 2~3 shallots)

12

Cashews

(or use candle nuts/ macademia nuts or brazil nuts)

½

tsp

Turmeric
For the Curry:
2

Eggplant

Japanese/ Chinese - sliced

1

cup

Cabbage

- chopped

1

Zucchini

- small, sliced

1

Carrot

- small, peeled and diced

½

cup

Green Beans

- cut into 1" pieces

½

cup

Soy

Puffs - cut in half (these are available in Asian markets in the refrigerator section)

1

cup

Coconut milk

3

Kaffir Lime

leaves (I didn't have any, so skipped them)
Instructions
Prepare the Curry Paste:
Soak the dry red chilies in some warm water for 15 minutes. Drain before using.

Grind all the ingredients into a smooth paste. Set aside.
To make the Curry:
Heat 2tbsp oil (I used coconut oil, but any oil can be used), add the curry paste and saute till the oil separates.

Next add the coconut milk and 1 cup of water (or veggie stock) and kaffir lime leaves. Bring to a boil.

Next add all the veggies and tofu puffs. Lower the heat and simmer till the veggies are done to the desired tenderness. Malaysians traditionally don't overcook their veggies, so carrot and beans are usually left crisp tender.

Season with salt, mix well and turn off the heat. Serve with steamed Jasmine rice. Curry usually tastes better for the next meal as it has more time to absorb all the flavors. But served hot, it tastes delicious too!!
Notes