Blogging Marathon# 39 - Indian States: Day 18
State: Meghalaya
Dish: Jadoh
We move onto the next North eastern state of Meghalaya today. The name means 'the abode of clouds' in Sanskrit. Just the name makes me think of beautiful sky kissing moutains and luscious greenery and breathtaking landscapes. Coming back to reality, about one-third of the state is forested and the forests are notable for biodiversity of mammals, birds and plants. It was previously part of Assam, but formed a new state in 1972.
Tribal people make up the majority of Meghalaya's population. The Khasis are the largest group, followed by the Garos and the Jaintias. Meghalaya is one of the 3 states in India to have Christian majority with 70.3% of the population practising Christianity (other 2 being Mizoram and Nagalan, also in the northeastern India).
Cuisine
: Meghalayan cuisine is very unique and is quite different from the other states in the northeastern India. Staple food of the people is rice with spicy meat and fish preparations. Each tribe has its own variety of foods. The popular dishes of Khasis and Jaintia are Jadoh, Ki kpu, pickled bamboo shoots etc. Garos on the other hand eat almost any animal, but in day to day life they usually have a simple meal with rice and kapa (this can be made of either meat or vegetables and is cooked with special ingredient called karchi which is made up of filtered ash water).
Today's Dish: Finding a vegetarian dish from Meghalaya was quite a challenge, so I decided to turn a meat dish vegetarian. Jadoh is a Khasi delicacy and is made with the local red rice and pork. It is a typical Meghalaya dish, known for its aromatic taste and minimum use of oil.
I used store bought Oriental style tofu in place of pork. My initial plan was to marinate soy chunks (meal maker) in some vegan worcestershire sauce to get the meaty flavor, but I was out of soy chunks -- so had to resort to an easier plan B. I really liked this dish because it is very clean tasting without a ton of masalas/ spices. I guess I prefer bland food -- sometimes and this is one dish I would probably make again.
Recipe adapted from Khaana Khajana: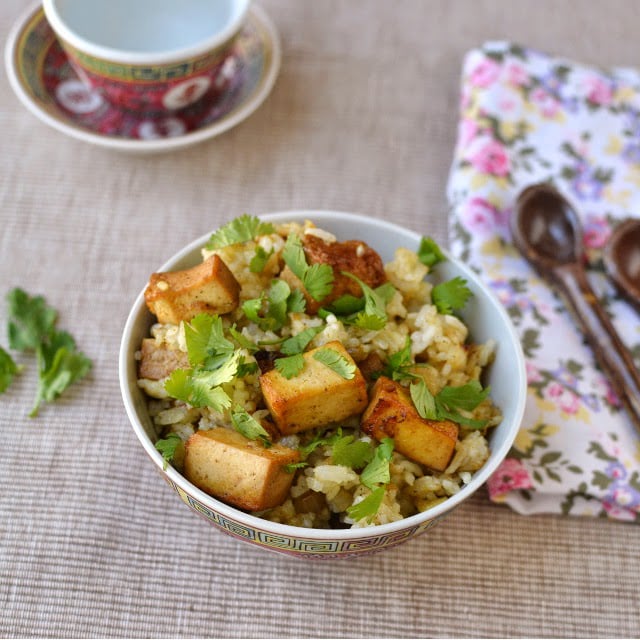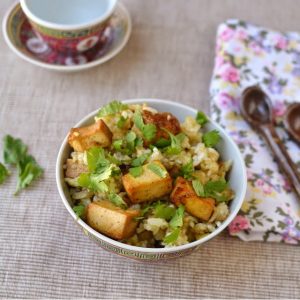 Ingredients
1

cup

Rice

(I used Jasmine rice)

1

cup

Tofu

Oriental style - chopped

1

Onion

- medium, chopped

1

Ginger

" - grated

¼

tsp

Turmeric

to taste

Black Pepper

2

Bay leaves

to taste

Salt

2

tbsps

Cilantro

- finely chopped
Instructions
Wash the rice and drain. Set it to the side.

Heat 2tbsp oil in a wide pan, saute bay leaves, onions, ginger, turmeric and pepper. Cook till onions are lightly browned around the edges.

Add the tofu and fry for 2~3 minutes.

Add the washed rice asnd fry for 2~3 minutes. Then add salt and mix well.

Add 2 cups of warm water and bring to a boil. Lower the heat, cover and cook till all the water is absorbed and rice is cooked through, about 15~20 minutes.

Garnish with chopped cilantro and serve hot.
Notes
Lets check out what my fellow marathoners have cooked today for BM# 39.
An InLinkz Link-up