Nutty, slightly sweet and absolutely delicious Mexican wedding cookies. They are great to give as edible gifts for the holidays.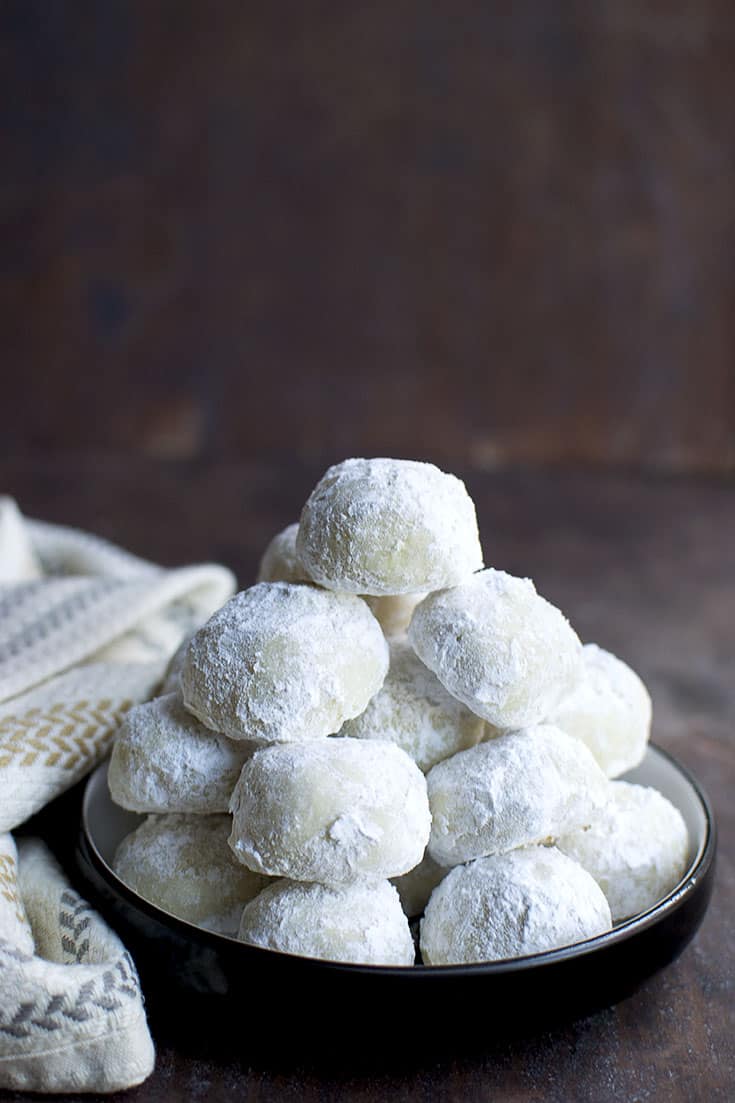 I am always looking for new baking recipes and bake-a-thon definitely helps me with that aspect. There are a ton of baked treats that I bookmarked to try and I keep looking for occasions to bake them.
Mexican Wedding Cookies:
I signed up to bring cookies for this year's thanksgiving and I made 2 different cookies. First up of the two are these easy to make and melt in your mouth Mexican wedding cookies aka Russian Tea Cakes.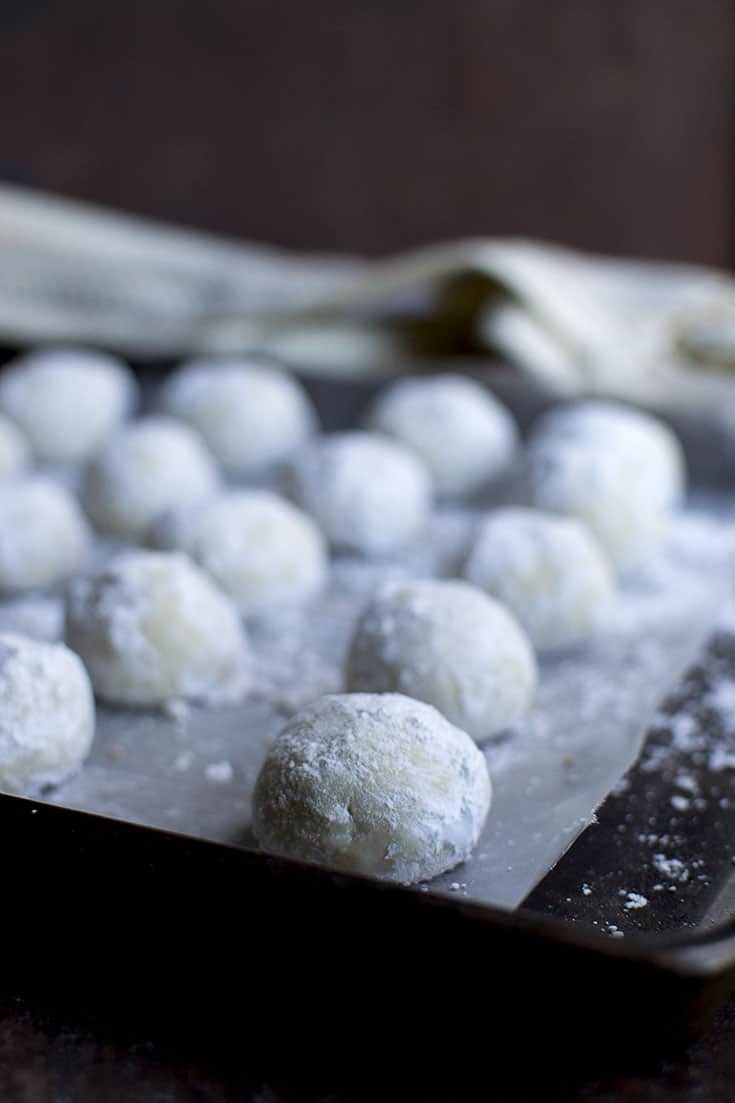 What are Mexican Wedding Cookies:
I tried to look up on the history of Mexican wedding cookies, but it sounds like they have nothing to do with weddings in Mexico. Their name in Spanish is Polvorones, which translates to crumbly, referring to the texture of these cookies.
I have a Mexican wedding cookie recipe on the blog that I posted years ago. This recipe is from King Arthur Flour.
Ingredients Needed:
Today's recipe is similar but uses almond flour instead of toasted and chopped walnuts. I am all for recipes that don't need any extra steps. So I used store bought almond flour to make these cookies.
Crumbly & Delicious Cookies:
These Mexican wedding cookies are buttery and melt in the mouth. They are very easy to make too. Mix all the ingredients into a nice pliable dough, make balls and bake!! Easy, peasy. No chilling, no rolling, nothing complicated at all.
Once the cookies come out of the oven, they are rolled in confectioners sugar until they look snowy and delicious. These cookies keep well for up to a week when stored in an airtight container.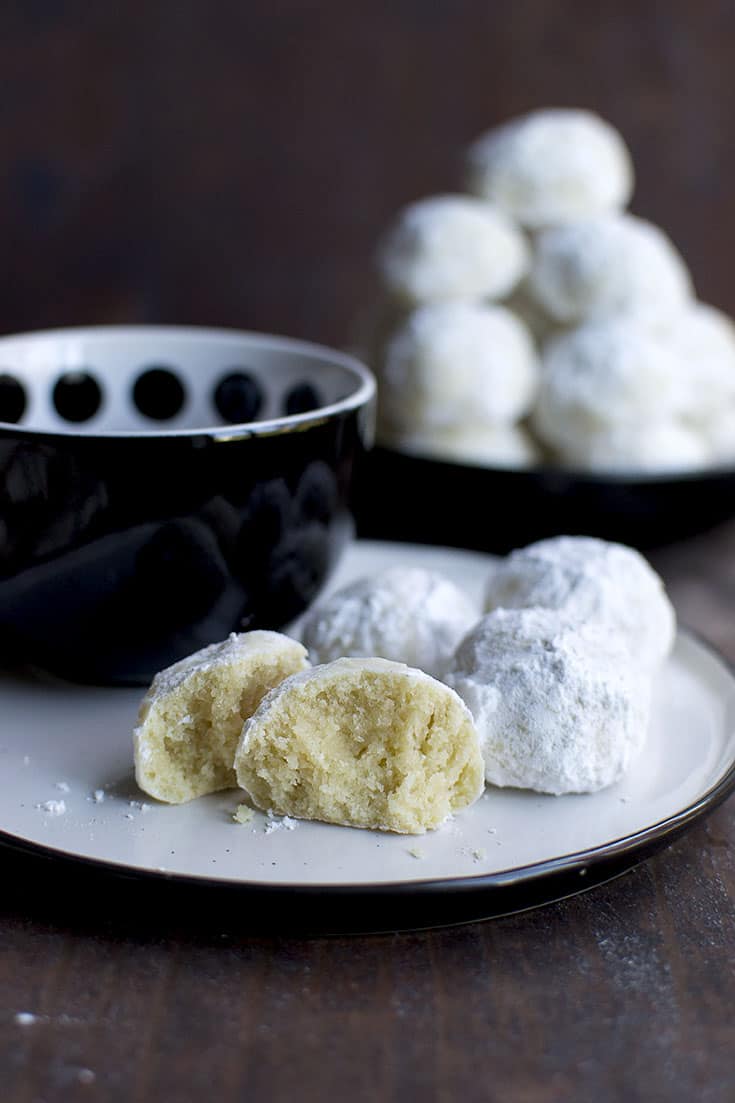 Perfect tea time snack:
The best part of these cookies are that they are not too sweet - perfect to serve after a full meal. Also great to serve as a nice tea time snack. There is not much sugar in the cookie recipe itself, but the baked cookies are dunked it confectioners sugar to add sweetness.
Check out the other bloggers doing this Bake-a-thon.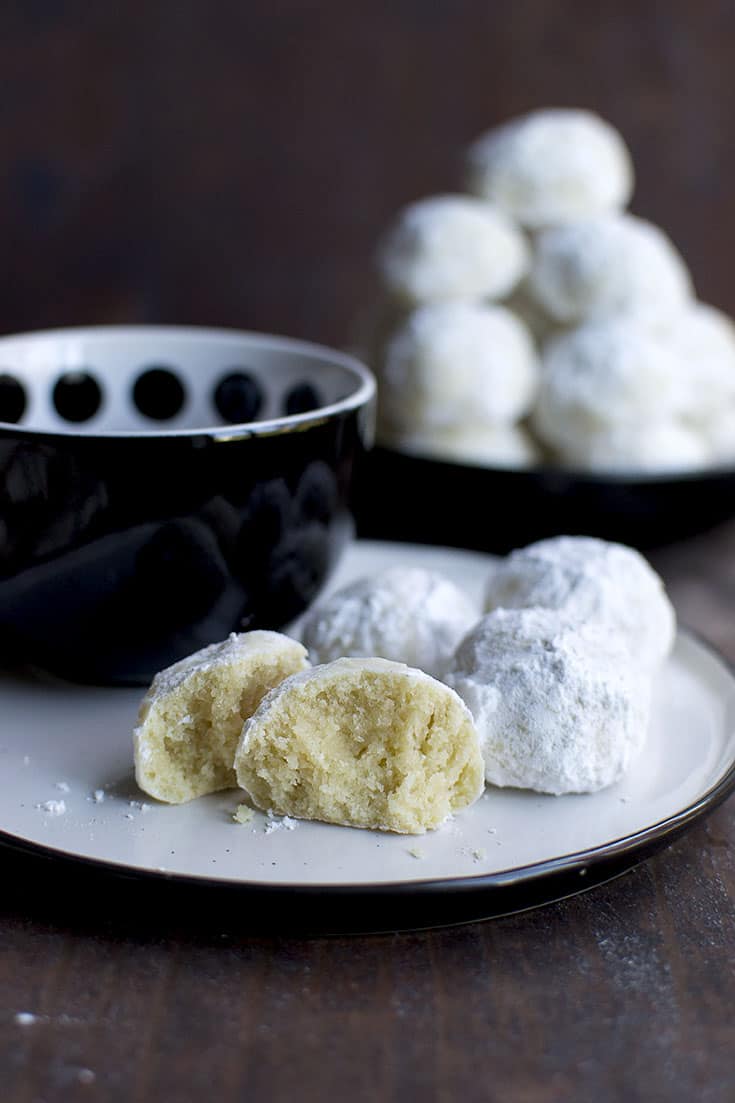 Mexican Wedding Cookies
Nutty, slightly sweet and absolutely delicious Mexican wedding cookies. They are great to give as edible gifts for the holidays.
Print
Pin
Rate
Ingredients
For the Cookies:
2

sticks

Unsalted Butter (16tbsp/ 1 cup)

½

cup

Confectioners Sugar

1½

tsp

vanilla extract

1

tsp

salt

¾

cup

almond flour

2¼

cups

all purpose flour
For the Coating:
1

cups

Confectioners Sugar
Instructions
Preheat the oven to 325°F. Line 2 baking sheets with parchment paper or lightly grease them.

In a large mixing bowl, beat together the butter, sugar, vanilla extract and salt.

Beat in the almond flour and the all purpose flour.

Scoop about a teaspoon of dough and roll them into balls. Place the balls on the prepared baking sheet, about 1" between them.

Bake the cookies for 15~20 minutes or until they feel set on top. They should be lightly browned.

Put confectioners sugar in a shallow bowl.

Remove the cookies from the oven and allow them to cool on the pan for a few minutes. Transfer 4~5 cookies at a time and roll them in the sugar to coat. Transfer them to a rack to cool.

When the cookies are cool, roll them again in the sugar - they should be generously coated and snowy white.

Store in an airtight container at room temperature for up to a week. Freeze for longer storage.