We are travelling to the Middle East for this month's 'Home Baker's Challenge'. Rafeeda, our lovely host for this month gave us some delicious sweet and savory dishes from Arabia to choose from. Since my family loves sweets, I made a deliciously sweet Arabic cake.
I wanted to bake this cake last month itself, but I ran out of dates and the whole month passed by before I realized it was the deadline to post for the event. So I rushed and bought some dates and made this cake last night. My husband who has a very big sweet tooth, absolutely LOVED it. It was a little too sweet for me, since it has all the sugars you can possibly think of. May be next time I cut down on the other sugars and use only honey.
The base or the cake portion of the cake is partially baked first, then the sugar syrup is poured on top and it goes back into the oven to finish baking. I was in a hurry and I poured my syrup too fast on the no-quite set cake and the syrup broke the top of the cake. It tasted just fine after baking, but had a big lump/ crater in the middle. So be very gentle and pour the syrup from the sides of the pan and not in the middle.
Recipe adapted from here: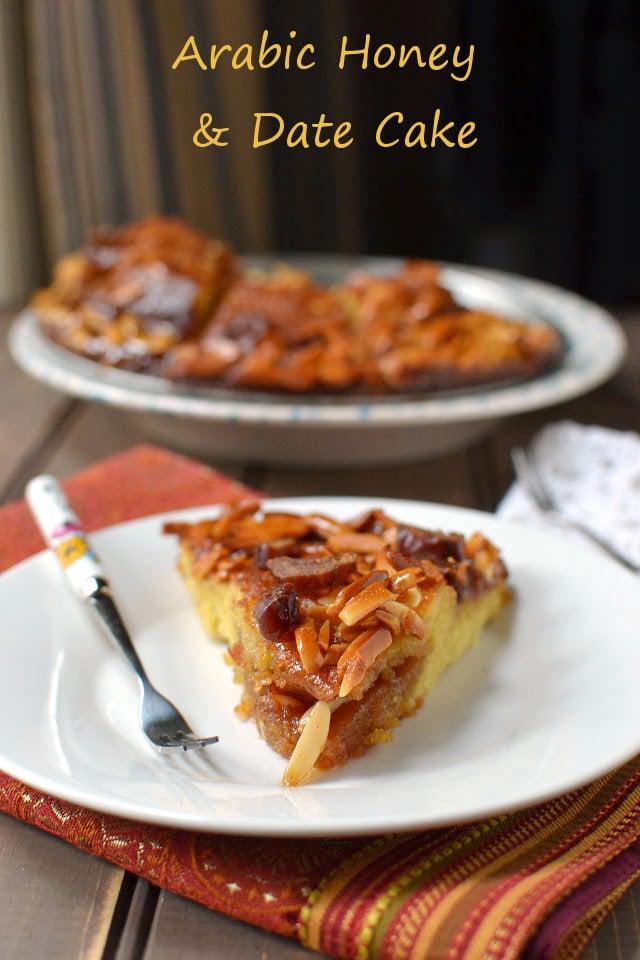 Ingredients
For the Cake: 
⅓

cup

Unsalted Butter

- melted

3

Eggs

Large

¼

cup

White Sugar

¼

cup

brown sugar

Light

½

cup

All purpose flour

½

tsp

Vanilla Extract

½

tsp

Baking powder

½

tsp

Salt
For the Topping:
½

cup

Butter

¼

cup

White Sugar

¼

cup

brown sugar

Light

⅓

cup

Honey

½

tsp

Cinnamon

Ground

½

cup

Almonds

Slivered

8 ~ 10

Dates

- pitted
Instructions
Preheat the oven to 400°F. Grease a 9~10" spring-form pan with cooking spray or butter.

Make the Cake: In a medium size mixing bowl, whisk the eggs with both sugars and vanilla extract until light and fluffy. Gently pour in the melted butter and whisk until well combined. Sift all-purpose flour, salt and baking powder right into the bowl. Mix well to combine.

Pour the batter into the prepared pan and bake for 10~12 minutes.

Make the Topping: In the meantime, melt butter in a small saucepan on medium heat. Add the sugars, honey, cinnamon and almonds. Bring the mixture to a boil and turn off the heat.

Pour the topping along the side of the pan onto the partially set cake. Return the pan to the oven and bake for another 15 minutes or until the cake is cooked through. The syrup will be still bubbling, but it will thicken once cooled.

Arrange the dates on the cake.

Let the cake cool in the pan completely before removing it out of the pan.
Notes