Blogging Marathon# 39 - Indian States: Day 19
State: Mizoram
Dish: Chhum Han (Steamed Mixed Vegetables)
We are onto the 5th North eastern state that is one of the Seven sister states of the North Eastern India (Assam, Arunachal Pradesh, Manipur, Meghalaya being the other four that I explored already). Mizoram, literally means 'land of hill people'. It is a land of rolling hills, valleys, rivers and lakes. Majority of Mizoram's population consists of several ethnic tribes who are either culturally or linguistically linked. These ethnic groups are collectively known as Mizos.
Cuisine
: The cuisie of Mizoram differs from that of most of India, though it shares characteristics to other regions of North East India and North India. Rice is the staple food of Mizoram and the Mizos love to add non-vegetarian ingredients in every dish. Fish, chicken, pork and duck are popular meats among Mizos. Most of the dishes are cooked in mustard oil. Meals tend to be less spicy than in most of India.
Today's Dish: With only limited vegetarian dishes in the Mizoram cuisine, I got really excited when I saw the mention of this steamed/ boiled veggie dish. It is called Chhum han and a little Google search brought me to this boiled fish dish. So I made the veggie dish based on that recipe.
There is technically no recipe for this dish. It is just steamed veggies lightly flavored with ginger. It is a healthy side dish that will make you eat your share of veggies for the day. This is a dish even my daughter really liked.
Recipe adapted from here and here.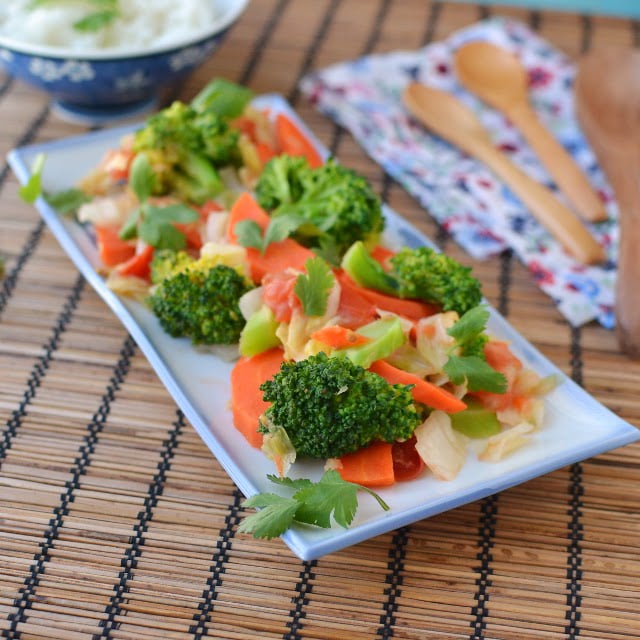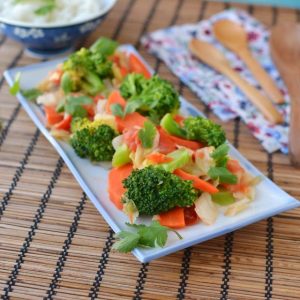 Ingredients
1

cup

Broccoli

- cut into florets

2 ~ 3

cups

Cabbage

- chopped

2

Carrots

- medium, thinly sliced

1

Tomato

- medium, chopped

2

Ginger

"

to taste

Salt
Instructions
Steam the veggies until fork tender. I microwaved them separately until just tender.

Heat ¼cup of water in a pan; add the ginger and chopped tomato. Simmer for 2~3 minutes. Next add the rest of the veggies and salt. Mix well and cook for 2 more minutes. Make sure that the veggies are not mushy and overcooked. Serve hot.
Notes
Lets check out what my fellow marathoners have cooked today for BM# 39.
An InLinkz Link-up