BM# 77: Week 2/ Day 3
Theme: Explore Latin American Cuisine
Dish: Mole Sauce with Beans & Mixed Vegetables
For the final day of this week's 'Latin American cuisine', I have a delicious Mexican chocolate based dish called Mole (mo-lay) sauce. Mole is actually a generic name for a number of sauces made in Mexican cuisine as well as the dishes based on these sauces. This sauce generally contains chili peppers (dried and/ or fresh), nuts, spices like cinnamon and cumin and sometimes fruit.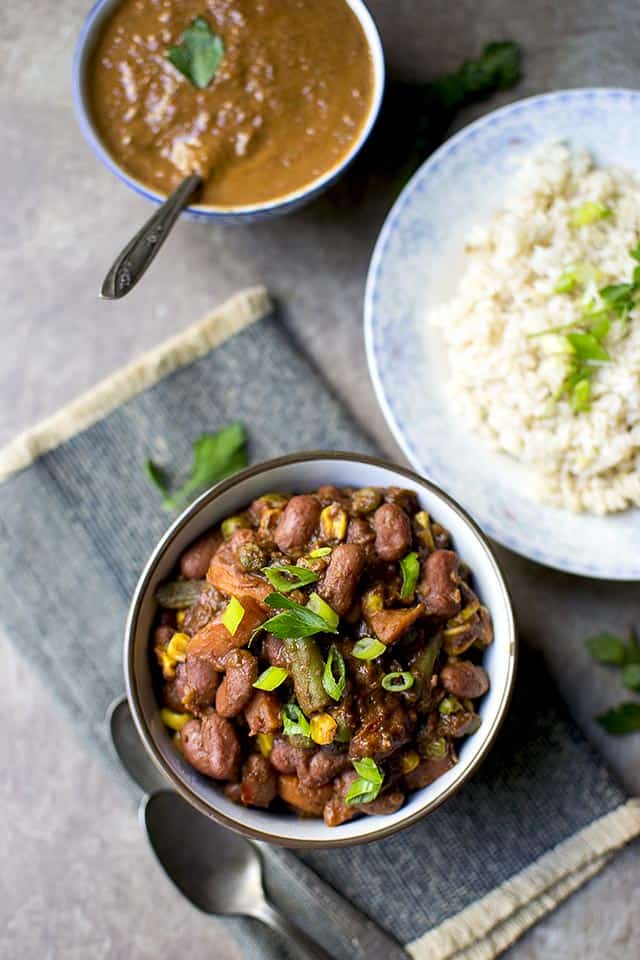 There are a ton of different recipes for Mole sauce. I am assuming it to be like our very own sambar where each household in all of the 4 south Indian states have a different recipe. Puebla and Oaxaca in Mexico seem to have the best known moles. Like I said, moles come in various flavors and ingredients with the chili peppers as the common ingredient.
Today's recipe is from an Indian cooking show I watched quite a while back. I noted the recipe down but now I don't remember which show it was from. But basically this recipe is a slightly Indianized version of the classic mole. I think the chef modified the recipe to cater to Indian home cooks.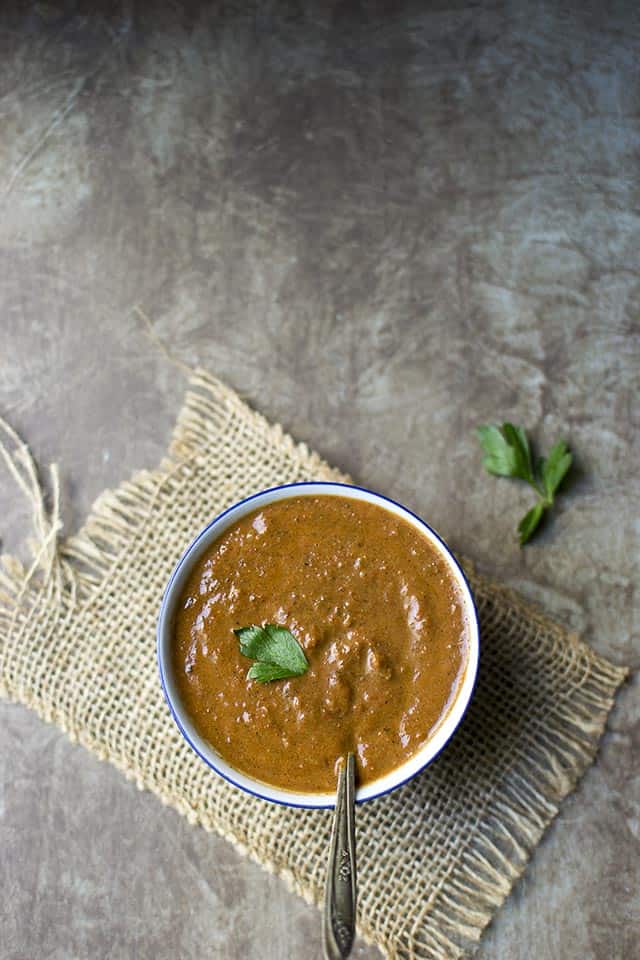 This mole sauce has all the necessary ingredients -- dried chilies (ancho or guajillo or any other mildly spiced chili), nuts (peanut butter), spices (ground cinnamon and cumin) and bittersweet chocolate. The final sauce is creamy with an amazing flavor that is very difficult to describe. I was initially skeptical about adding chocolate to a savory dish, but the bittersweet chocolate melds beautifully with the other flavors in the dish.
Usually mole sauce is used with meat, but since this is a vegan recipe I added it some mixed veggies and beans. It was like a hearty and comforting chili. You can also use the sauce to make enchiladas or use it as a dip for some fried sweet plantains.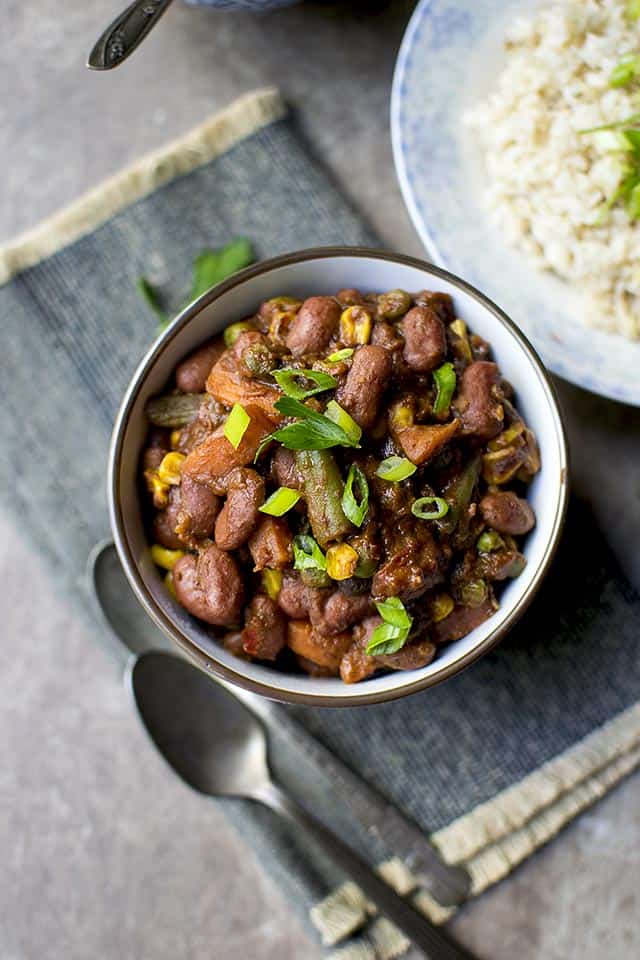 In other news, my blog 'Cook's Hideout' as been selected as one of the Top 100 Indian Food Blogs on the web by the lovely people at Feedspot. It is great to be on that list along side some amazing Indian food bloggers including our BM buddies Valli, Vidhya, Priya, Preeti. Big Thanks to Anuj and his team for this. Check out the entire list here.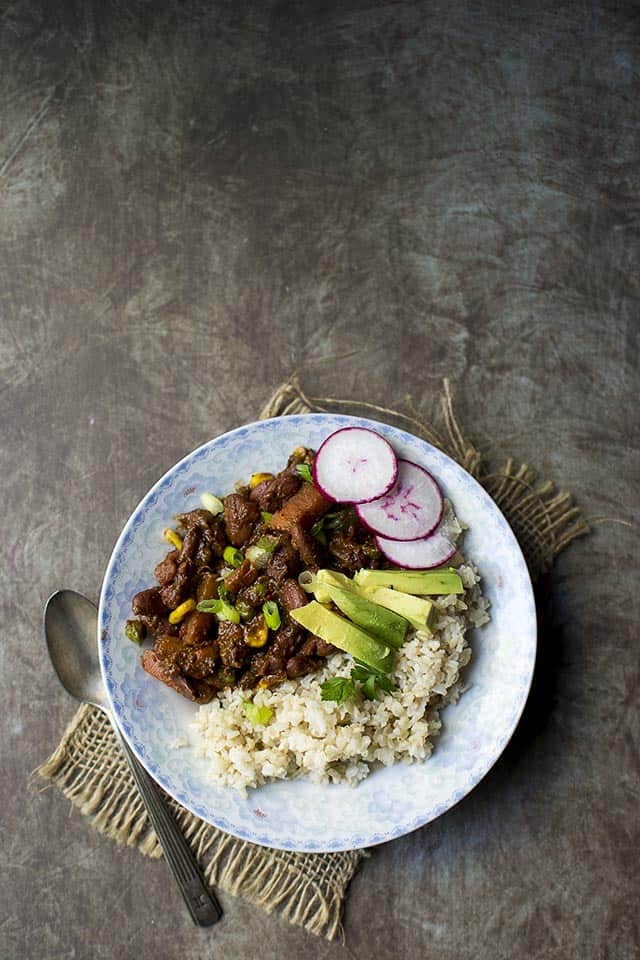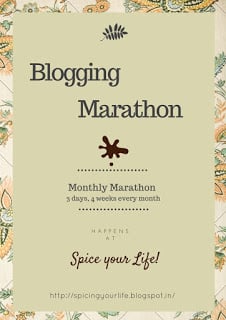 Lets check out what my fellow marathoners have cooked today for BM# 77.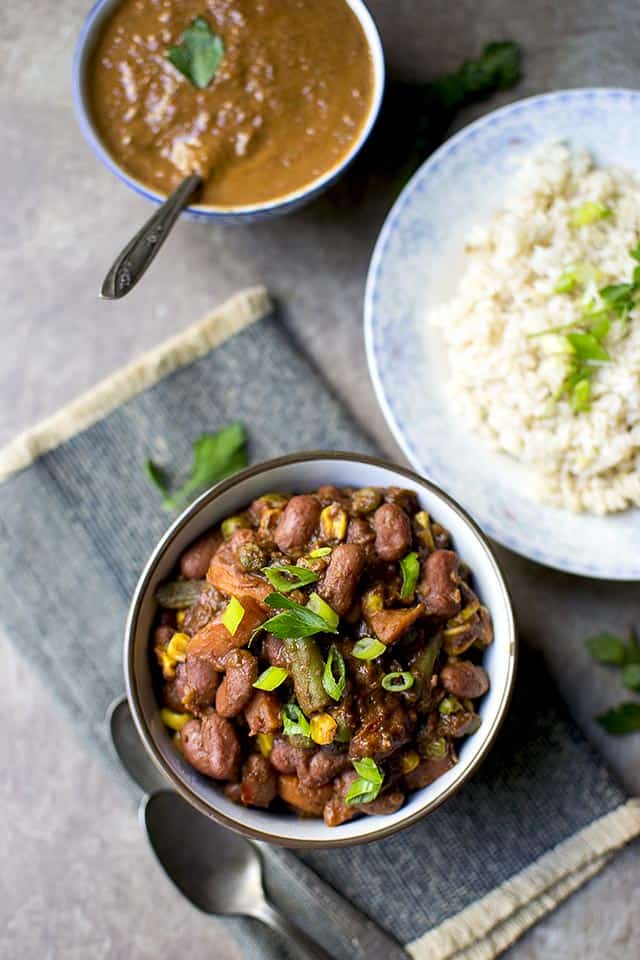 Mole Sauce with Mixed Vegetables
Vegan Mole sauce is made with dried chiles, peanut butter, spices and chocolate. This flavor packed sauce is great to serve over enchiladas or as a dip for fried plantains. In this recipe, mixed veggies and beans are simmered in mole sauce for a delicious vegan dish.
Print
Pin
Rate
Ingredients
For the Mole Sauce:
2~3

tbsp

Oil

2

Dry Chilies (Ancho or California or Guajillo or Pasilla)

1

Medium Onion, chopped

2~3

Garlic cloves, minced

1

tsp

Red Chili powder

½

tsp

Ground Cumin

2

Medium Tomatoes, chopped

½

tsp

Ground Cinnamon

1

Small Red or Orange Pepper, chopped

1

Small Jalapeno, chopped

2~3

tbsp

peanut butter

1

cup

vegetable broth

2

tbsp

Mexican Bittersweet Chocolate, chopped

To taste

salt
Other Ingredients:
1

15 oz. can of

Black beans or Red Kidney Beans

1

Medium Carrot, diced

2

Medium Potatoes, peeled and diced

1

cup

Mushrooms, chopped (optional)

1~2

Colored Peppers, chopped
Instructions
Make Mole Sauce:
Remove the seeds from the dried chilies. Soak them in warm water for 30~40 minutes. Drain and set aside.

Heat the oil in the pan, add the onion, garlic and cook till the onion turns translucent, about 5~6 minutes.

Add ground cumin, chili powder, ground cinnamon, chopped tomatoes, peppers and jalapeno. Cover and cook till the veggies are tender, about 8~10 minutes.

Stir in the peanut butter until it is completely mixed through. Add veggie stock and bring the mixture to a simmer. Stir in the chocolate and mix until combined and cook on low flame for 4~5 minutes.

Turn off the heat, cool and grind into a smooth paste.
For the Vegetables:
Heat 1tbsp oil in a pan add the vegetables and cook till they are tender. Add the beans and cook for another 4~5 minutes.

Add the prepared mole sauce and cook till warmed through. Garnish with cilantro and serve over rice.