Moroccan Carrot Salad is a refreshing and delicious dish to accompany any meal.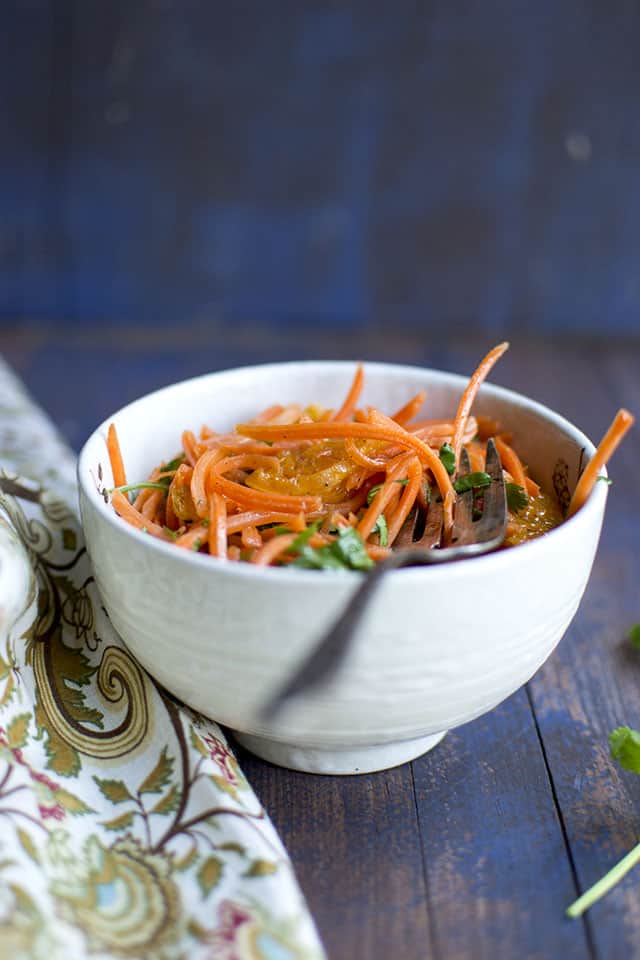 Can't believe it is December already -- I probably said this a million times -- but time sure is flying. This year went by in a hurry -- selling a house, buying a house, packing and moving took up most of our year. Hopefully next year is going to be more relaxed and restful. Coming to this week's blogging marathon, my theme for the week is 'Moroccan dishes'. So for the first day I have a simple Moroccan Carrot Salad.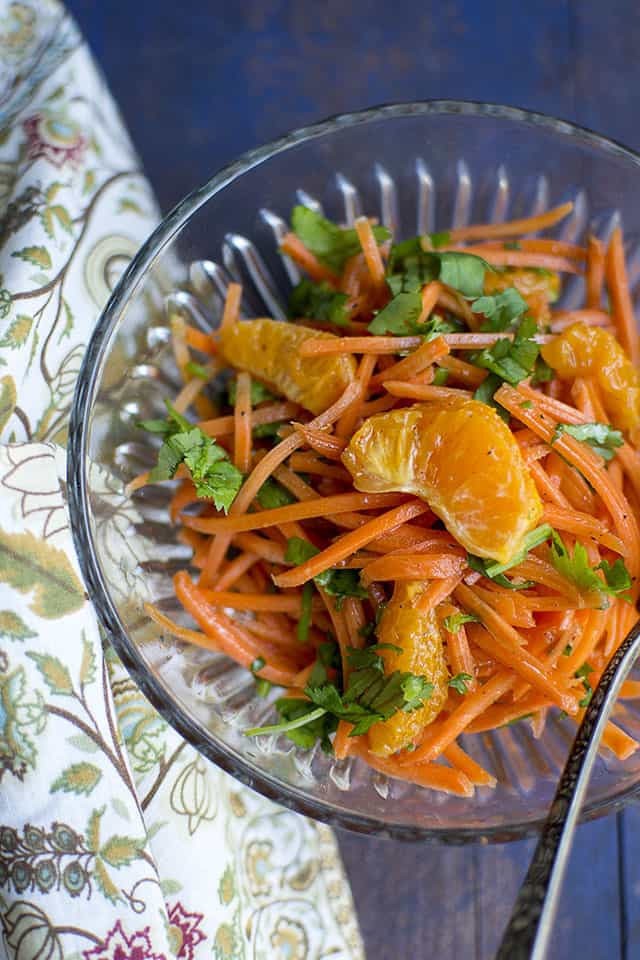 This is a classic Moroccan salad that is made with everyday ingredients -- carrots, olive oil, lemon juice and spices. Carrots can be coarsely grated using a grater or to make life easier, use store bought shredded carrots 🙂 I am one of those people who run miles away when grating in bulk is involved (psst.. my sister used to be the grating bhakra at home when carrot halwa was on the menu).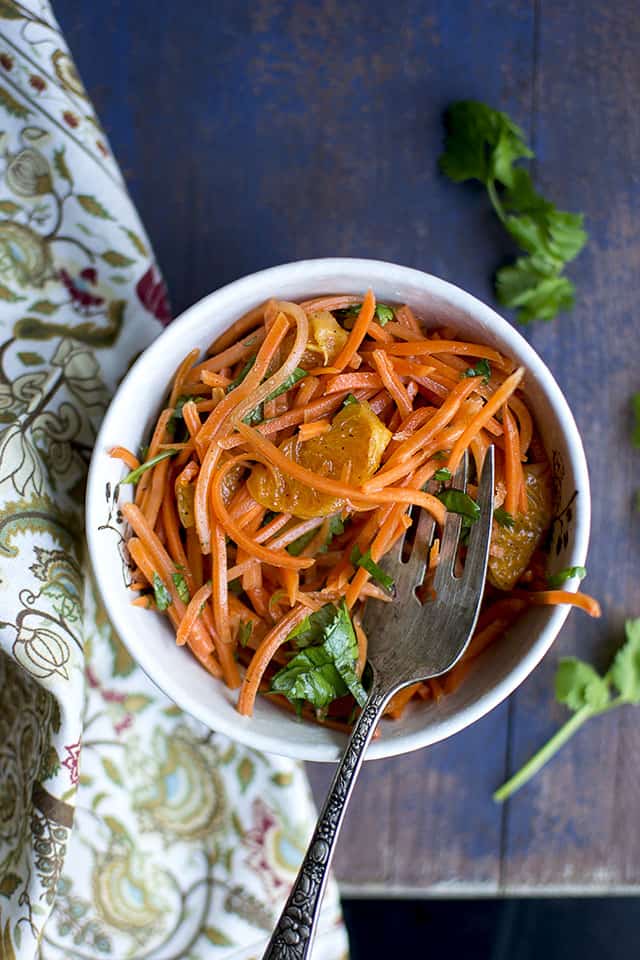 This recipe is from The America's Test Kitchen - The Complete Vegetarian Cookbook. Juicy orange segments are added to compliment the earthiness of the carrots. The orange juice is reserved to add to the dressing as well. The sweetness of the orange juice is balanced with the lemon juice and warm spices -- cumin, cayennne and cinnamon.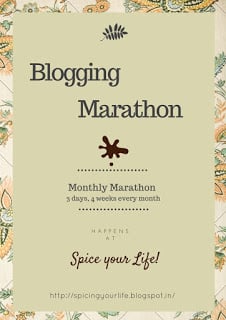 Lets check out what my fellow marathoners have cooked today for BM# 83.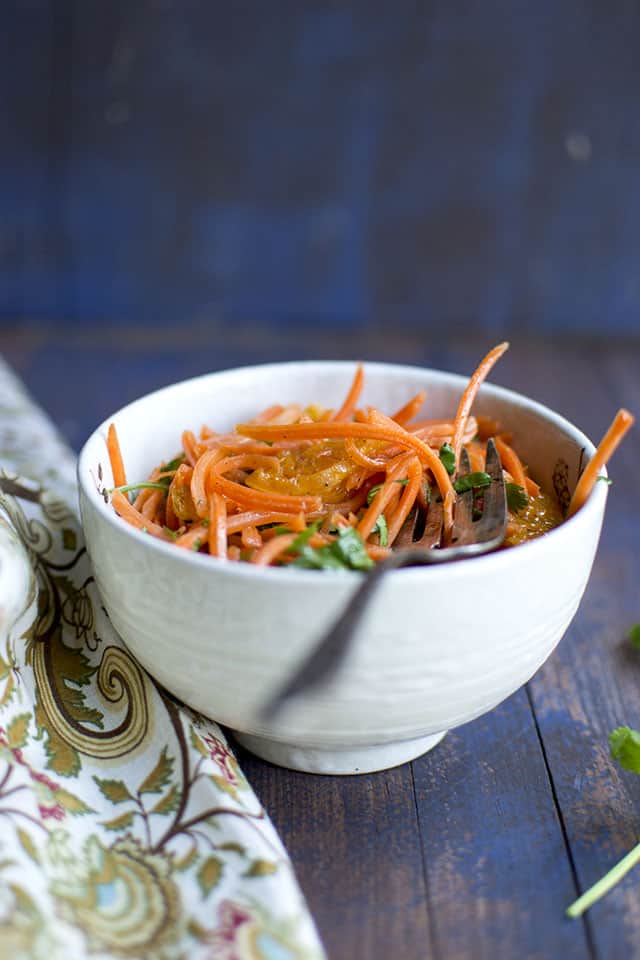 Moroccan Carrot Salad
Coarsely grated carrot and oranges with a spicy-sweet dressing. This Moroccan Carrot Salad is a refreshing and delicious dish to accompany any meal.
Print
Pin
Rate
Ingredients
4~6

Medium Carrots, coarsely grated

2

Oranges

1

tbsp

lemon juice

1

tsp

Agave Nectar (or Honey for non-vegans)

¾

tsp

Ground Cumin

⅛

tsp

Red Chili powder/ Cayenne Pepper

⅛

tsp

Ground Cinnamon

To taste

Salt Pepper

3

tbsp

Cilantro, finely chopped

3

tbsp

extra virgin olive oil
Instructions
Cut the peel and pith from the oranges. Hold the fruit over a bowl and using a paring knife slice between the membranes to release the segments. Place them in a fine mesh sieve to drain. Reserve the juice.

To make the dressing, whisk lemon juice, agave (or honey), cumin, cayenne, cinnamon and ½tsp salt into the reserved orange juice.

Add the drained oranges and the dressing to the grated carrots. Toss gently to coat. Let the salad sit for about 5 minutes, until the liquid starts to pool in the bottom of the bowl.

Drain the salad in a fine mesh sieve and return to a bowl.

Stir in cilantro and olive oil. Season with salt and pepper to taste. Serve and enjoy!!