Bake-a-thon 2015: Day 9
Bake of the Day: Nutella Star Bread
Star bread has been on my to-make list ever since I saw this
beautiful loaf
on Nalini's blog. Finally I got to make it for Bake-a-thon. Instead of Nalini's savory bread, I made a Nutella filling star bread and the whole family absolutely loved i
I followed the recipe from King Arthur flour. The filling for this bread can be anything from cinnamon sugar to Nutella to even garlic and cheese. Since Nutella is one of my kids favorite I wanted to try it with that, but I'm definitely going to make the savory version sometime soon.
The dough for this bread is a dream to work with. It's so soft and pliable, it almost feels like play-doh. The shape looks complicated but it's really not that complicated. I got a little messy layering and shaping since Nutella started to stick everywhere. But once bakes, it looked stunning. It tasted equally good and we ate it up in a day :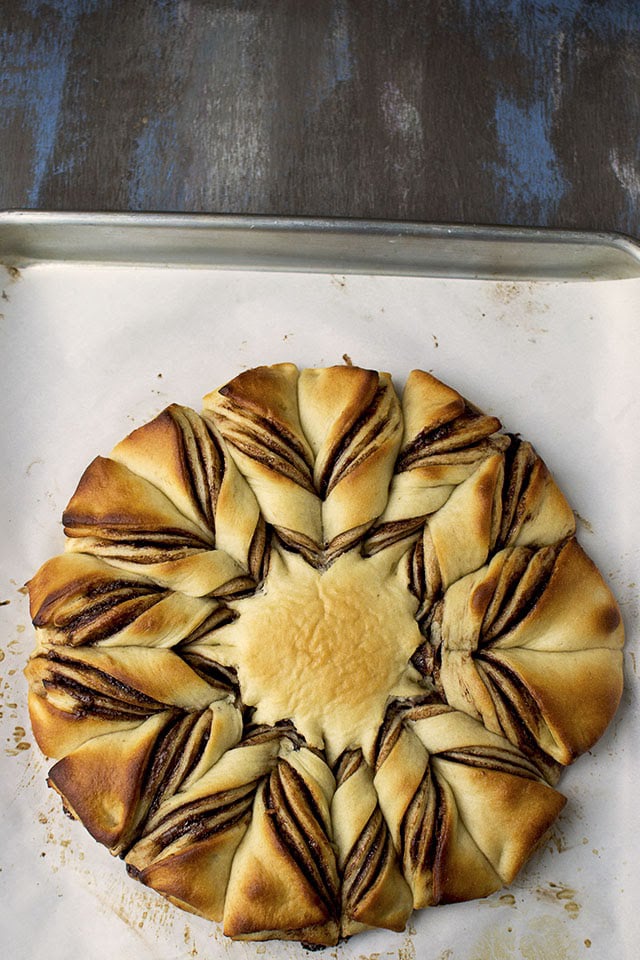 Nutella Star Bread
One of the best looking Bread I have ever baked -- Nutella Star Bread.
Print
Pin
Rate
Ingredients
1½

cups

All purpose flour

½

cup

Wholewheat Pastry Flour

(or use 2cups all purpose flour)

2

tsps

Yeast

Instant

2

tbsps

Sugar

1

tsp

Salt

¼

cup

Milk

Dry

¼

cup

Potato flour

¾ + 2 ~ 4

cup

Water

tbspLukewarm

¼

cup

Unsalted Butter

, softened

½

cup

Nutella

or more

2

tbsps

Almond Milk
Instructions
Make the Dough: Combine flour(s), yeast, sugar,salt, dry milk, potato flour, butter and lukewarm water in a large bowl or the bowl of a stand mixer. Mix and knead to make a soft, smooth dough.

Place the dough in a lightly greased bowl, cover and let it rise for 60 minutes, until it's nearly doubled in volume.

Divide the dough into 4 equal pieces. Shape each piece into a ball. Cover them and let them rise for 15 minutes.

On a lightly greased or floured surface, roll 1 piece of dough into 10" circle. Place the circle on a parchment lined baking sheet. Spread nutella evenly on the surface, leaving ¼" of bare dough around the perimeter. Roll out a second dough circle the same size as the first and place it on top of the first, Nutella covered circle. Repeat the layering process - Nutella, dough circle -- leave the top circle bare.

Place a 2½"~3" round cutter or a bowl or a glass in the center of the dough circle as a guide. With a sharp knife, cut the circle into 16 equal strips, from the cutter to the edge, through all the layers. Using 2 hands, pick up two adjacent strips and twist them away from each other twice so that the top side is facing up again. Repeat with the remaining strips of dough so that there are eight pairs of strips. Pinch the pairs of strips together to create a star-like shape with eight points.

Cover the star and let it rise until it becomes noticeably puffy, about 45 minutes.

Preheat the oven for 400°F.

Brush the star with almond milk and bake for 12~15 minutes, until it's nicely golden.

Remove from the oven and allow to cool for about 10 minutes before serving.
Notes
This is part of the Bake-a-thon 2015.
An InLinkz Link-up