BM# 44: A-Z Cooking Series -- Around the World in 30 days
Country: O for Oman
Dish: Khabeesa (Cream of Wheat Pudding)
We are moving on to Oman today. This is the only country that I know of that starts with an O, so I'm pretty sure what most of my fellow BMers have picked today 🙂
Oman is an Arab state in Southwest Asia. Oman is an absolute monarchy in which the Sultan of Oman exercises ultimate authority, but its parliament has some legislative and oversight powers.
Omani cuisine is very similar to most of the Middle eastern cuisines. Dishes are based around chicken, fish, lamb as well as the staple of rice. Most Omani dishes contain a rich mixture of spices, herbs and marinades.
This was one dish I had my mom make in India since we had all of the ingredients at home. It is a semolina halwa very similar to the one made in India. Only difference I noticed is that semolina is usually roasted in ghee in the Indian version giving it more flavor. But the Omani version has lot of flavorings, rose water, saffron and ground cardamom. It is a very flavorful dessert that takes hardly any time to put together.
Recipe adapted from here.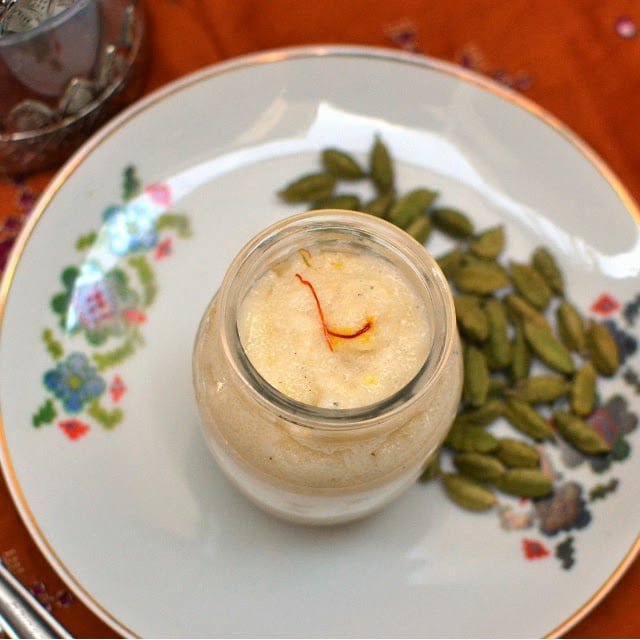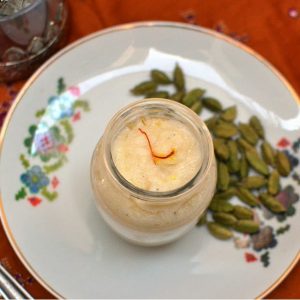 Ingredients
½

cup

Semolina Sooji

Fine /

1½

cups

Milk

½

cup

Condensed Milk

2

tbsp

Butter Ghee

/

½

tsp

Cardamom

Ground

1

tbsp

Rose Water

a pinch

Saffron

- crumbled
Instructions
In a small saucepan, combine semolina and milk; bring to a boil.

Add condensed milk, butter/ ghee, cardamom, rose water and saffron. Cook on low flame for 4~5 minutes.

Transfer to serving bowls and let cool slightly before eating. The pudding will thicken as it cools.
Notes